Fact Sheet Available For Upcoming Forrest City Special Election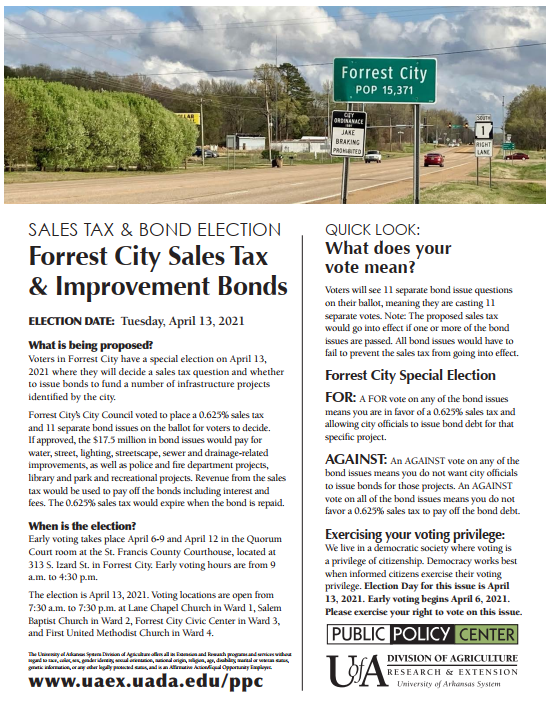 Forrest City voters will see 11 separate bond issues on their ballot in an April 2021 special election.
The Public Policy Center at the University of Arkansas System Division of Agriculture partnered with the St. Francis County Extension Office to produce a fact sheet explaining the city ballot issue.
Download the fact sheet at https://www.uaex.uada.edu/business-communities/voter-education/docs/ForrestCityElectionFactSheet2021.pdf
Forrest City's City Council voted to place a 0.625% sales tax and 11 separate bond issues on the ballot for voters to decide.
If approved, the $17.5 million in bond issues would pay for water, street, lighting, streetscape, sewer and drainage-related improvements, as well as police and fire department projects, library and park and recreational projects.
The proposed sales tax would go into effect if one or more of the bond issues are passed. All bond issues would have to fail to prevent the sales tax from going into effect.
Revenue from the sales tax would be used to pay off the bonds including interest and fees. The 0.625% sales tax would expire when the bond is repaid.
When Is The Election?
Early voting takes place April 6-9 and April 12 in the Quorum Court room at the St. Francis County Courthouse, located at 313 S. Izard St. in Forrest City. Early voting hours are from 9 a.m. to 4:30 p.m.
The election is April 13, 2021. Voting locations are open from 7:30 a.m. to 7:30 p.m. at Lane Chapel Church in Ward 1, Salem Baptist Church in Ward 2, Forrest City Civic Center in Ward 3, and First United Methodist Church in Ward 4.
People who live in Forrest City and are registered to vote are eligible to vote in this election.
Find More Information
The fact sheet produced by the Public Policy Center includes more information about the Forrest City ballot issue, including what supporters and opponents say, how local sales tax compares in cities along Interstate 40, and answers to voters' frequently asked questions.