2022 Arkansas Ballot Issue Voter Guide Now Available Online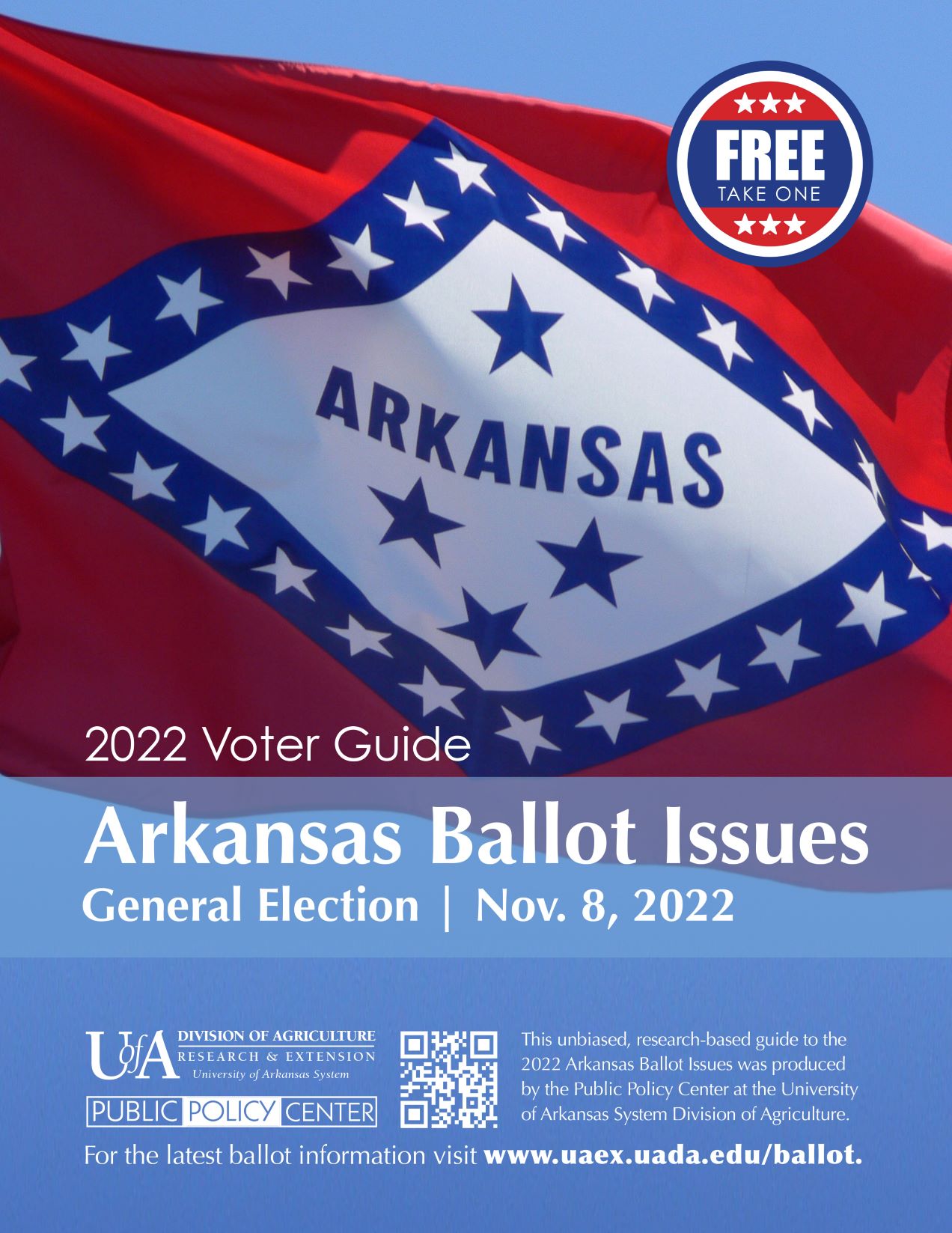 Arkansans now have a tool to help them cut through the election noise - the 2022 Arkansas Ballot Issues Voter Guide.
Published by the Public Policy Center since 2004, the nonpartisan voter guide details each proposed constitutional amendment on the November ballot and provides a snapshot of what supporters and opponents are saying.
A limited number of printed guides will be available in county extension offices across the state by the first week of October.
Download the Arkansas Ballot Issues Voter Guide
"Arkansas voters have some serious policy decisions to make this fall affecting the future of the state and we don't want those decisions to get lost in the noise of important state races on the ballot," said Kristin Higgins, a program associate in the Public Policy Center.
"The proposals involve legislative sessions, future constitutional amendments, religious freedom and recreational marijuana. We urge voters to research these issues ahead of time so they are prepared for a long ballot on Nov. 8," she said.
What's on the Arkansas Ballot in 2022?
Four constitutional amendments are on the Nov. 8 ballot. As of today, there is only one ballot issue under review by the Arkansas Supreme Court.
Find a summary of the four issues by clicking on the links below:
Issue 1 - Giving State Senators and Representatives the Authority to Call Special Legislative Sessions and Set the Agenda
Issue 2 - Requiring 60% Voter Approval for Constitutional Amendments and Citizen-Proposed State Laws
Issue 3 of 2022 - Arkansas Religious Freedom Amendment
Issue 4 - Arkansas Adult Use Cannabis Amendment
Find up-to-date information about the statewide ballot issues at uaex.uada.edu/ballot.
Understanding the Issues
When casting their votes, Arkansans see the popular name and ballot title of each proposed constitutional amendment. But every amendment involves more information that is not included on the ballot.
Voters can find the full text of each proposal proposals on our issue websites as well links to agency documents showing who has officially filed to support or oppose an issue.
Inside the 2022 Arkansas Ballot Issue Voter Guide, you will find:
How the proposals will appear on the ballot
What a "FOR" or "AGAINST" vote means
Questions and answers about what proposals would do
Supporter and opponent viewpoints
About Our Materials
The Public Policy Center has published unbiased fact sheets on statewide ballot measures since 2004 so Arkansans have a better understanding of what is being asked of them on Election Day. The fact sheets in the voter guide go through a vetting process that includes reviews by law school professors, issue supporters and opponents.
In 2020, we distributed 38,000 ballot issue voter guides across Arkansas' 75 counties. People also downloaded the guide more than 18,000 times. Find past voter guides in our archive.