Arkansas Ballot Issues
Arkansas is one of 15 states where residents can propose an amendment to the state constitution or refer a state law to voters, and where legislators also have the authority to refer amendments to voters.
Citizens can file the title of their ballot issue with the Arkansas Secretary of State at any time to begin the initiative process whereby they collect voter signatures to qualify an issue for the 2022 statewide ballot.
State lawmakers filed 42 proposed constitutional amendments before the February 2021 deadline. They narrowed down the proposals through committee meetings in the House and Senate to three constitutional amendments, as allowed under the Arkansas Constitution.
2022 Legislative Ballot Issues in Arkansas
Arkansas lawmakers wrapped up their session at the end of April and approved sending three constitutional amendments to voters on the November 2022 ballot.
The proposals include:
HJR1005: A constitutional amendment to reform certain measures presented to voters, to be known as the "Constitutional Amendment and Ballot Initiative Reform Amendment"


SJR10: A constitutional amendment to allow the General Assembly to convene in extraordinary session upon the issuance of a joint written proclamation of the speaker of the House of Representatives and the president pro tempore of the Senate or upon the submission of a written proclamation containing the signatures of at least 2/3 of the members of the House of Representatives and at least 2/3 of the members of the Senate to the speaker of the House of Representatives and the president pro tempore of the Senate requesting that the General Assembly convene in extraordinary session


SJR14: A constitutional amendment to create the "Arkansas Religious Freedom Amendment"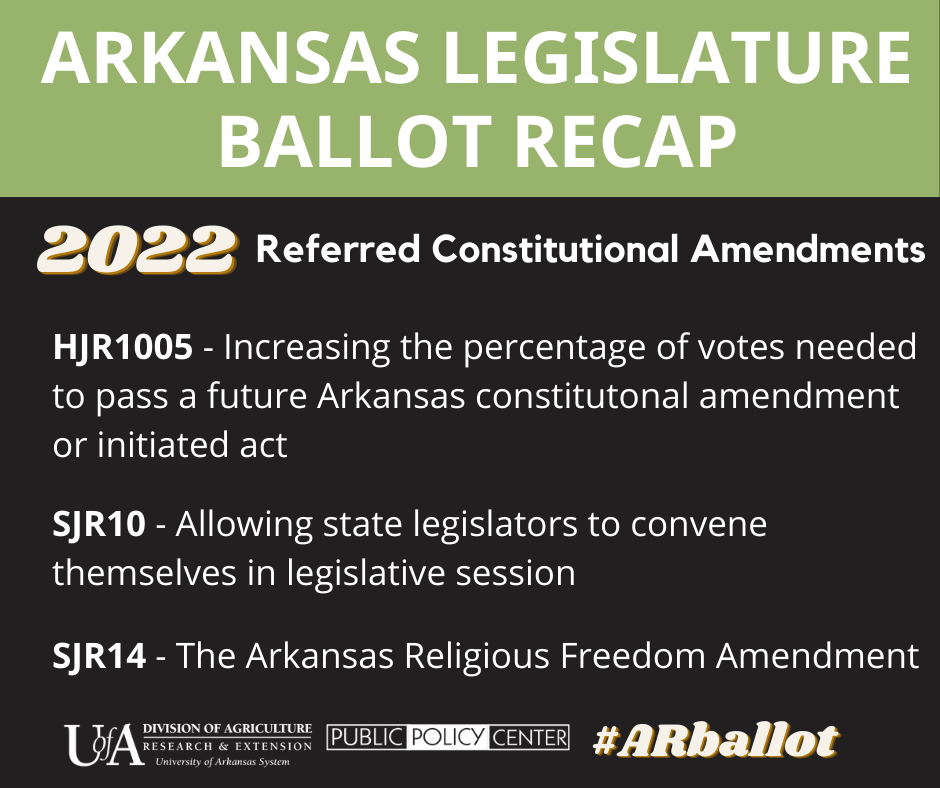 Check back closer to Election Day 2022 for our neutral voter guide on Arkansas statewide ballot issues.
Want Year-Round Arkansas Ballot Issue Education?
Subscribe to our monthly email newsletter.
Read our blog posts about ballot issues and other election news on the Community, Professional and Economic Development unit blog.
Request a presentation to your organization or group. Ballot issue education programs can be requested by contacting your local county extension agent or by contacting the Public Policy Center at 501-671-2160.
Ask us a question. Send your ballot issue questions to publicpolicycenter@uada.edu.

What Other Elections Are Happening?
Arkansas cities and counties often hold elections throughout the year related to property or sales tax or other important local matters. We provide fact sheets on some local issues by request from our county agents.
Find out what some of those past issues are here or contact your local County Clerk for more information about what's on your ballot.


About Our Materials
Since 2004, the Public Policy Center has published unbiased fact sheets on statewide ballot measures so voters have a better understanding of what is being asked of them on Election Day. The fact sheets go through a vetting process that includes reviews by issue supporters and opponents.
In 2020, we distributed 38,000 ballot issue voter guides across Arkansas' 75 counties. People also downloaded the guide more than 18,000 times. Find past voter guides in our archive.
What will I find in Extension's ballot voter guide?
How the proposal will appear on the ballot
Answers to some basic questions about each issue
Reasons why people may support or oppose the proposal
A worksheet to record your voting plans
State Ballot Issue Education Resources
External Websites