Voter Petitions Submitted for Marijuana, Pope County Casino Repeal Amendments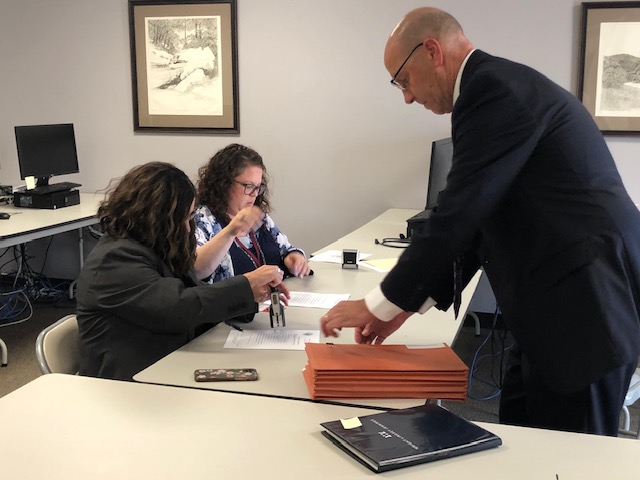 In triple-digit weather Friday, July 8, representatives of Responsible Growth Arkansas wheeled in boxes of voter petitions to the Secretary of State's Office in an attempt to qualify their recreational marijuana proposal for the statewide ballot in November.
The group delivered 38,951 petition pages containing 192,828 signatures from voters in 29 of Arkansas' 75 counties, according to an affidavit filed with election officials by Eddie Armstrong, the amendment's sponsor and a former state legislator.
Leslie Bellamy, director of elections, said it was the most voter signatures anyone on staff could recall being submitted for a ballot issue.
Petitions must contain at least 89,151 voter signatures from at least 15 counties to qualify for the November ballot. This number represents 10% of the number of people who voted for governor in 2018.
Later that afternoon, sponsors of Fair Play for Arkansas 2022 delivered their boxes of petitions to the Secretary of State's satellite office near the Arkansas River.
The group seeks to remove Pope County from the Arkansas Constitution as a location where casino gaming is allowed. Voters approved Pope and Jefferson counties as well as the Hot Springs and West Memphis race tracks as locations for casino gaming in a 2018 statewide election. (Read our
2018 fact sheet
on that election.)
Fair Play for Arkansas submitted 20,913 petition pages containing 103,096 signatures from 34 counties.
"They're glad we haven't given up," said Hans Stiritz, one of the group's representatives, about residents in Pope County who don't want a casino in their county.
Fair Play for Arkansas sponsors campaigned against the casino in the previous statewide vote.
Stiritz said they are pursuing a statewide ballot issue because they legally can't attempt a local election on the constitutional amendment.
Supporters and opponents of the latest proposal watched the boxes be delivered late Friday afternoon. Opponents from Arkansas Tourism Alliance submitted a letter to election officials suggesting some signatures shouldn't be counted because of flaws with canvassing paperwork.
Defend Arkansas, a third group collecting signatures for a proposal related to medical freedom, did not turn in any petitions Friday.
Any citizen group now interested in proposing a constitutional amendment or state law must wait until the 2024 election.
Read the Citizen-Sponsored Proposals
What's Next?
Temporary workers employed by the Secretary of State's Office will pore over the thousands of signatures submitted and review petition pages to ensure they meet
state requirements
.
Additionally, the Arkansas Board of Election Commissioners is required to approve citizen-sponsored ballot titles and popular names.
The Secretary of State's Office has until Aug. 25 to send the official November ballot to county election commissions. The 2022 ballot will include three proposed constitutional amendments from the Arkansas legislature. Find links to those proposals in the next section.
We will publish a voter guide online in early September on the final ballot measures. A printed voter guide will be available at county Extension offices by early October.
Photo caption: Leslie Bellamy and Shantell McGraw with the Arkansas Secretary of State's Office officially recognize Responsible Growth Arkansas voter petitions on Friday. Steven Lancaster with Wright, Lindsey, and Jennings submitted the legal documents for the recreational marijuana amendment proposal. Photo by Daniel Breen, UA Little Rock Public Radio-KUAR