Embracing Technology: Robots Are on the Move and Other Trends
It's hard to imagine that the iPhone didn't exist until 13 years ago, but it's had a profound effect on human behavior, social interactions, communication, and industries essentially replaced by this single device, said Sam Boyster, the chief operating officer at the University of Arkansas System Division of Agriculture's Cooperative Extension Service.
Boyster spoke about "Embracing Technology" at the March 31st Leadership Lunch & Learn program hosted by the Community, Professional and Economic Development unit.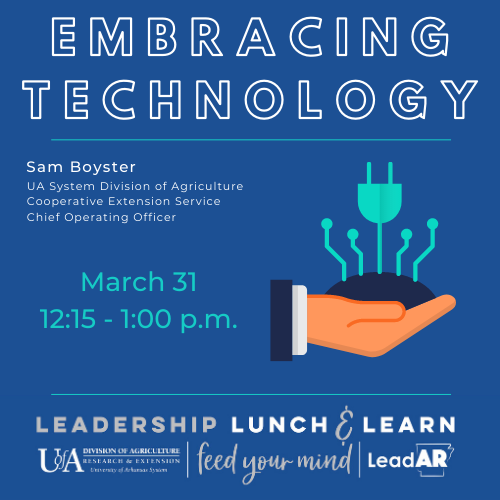 He touched on how technology has changed our life. Boyster also shared this video of robots dancing in real-time demonstrating how life-like they are and asked the question, "Have you used a robot or had a robot do something for you?"
If you have ever ordered from Amazon, robots are used in the warehouses to move inventory.
Technology can make things easier, faster, cheaper, safer, smaller, and more efficient. Where can you find information on what new technology is trending?
Boyster cited three companies as sources for information: Gartner, Forrester, and Deloitte.
According to these sources, emerging technology trends include:
Artificial Intelligence (AI) – Targeting consumers preferences based on viewing, purchase, and browsing history, targeted ads based on location such as (GPS)
Natural Language Interfaces – Talking to your smart phone or Google
Materials Science and Nanotechnology
CRISPR Gene Editing Technology
Robotics (Amazon and Tesla factory)
Autonomous Vehicles and Delivery (vehicles and drones)
Here's what we can expect five to 10 years from now:
Security (cyber, financial, personal data)
Quantum Computing
IoT -- "Internet of Things"
More Intelligent AI
Expanded Automation and Robotics
Wearable Devices
Big Data and Machine Learning
Driverless Cars
Virtual and Augmented Reality
3D Printing (home use)
Genomics (editing abnormalities, cures)
Integrating new technology in the workplace is critical to continued sustainability. Boyster shared important considerations when inserting new technology in the workplace.
Strong Project Management – Develop an implementation plan
Identify Key Stakeholders and Engage Them – Those impacted, and those involved in implementation
Dependencies – Are there times that should be avoided? Impact to other systems? Risks to the plan… like a pandemic?
Risk Reduction – Knowledge/experience with the technology being implemented. Many vendors will assist in the technical planning associated with migrations and totally new implementations. There is significant risk reduction in having someone that has done it before.
Change Management/Communication – Letting people know why the change is being made, what they can expect, how support will work (dealing with problems) and when, and how they will be trained on the new technology.
Training – Training on topics depending on the role you play
As we have experienced, technology is inescapable. It permeates every facet of our life. It is imperative organizations keep up, or they will surely fall behind.