Public Policy Center Publishes Arkansas Beef Slaughterhouse Survey Results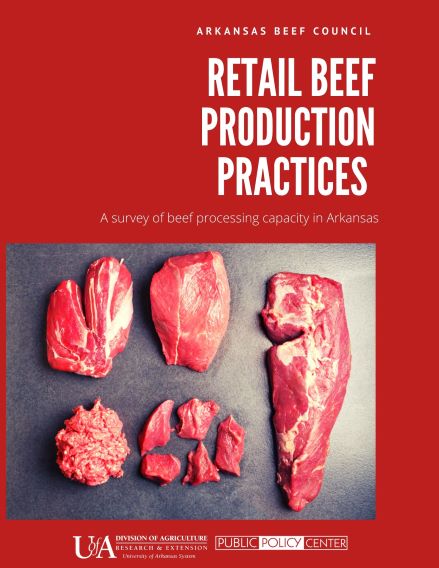 Download the Report
In early 2020 the Public Policy Center at the University of Arkansas System Division of Agriculture surveyed beef slaughter and processing facilities in the state on a range of questions including wait time and capacity for serving small producers selling beef locally in Arkansas.
Arkansas relies on the U.S. Department of Agriculture for inspecting beef for retail sale. As of May 2020, the USDA's Food Safety and Inspection directory listed three Arkansas businesses with having USDA inspectors for beef. A number of slaughter and processing facilities in the state offer custom-exempt services, meaning live cattle are sold to buyers who receive the meat after processing.
Meat slaughtered and processed under the custom-exempt process is not USDA inspected so it can't be sold in stores or across state lines.
The Arkansas Beef Council commissioned the survey as part of a grant to look at retail beef production practices. The survey was part of a project that also intended to provide an overview of program policies and costs in states that maintain a state-level inspection program.
Among producers there is an assumption that there are not enough slaughterhouses and processing facilities in Arkansas that cater to small-scale producers to support consumption of local beef. It's a circular paradox. Not enough slaughterhouses to support producers, but not enough producers to support slaughterhouses.
Twenty-six facilities were invited to participate in the survey between January and March 2020. Fourteen facilities chose to participate in the survey, a response rate of 54%.

Key findings include operators of non-USDA inspected facilities are content with their business model but there is interest in growing their business either to support more producers selling locally or to add a retail component to their own businesses. Nine respondents said they would support the Arkansas Beef Council pursuing a state-level beef inspection program in Arkansas while four did not. One person was unsure.
Participants were also asked about their capacity to slaughter, their available cooling space, how far in advance producers have to schedule slots, challenges they face, and how they learned the business.
The survey was conducted in January to March 2020 before the seriousness of COVID-19 was apparent in Arkansas and provides a point-in-time view. Demand for beef has increased since March, resulting in producers reporting longer wait times for an appointment for slaughter and processing. Prices have also increased since then.
Economists for the Division of Agriculture is reporting that the meat sector is feeling an accordion effect. Squeezed by panic buying and supply chain disruptions, record gaps are forming between pricing at the farm and wholesale levels, according to an analysis done by John Anderson, economist for the University of Arkansas System Division of Agriculture. Anderson's analysis is based on data from the U.S. Department of Agriculture's Economic Research Service.
Shared on this Division of Agriculture site, Anderson said the effects of April's meat processing disruptions are apparent in the ERS data on the difference between the wholesale value of meat versus its farm-level net value. The loss in processing meant cattle intended for slaughter were beginning to back up on the farms. (Division of Agriculture graphics.)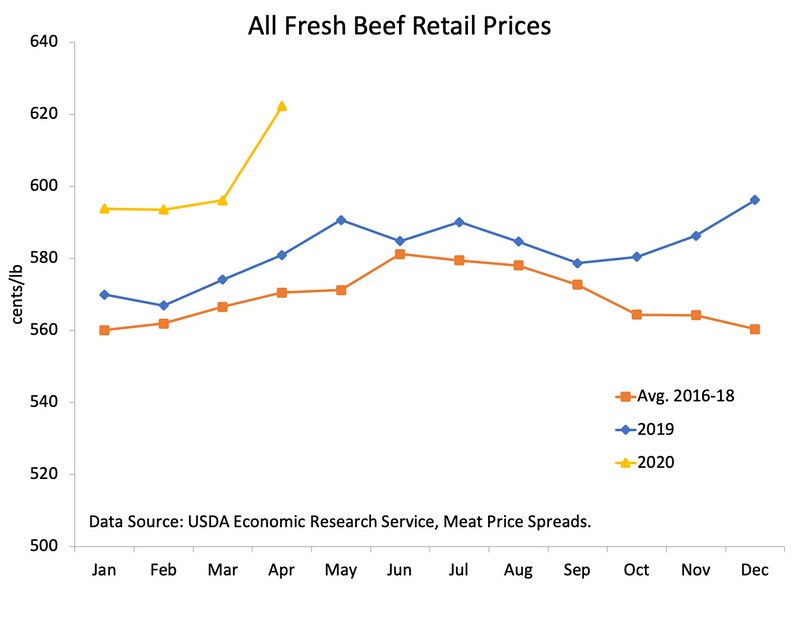 The National Agricultural of Law Center will be hosting a webinar at 11 a.m. on June 3 about meat and poultry slaughter and processing requirements in the United States. Register for the webinar.