Tithonia
October 28, 2017

Can you tell me what this wildflower is? It has big orange blooms, started blooming in late Sept. and is four to six ft. tall. They are bigger than zinnias. The stem is hollow. Can we save the spent blooms and plant next year?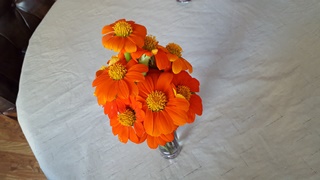 It is not a native wildflower but a great annual that is native to Mexico and Central America called Tithonia or Mexican sunflower. The bright orange zinnia-like blooms are born on stalks that are 4-6 feet tall. It grows that much in one season, then dies after a killing frost. You can save seeds to replant next season.
---
(August 2010)

I have a large group of very tall plants that resemble marigolds, but are not. They have grown up to 4 feet tall and continue to bloom and the butterflies love them. This yard was planted by the previous owner and it continues to boggle my mind, something new every day. I just do not know what they are and where they came from. The bloom is similar to a marigold, but flatter and not as full.

As to your tall yellow flowers, if you can send a picture I can identify for sure, but my guess is sawtooth sunflowers or one of the other helianthus. They can grow quite tall and bloom from late summer well into fall with clusters of yellow flowers. Butterflies love them, but they can be a bit overwhelming in the garden. They also freely reseed themselves. Another possibility with orange flowers is Tithonia or Mexican sunflower. It blooms all summer with lovely orange daisy like blossoms and again, attracts butterflies.
---
All links to external sites open in a new window. You may return to the University of Arkansas System Division of Agriculture web site by closing this window when you are finished. We do not guarantee the accuracy of the information, or the accessibility for people with disabilities listed at any external site.
Links to commercial sites are provided for information and convenience only. Inclusion of sites does not imply University of Arkansas System Division of Agriculture's approval of their product or service to the exclusion of others that may be similar, nor does it guarantee or warrant the standard of the products or service offered.
The mention of any commercial product in this web site does not imply its endorsement by the University of Arkansas System Division of Agriculture over other products not named, nor does the omission imply that they are not satisfactory.