Healthy Recipes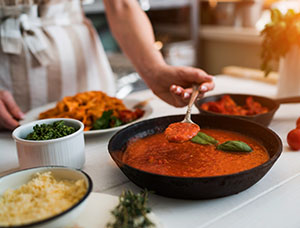 Cooking at home can help you keep track of portion sizes and ingredients. It can also be a big money saver! It's not always easy to find time to prepare meals at home, but our quick and easy recipes can help!
Try one of these healthy and tasty recipes listed below. You'll be glad you did!
Vegetables and Sides
Corn Chowder
1 tablespoon vegetable oil
2 tablespoons finely diced celery
2 tablespoons onion, finely diced
2 tablespoons finely diced green pepper
1 package (10 ounces) frozen whole kernel corn
1 cup raw diced potatoes, peeled
1 cup water
1/4 teaspoon salt
Black pepper, to taste
1/4 teaspoon paprika
2 cups milk, non-fat, divided
2 tablespoons flour
2 tablespoons chopped fresh parsley
In medium saucepan, heat oil over medium high heat.
Add celery, onion and green pepper; sauté for 2 minutes.
Add corn, potatoes, water, salt, pepper and paprika. Bring to a boil; reduce heat to medium; and cook, covered, about 10 minutes or until potatoes are tender.
Pour 1/2 cup milk into a jar with a tight-fitting lid. Add flour and shake vigorously.
Add gradually to cooked vegetables; stir well.
Add remaining milk.
Cook, stirring constantly, until mixture comes to a boil and thickens.
Serve garnished with chopped fresh parsley.
Calories 186 Total fat 5g Saturated fat 1g Sodium 205mg Protein 7g
Cucumber Yogurt Dip
2 large cucumbers
2 cups plain yogurt, low-fat
1/2 cup sour cream, non-fat
1 tablespoon fresh lemon juice
1 tablespoon fresh dill
1 garlic clove, chopped
1 cup cherry tomatoes
1 cup broccoli florets
1 cup baby carrots
Peel, seed and grate one cucumber. Slice other cucumber and set aside.
Mix grated cucumber, yogurt, sour cream, lemon juice, dill and garlic in a serving bowl. Chill for 1 hour.
Arrange tomatoes, cucumbers, broccoli and carrots on a colorful platter.
Serve with dip.
Calories 100
Total fat 1.5g
Saturated Fat 1g
Sodium 120mg
Protein 6g
Roasted Root Vegetables
2 medium-sized sweet potatoes, cut into large chunks
2 medium-sized root vegetables (white potatoes, turnips, beets), cut into large chunks
2 carrots, chopped
1 medium onion, chopped
1/4 cup vegetable oil
3 tablespoons Parmesan cheese
Season with your favorite spices
Preheat oven to 350 degrees F.
In a medium bowl, add all chopped vegetables, and pour oil over top.
Add Parmesan cheese and seasonings; mix well.
Spread vegetable mixture evenly on a baking sheet.
Bake for 1 hour or until tender.
Calories 221
Total fat 12g
Saturated fat 1g
Sodium 116mg
Carbohydrates 26g
Fiber 4g
Protein 4g
Zesty Tomato Soup
1 can (14.5 ounces) no-salt added diced tomatoes
1 cup roasted red peppers, drained
1 cup evaporated milk, fat-free
1 teaspoon garlic powder
1/4 teaspoon ground black pepper
2 tablespoons fresh basil, rinsed and chopped (or 2 teaspoons dried)
Combine tomatoes and red peppers in a blender or food processor. Puree until smooth.
Put tomato mixture in a medium saucepan and bring to a boil over medium heat.
Add evaporated milk, garlic powder and pepper. Return to a boil, reduce heat to low and gently simmer for 5 minutes.
Add basil and serve.
Calories 94
Total fat 0g
Saturated fat 0g
Sodium 231mg
Protein 5g
Main Dishes
20-Minute Chicken Creole
1 tablespoon vegetable oil
2 whole chicken breasts, skinless, boneless, cut into 1/2 –inch strips
1 can (14.5 ounces) diced tomatoes with juice
1 large green pepper, chopped
2 celery stalks, chopped
1 small onion, chopped
2 garlic cloves, minced
1 teaspoon dried basil
1 teaspoon dried parsley
1/4 teaspoon cayenne pepper
1/4 teaspoon salt
In a large pan, heat oil over medium-high heat.
Add chicken and cook 5 minutes, stirring occasionally.
Reduce heat to medium and add remaining ingredients.
Bring to a boil then reduce heat to low. Simmer covered for 15 minutes.
Serve over hot, cooked rice or whole-wheat pasta.
Calories 130
Total fat 3g
Saturated fat 0g
Sodium 260mg
Protein 9g
Barbecue Chicken Pizza
2 6-inch English muffins or Italian bread shells, split
1/2 cup barbecue sauce
1 cup non-fat shredded mozzarella cheese
2 6-oz. pkg. grilled chicken breast strips Red onion slices (optional)
Preheat oven to 450°.
Line baking sheet with foil and spray with cooking spray.
Arrange English muffin or bread shell on baking sheet in a single layer.
Spread each shell with 1/4-cup barbecue sauce; top each with 1/2-cup non-fat shredded mozzarella cheese and 1 package grilled chicken breast strips.
Arrange red onion slices with chicken, if desired.
Calories 329
Fat 5g
Carbohydrates 32g
Protein 36g
Cholesterol l50mg
Fiber 1g
Sodium 247mg
Broiled Catfish Fillets
2 catfish fillets (3/4 pound)
1/8 teaspoon salt
1/2 teaspoon lemon pepper
Spray broiler pan and both sides of fish with non-stick cooking spray. Place on broiler pan skin side up.
Broil about 7-8 inches from broiler unit or flames about 5-7 minutes per side, or until fish is opaque when flaked.
Season top side of fish with salt and lemon pepper. Serve immediately.
Calories 240
Carbohydrate 0 grams
Fat 10 grams
Sodium 198 mg
Protein 38 grams
Caribbean Casserole
1 medium onion, chopped
1/2 green pepper, diced
1 tablespoon canola oil
1 can (14.5 ounces) stewed tomatoes
1 teaspoon oregano leaves
1/2 teaspoon garlic powder
1 1/2 cups instant brown rice, uncooked
1 can (16 ounces) black beans, undrained (or beans of your choice)
In a large pan, heat oil over medium heat.
Add onion and green pepper in canola oil, in a large pan, and cook until tender.
Add tomatoes, beans (include liquid from both), oregano and garlic powder.
Bring to a boil. Stir in rice and cover.
Reduce heat to low and cook for 5 minutes.
Remove from heat and let stand for 5 minutes before serving.
Calories 100
Total fat 2g
Saturated fat 0g
Sodium 280mg
Protein 4g
Cheese-Herb Chicken Medallions
6 boneless, skinless chicken breast halves (about 4 ounces each), all visible fat removed
1 tablespoon finely chopped fresh chives or 1 teaspoon dried
1 tablespoon finely chopped fresh basil or 1 teaspoon dried, crumbled
1/4 teaspoon paprika
Freshly ground pepper to taste
3 ounces nonfat or part-skim mozzarella cheese, shredded
2 carrots (optional)
For Chicken
Preheat oven to 400° F.
Place breasts on a flat surface. Evenly sprinkle each breast with chives, basil, paprika, and pepper.
Form cheese into 6 loose balls and place one in the center of each breast.
Roll chicken around cheese, making sure the ends are tucked in. Tie each breast with twine to retain cheese.
Place breasts in an ungreased baking dish.
Bake for 15 to 20 minutes, or until chicken has turned white throughout. Allow chicken to cool for about 10 minutes before serving.
For Carrot Curls
Using a potato peeler, pare carrots lengthwise into long, thin strips and soak in ice water for at least 10 minutes. Drain and pat dry.
To serve, cut each breast into 1/2-inch medallions. Arrange on a bed of carrot curls.
Calories 158
Protein 30g
Carbohydrate 1g
Total fat 3g
Saturated fat 1g
Cholesterol 62mg
Sodium 157mg
Fragrant Fish Fillets
1 tablespoon olive oil
1/2 cup fresh mushrooms, sliced
1/2 cup green onions, chopped
1 clove garlic, minced
12 ounces fish fillets
2 tablespoons blush wine
1 fresh tomato, peeled, cored, and sliced
2 tablespoons fresh parsley, snipped Hungarian paprika (optional) Lemon slices
In skillet, heat olive oil. Add mushrooms, onions, and garlic. Sauté for 1-2 minutes.
Add wine, tomato, parsley, and fish. Cover and let simmer for 5-8 minutes or until fish flakes easily with fork.
Remove fillets to warm platter. Pour tomato sauce over fish as is or boil down for 1-3 minutes for thicker sauce. Garnish with paprika and lemon wedges.
Calories 131
Carbohydrate 2g
Fat 5g
Sodium 57mg
Protein 21g
Garden Skillet
10 oz (2 1/2 cups) bowtie pasta, uncooked
2 tbsp butter
1 tsp minced garlic
2 zucchini, cut into 1/2 inch slices
1 red onion, sliced into thin wedges
1 1/2 tbsp fresh basil, chopped
8 oz. package
Cheddar cheese, diced
Salt and pepper to taste
Prepare bowtie pasta according to package directions.
Drain and set aside.
Melt butter in a 10" skillet.
Sauté garlic until golden brown.
Add zucchini, red onion and basil.
Heat over medium heat until tender, about 4 to 6 minutes.
Stir in pasta and heat through.
Add cheese, salt and pepper.
Toss gently and serve immediately.
Calories 239
Total Fat 5g
Saturated Fat 3g
Cholesterol 10mg
Sodium 14
Carbohydrates 42g
Fiber 3g
Protein 8g
Green Chili Omelet
1/2 tbsp. margarine
1 egg
4 egg whites
3 tbsp. water
2 tbsp. low fat cream cheese, softened
1 (4 oz.) can chopped green chilies
Melt margarine in omelet pan.
Whisk egg, egg whites and water together briskly. Pour mixture over margarine.
Lower heat to medium low. Using a spatula, push egg mixture to one side, allowing uncooked egg to run onto skillet surface.
After egg mixture is cooked, spread cream cheese and chilies over the upper half.
With a wide spatula, carefully lift and fold the lower half over the chilies and cream cheese.
Cut the omelet in half. Serve immediately.
Calories 146
Carbohydrate 5
Fat 8g
Sodium 263mg
Protein 12g
Lentil Chili
1/2 pound ground beef (or extra lean beef to reduce fat)
1 1/2 cups chopped onion
1 clove garlic, crushed
2 cups cooked, drained lentils
1 can (29 ounces) tomatoes, diced or crushed
1 tablespoon chili powder
1/2 teaspoon ground cumin (optional)
In a large saucepan, brown beef over medium heat, break it into bite-sized pieces. Drain fat.
Reduce to medium heat. Add onion and garlic. Cook on medium heat until softened.
Add lentils, tomatoes, chili powder and cumin. Cook on low heat for about 1 hour until flavors are blended.
Serve with your favorite chili toppings
Calories 210
Total fat 4.5g
Saturated fat 1.5g
Sodium 470mg
Protein 16g
Lighter Fried Fish Fillets
1 pound fish fillets
2 tablespoon Parmesan cheese
1 1/2 tablespoons yellow cornmeal
1 1/2 tablespoons whole wheat flour
1/2 teaspoon pepper
1/2 teaspoon paprika (optional)
1 tablespoon olive or canola oil
Spray baking dish with non-stick spray.
Preheat oven to 400 degrees.
Rinse fillets under cold water, pat dry.
Combine Parmesan cheese, cornmeal, flour, pepper, and paprika in plastic bag.
Shake fillets one at a time in bag to coat with cheese mixture.
Place fillets in baking dish. Drizzle oil over fillets.
Bake about 10 minutes per inch thickness of fish or until fish is opaque when flaked. Fillets may need to be turned half way through baking.
Calories 190
Carbohydrate 3g
Fat 8g
Sodium 220mg
Protein 22g
Oven Fried Chicken
2 whole chicken breasts, split and skinned
1 tbsp. olive oil
1/2 cup oatmeal, uncooked
3/4 tsp. chili powder
3/4 tsp. paprika (optional)
Spray cookie sheet with vegetable spray and heat oven to 425 degrees.
Brush chicken breasts with olive oil.
Place oats and spices in blender. Blend one minute, stopping occasionally to stir.
Pour oat mixture into plastic freezer bag. Drop each breast into bag and coat well.
Spray chicken lightly with vegetable spray and place on cookie sheet.
Bake 35 to 40 minutes or until juices run clear when pierced with fork.
Calories 213
Carbohydrate 8g
Fat 7g
Sodium 64mg
Protein 28g
Pork Tenderloin
1 1/2 lbs. pork tenderloin, trimmed of visible fat
1/4 tsp. salt (optional)
1/8 tsp. pepper
1 1/2 tbsp. all-purpose flour
1 tbsp. canola oil
1 1/2 tbsp. cornstarch
1/4 cup cold water
1 1/2 cups skim milk
1/4 tsp. salt (optional)
Mix salt, pepper and flour in small dish. Coat tenderloins.
Heat frying pan and add oil.
Brown tenderloins in oil. Lower heat and simmer until centers are gray. Remove only meat from pan.
Dissolve cornstarch in water and add to milk. Add salt if desired.
Cook remaining pan mixture on medium heat until gravy is thick and bubbly. Use spatula to loosen browned flour from bottom of pan.
Calories 195
Carbohydrate 6.5g
Fat 6g
Sodium 257mg
Protein 26g
Rise and Shine Breakfast Cobbler
1 cup juice-packed canned sliced peaches, drained
1 cup juice-packed canned sliced pear halves, drained
6 pitted prunes, cut in half (or other dried fruit)
1/4 teaspoon vanilla extract 1 orange, zested and juiced
1 cup granola, low-fat
In a large microwave-safe bowl, mix peaches, pears, prunes, vanilla extract, orange zest, 1/4 cup orange juice; stir.
Top with granola.
Microwave on high for 5 minutes. Let stand for 2 minutes.
Spoon into 4 bowls and serve warm.
Calories 280
Total fat 1g
Saturated fat 0g
Sodium 60mg
Protein 3g
Salmon Patties
1 can (15 1/2 ounces) salmon, drained
1 cup whole-grain crushed cereal or crackers
2 large eggs, lightly beaten
1/2 cup 1% milk
1/8 teaspoon black pepper
1 tablespoon vegetable oil
Use a fork or clean fingers to flake salmon until very fine.
Crumble cereal or crackers into crumbs.
Add cereal or cracker crumbs, eggs, milk, and pepper to salmon.
Mix thoroughly.
Shape into 9 patties.
In a skillet, heat oil over medium heat.
Carefully brown both sides until patty is thoroughly cooked.
Calories 110
Total fat 4.5g
Saturated fat 1g
Sodium 270mg
Protein 12g
Smothered Chicken with Rice
2 1/2 cups water
1 cup rice
2 1/4 lb. chicken breast fillets (skin and fat removed)
1/8 tsp. pepper
1 (10 3/4 oz.) Campbell's Healthy Request cream of chicken soup
1/2 cup canned mushrooms, slices or stems and pieces
2 tbsp. parsley flakes
1 tsp. lemon juice
1 tbsp. reduced-sodium soy sauce
1 1/2 Tbsp. cornstarch
1/4 cup cold water Parsley (to garnish)
Bring 2 cups water to boil and add rice.
Simmer covered until all water is evaporated, about 20 minutes.
Cut chicken into bite-size pieces, season with pepper and place in large baking dish.
Combine remaining ingredients except cornstarch and cold water. Pour over chicken.
Cover baking dish with foil and bake at 350 degrees until tender, about 1 1/2 hours.
Remove foil. Drain gravy and return chicken to oven for a few minutes.
Dissolve cornstarch in cold water and add to gravy.
Mix half of gravy with rice. Place rice on large serving platter and top with chicken.
Garnish with fresh parsley. Serve remaining gravy in gravy boat.
Calories 212
Carbohydrate 25g
Fat 3g
Sodium 258mg
Protein 26g
Desserts
Berry Bread Pudding
1 1/2 cups unsweetened, frozen berries, thawed, undrained (or fresh) (blueberries, sliced strawberries or raspberries)
1/2 teaspoon sugar (optional)
1/2 teaspoon vanilla extract or almond extract (optional)
1 or 5 slices whole wheat bread, crusts removed Vanilla yogurt (optional)
In a small bowl, combine the thawed berries, sugar and/or vanilla extract.
Spoon 1/4 cup of the berry mixture to cover the bottom of a 2 cup deep dish.
Cover the berry mixture with a layer of bread.
Spoon 1/3 of remaining berry mixture on top of the bread.
Cover with another layer of bread.
Repeat steps 4 and 5 twice, ending with a layer of bread.
Cover the dish with plastic wrap and place a plate or bowl on top of the berry dish that fits just inside of it. Place a heavy object on top to press down on the fruit and bread layers.
Refrigerate overnight checking the dish occasionally to be sure juice does not spill. If it does, you may need to replace the heavy object with a lighter one.
Serve with a dollop of vanilla yogurt. Note: In summer, fresh berries can be used.
Calories 180
Total fat 2.5g
Saturated fat 0.5g
Sodium 300mg
Protein 6g
Frozen Fruit Cups
3 bananas, mashed
24 ounces yogurt, non-fat strawberry flavored (or plain)
10 ounces strawberries, frozen, thawed undrained
1 can (8 ounces) crushed pineapple, undrained
Line muffin tin(s) cups with paper baking cups (18 total).
In a large mixing bowl, add mashed bananas, yogurt, strawberries and pineapple.
Spoon into muffin tin and freeze at least 3 hours, or until firm.
Remove frozen cups and store in a plastic bag in the freezer.
Before serving, remove paper cups.
Calories 50
Total fat 0g
Saturated fat 0g
Sodium 25mg
Protein 2g
Lemon Velvet Supreme
2 cups vanilla yogurt, fat-free
3 tablespoons instant lemon pudding mix
8 squares graham crackers, crushed
1 can (4 ounces) mandarin orange slices, drained (or your favorite fruit)
1. Combine vanilla yogurt and pudding mix; gently stir together.
2. Layer bottom of serving dish with crushed graham crackers.
3. Pour pudding mixture over cracker crumbs.
4. Top with mandarin oranges slices or your favorite fruit.
Calories 150
Total fat 1g
Saturated fat 0g
Sodium 21mg
Protein 5g
Recipes for Special Diets
Recipes for Busy Lifestyles
Related Links