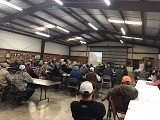 Agriculture
The Grand Prairie Ag. Production meeting was held on January 9, 2018 at Big K's Fish Barn. A large group of producers, agriculture industry representatives, crop consultants and UA Extension personal attended. This meeting was a joint meeting with Prairie, Lonoke and Pulaski counties. County agents began the meeting with 2017 county demonstration findings. Dr. Jason Kelly, UA Extension Agronomist Wheat and Feed Grains, Chad Norton, UA Soybean Verification Coordinator, Dr. Nick Bateman, UA Extension Entomologist, Mike Hamilton, Extension Irrigation Educator, Dr. Jarrod Hardke, UA Rice Agronomist, Dr. Bob Scott, UA Extension Weed Scientist, and Scott Stiles, UA Economist, all provided overviews of the 2017 growing season and presented on hot topics in their specialized area. Gumbo and all the fixings catered by Mrs. Lanan Lisko enjoyed during the noon hour.
Prairie County farmers produce 60,000 acres of rice annually. Production is gauged in bushels per acre (45 Lbs. = 1 bushel). Average yield is 165 bushel per acre or 7,425 lb./acre. Rice is broken into three types classed as long, medium, and short grain. Long grain is produced on a majority of the acreage. This type of rice has cooking characteristics of being flakey and grains are separate when cooked. Long grain is preferred by most Western cultures. Medium grain is grown on limited acreage and has cooking characteristics favored by Asian markets. Cooked medium grain will be sticky and grains will cling to each other. Medium grain is also used in prepared soups, Rice Crispi's®, and beer. Short grain is grown for specialty markets and cooking characteristics resemble "highly sticky rice" favored for consuming with chop sticks. Rice production adds $69 million to the county economy.
Prairie County produces 20,000 acres of feed grains. Corn makes up the majority of feed grain acreage with annual per acre yields of 175 bushel/acre (1 bushel=56 Lb.) Grain sorghum acreage will fluctuate yearly. Sorghum yields are 5,000 Lb./acre. All feed grains produced in Prairie County are wholly consumed in Arkansas by poultry and livestock industries. Feed grain production adds $25 million to the local economy.
Prairie County produces 115,000 acres of soybeans yearly. Average yield per acre is 45 bushels (60 Lb.=1 bushel). A majority of the acreage is irrigated to limit the effects of dry weather. The soybean seed itself has over 1,500 uses when processed. A large portion of the soybeans produced in Prairie County is processed into soybean oil (cooking oil), high protein animal feed (soybean meal) and hulls. The poultry and livestock industry consumes 65% of soybeans grown within Arkansas. Soybeans are also used in make-up produced by both Maybelline and Avon. The balance of production is exported to foreign countries using the Mississippi River to Gulf of Mexico ports. Soybean production adds $67 million to the local economy.
Wheat production in Prairie County will fluctuate from year to year. Main drivers are: fall weather pattern, commodity price, and input cost. Wheat acreage has been as high as 30,000 acres to a low of 2,500 acres. The type of wheat primarily grown in the county is soft red winter wheat used by the bakeries to make crackers.
Prairie County livestock owners are primarily small cow/calf herds, meat and dairy goats, and small flock poultry. The average cow /calf operation is 15 to 50. Producers take advantage of 300 Day Grazing program, free Brucellosis vaccinations, and pasture weed/fertility workshops.