LeadAR Class 19 Learns Importance of Community and Economic Development in Newport
LeadAR Class 19 had a great seminar in Newport on March 24-25, 2022. The class received a comprehensive overview of integral components of a vibrant local economy--community and economic development--from many community partners and presenters.
According to Robert Pittman, "Community development produces assets for improving the quality of life and business climate, and economic development mobilizes these assets to realize the benefits of the community" (Pittman et al., 2009).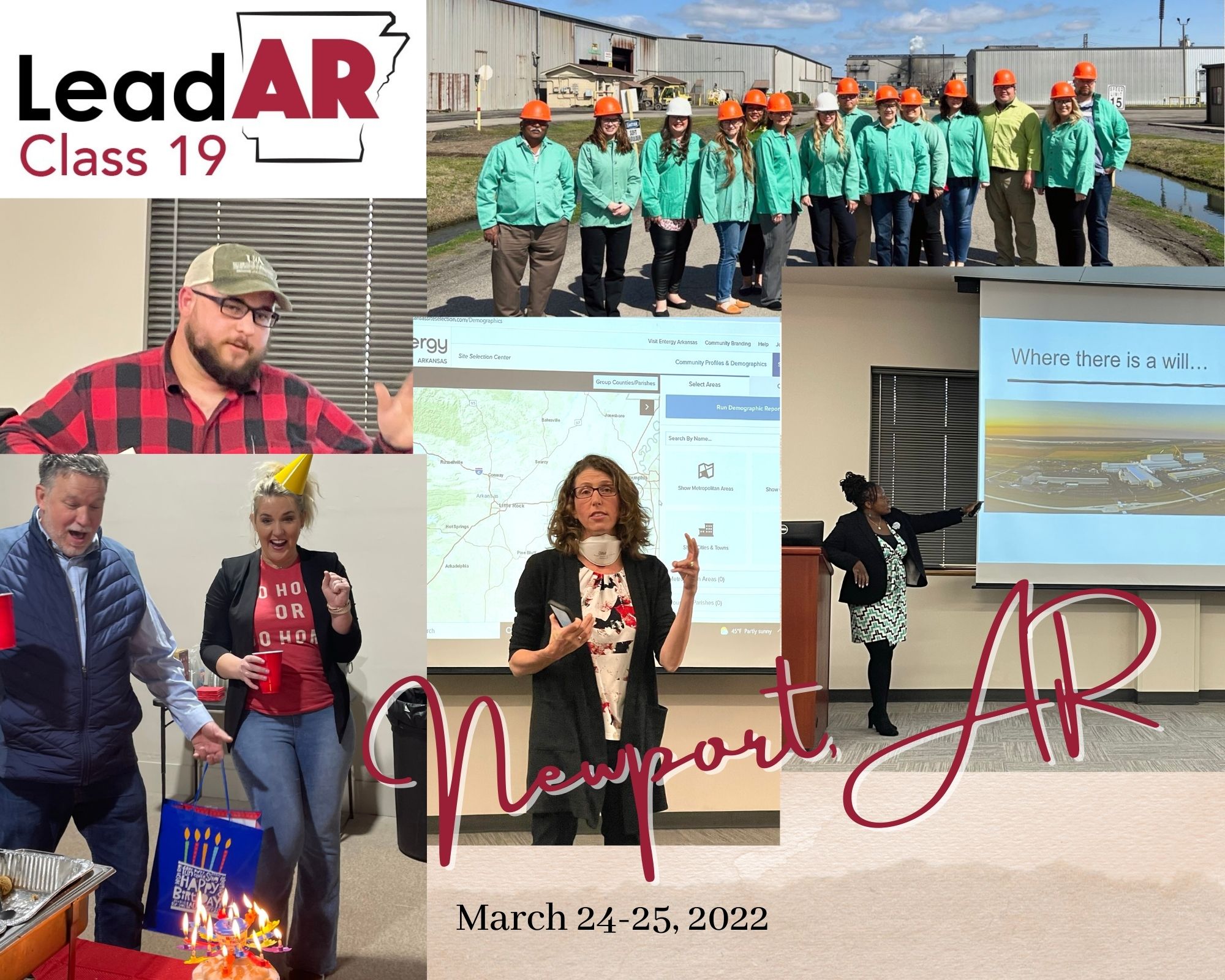 Here's an overview and of the itinerary and links to the important community and economic development resources available. Video of overview of the seminar can be watched here.

Morning
Afternoon
After lunch, the class boarded a chartered bus to see the economic development efforts in Newport first-hand.
Next, Jon Chadwell, executive director of the Newport Economic Development Commission, and a LeadAR Class 10 alum, provided an overview of the community and economic development process.
The importance of regionalist in economic development was driven home by Graycen Bigger, executive director of the Northeast Arkansas Regional Intermodal Authority. The mission of the organization is to create more and better employment opportunities for its region through the recruitment, expansion, and retention of industry and business in each of its partnering entities.
Also, small business development resources were highlighted by Whitney Horton, who works as the strategic partnerships manager for the Arkansas Small Business and Technology Development Center.
Evening

Morning
The second day kicked off with a welcome to Newport from Newport Mayor David Stewart. He said if you take only one thing back to your respective communities it should be that it is critical to work together!
Next, Matthew Davis, Jackson County extension agent and staff chair at the University of Arkansas System Division of Agriculture Cooperative Extension Service (UADA-CES), shared information on the various programs offered through extension.
Chadwell talked about local resources for community and economic development.
For those in the class that wanted to know more about educational opportunities for community leaders, Shelley Short, vice president of programs and partnerships at the Arkansas State Chamber of Commerce/Associated Industries of Arkansas, and Hunter Goodman, an assistant professor in the UADA-CES Community, Professional and Economic Development unit, shared information on Leadership Arkansas, Mid-South Basic Economic Development Course, and the Community Development Institute.
Randy Zook, president and chief executive officer at the Arkansas State Chamber of Commerce/Associated Industries of Arkansas, led a robust discussion on workforce development issues and resources.
LeadAR next visited and toured the steel mill, Arkansas Steel Associates, a mill which produces specialty products for the railroad industry.
Afternoon
LeadAR owes a huge thanks to Jon Chadwell, Julie Allen, Christel Taylor, and Courtney Baker at the Newport Economic Development Commission and Newport Area Chamber of Commerce for planning an incredible LeadAR Class 19 seminar and their organizations for their sponsorship!
LeadAR is a program designed to help Arkansans broaden their understanding of issues and opportunities facing our state and strengthen their ability to make a difference. For more information about LeadAR, visit the website or contact Robinson, jrobinson@uada.edu, or Lisa Davis, ldavis@uada.edu.