iLEAD Cohort One Shares Their Ideas to Enrich Division
During the University of Arkansas System Division of Agriculture Internal Leadership Education And Development program (iLEAD) journey, participants are expected to identify and address real-world challenges facing the organization by completing a leadership service project. The cohort met virtually on March 18 to share their leadership project plans. Here's an overview of the ideas presented.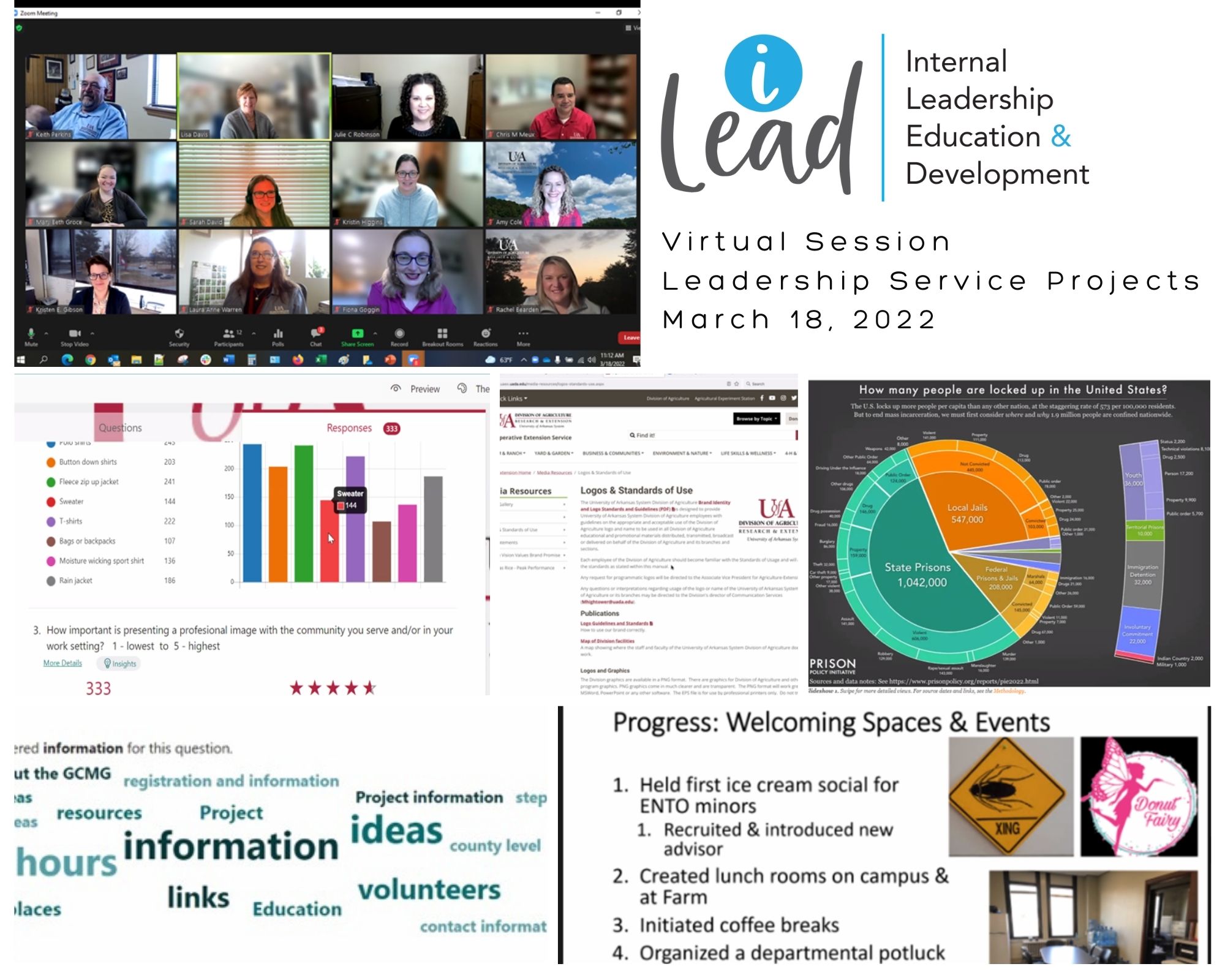 Jamie Baum | Identifying Food, Nutrition, and Health Misinformation in the Digital Age
I will develop and launch a multi-media toolkit to help Arkansans identify food, nutrition, and health misinformation they encounter in day-to-day digital activities (e.g., social media, email spam, multi-level marketing (MLM), etc.).
Rachel Bearden | 4-H Teen Star Leadership Program
I plan to create a leadership program for 4-Hers who have achieved Teen Star status to increase their future potential as a 4-H Ambassador, State Officer, or serve in another leadership position. The program will also improve their career readiness skills.
Leigh Ann Bullington | "A Day in the Life of…..." Video Series
The purpose of my project is help unify the University of Arkansas System Division of Agriculture (UADA) by providing a better understanding among employees of day-to-day responsibilities and duties of various positions. This project will include short videos from a variety of employees within UADA from both the Agriculture Experiment Stations (AES) and the Cooperative Extension Service (CES).
Amy Cole | Division Volunteers Website
Division volunteers are the backbone of many of our programming and outreach efforts statewide. Currently, there is no centralized location for resources, training, or content for this important group of Arkansans. My solution to this problem is to build a Division Volunteers website.
Sarah David | SNAP-Ed Virtual Orientation Training
SNAP-Ed is a nutrition education program delivered in all 75 counties by Family and Consumer Science Agents, Program Assistants, and temporary employees. I will create a virtual orientation training series that will be recorded to introduce the program. Additional face-to-face and Zoom-based trainings on an ongoing basis will also be offered.
Eric De Vries | Leave-No-Trace Interactive Hiking Trail
For my project I will create a Leave-No-Trace interactive hiking trail at the 4-H Center. Leave-No-Trace is an outdoor ethic aimed at minimizing the impact of humans on the environment, as well as instilling in individuals a responsibility for stewarding natural resources. The trail will be used by groups that visit the 4-H Center. It will be designed so that it can be enjoyed either as a self-guided trip or a facilitated educational hike.
Kristen Gibson | Food Science Department Bulletin Weekly Update
My proposed project aims to implement a more streamlined approach to
communicating events, opportunities, acknowledgements, etc., to the faculty, staff, and
students within the Department of Food Science.
Fiona Goggin | Development of a Department STEM Mentoring Pipeline
The goal of my project is to develop a departmental mentoring plan to support the academic and professional success of undergraduates, graduate students, postdoctoral scholars, and junior faculty in the Department of Entomology and Plant Pathology (ENPL). This plan could potentially serve as a model for other departments.
Mary Beth Groce | Cooperative Extension Yearbook
My project goal is to create an Extension yearbook. The yearbook will include a county directory, county impacts/projects, research advancements, employee milestones, and a "who's who" section to reflect the nostalgia of a yearbook from grade school.
Kristin Higgins | Jail Reentry Simulation
My leadership service project involves adapting an existing West Virginia Department of Justice reentry simulation into a curriculum for use in Arkansas by CES agents in community settings or with people going through the legal system.
Chris Meux | Division Logos and Standards of Use Website
I will create a more user-friendly website to replace the current logo download page. The new website will include images of each logo available for download as well as a brief interpretation of the logo standards of use guidelines.
Keith Perkins | Fishing Rock Restoration
For the past two decades, the University of Arkansas at Pine Bluff and UADA have been working together on agriculture outreach. In the early 2000s, a pavilion and fishing dock were constructed on UAPB's farm in Lonoke County. Throughout the years, the Lonoke County Extension has hosted summer camps on this farm that included fishing as an activity. Currently, the fishing dock needs some repairs. I propose to raise the funds needed to make these repairs.
Laura Anne Warren | Create an Online Apparel Storefront
UADA employees need access to a variety of approved logo apparel including a range of sizes and styles. I propose the creation of an online storefront that will be linked to our employee's only website. For example, Randy Razorback would purchase his preferred shirt that meets the needs of his position, pay through the online store front and request reimbursement through Workday for the cost of embroidery or screen printing.
---
Dates for iLEAD Cohort Two Set (2022-2023): Applications Open to UADA Employees
The iLEAD program was created to enhance interpersonal skills through virtual and in-person sessions and provide participants with knowledge, skills, and opportunities for growth. If you are interested in applying to participate in iLEAD, the dates for the second iLEAD cohort have been set. Applications are now open. For more information or to apply, click here. The deadline to apply is midnight on Friday, April 29, 2022.
iLEAD Cohort II 2022-2023 Schedule:
Virtual – July 15, 2022
Face-to-Face – August 17, 18, & 19, 2022
Virtual – September 16, 2022
Face-to-Face – October 13 & 14, 2022
Virtual – November 18, 2022
Face-to-Face – December 15 & 16, 2022
Virtual – January 20, 2023
Face-to-Face – February 16 & 17, 2023
Virtual – March 17, 2023
Face-to-Face – April 20 & 21, 2023
Virtual – May 19, 2023
Face-to-Face – June 15 & 16, 2023
For more information about the iLEAD program contact Dr. Julie Robinson, jrobinson@uada.edu or Lisa Davis, ldavis@uada.edu.