LeadAR Class 19 Virtual Session Focused on Diversity, Equity, Inclusion and Belonging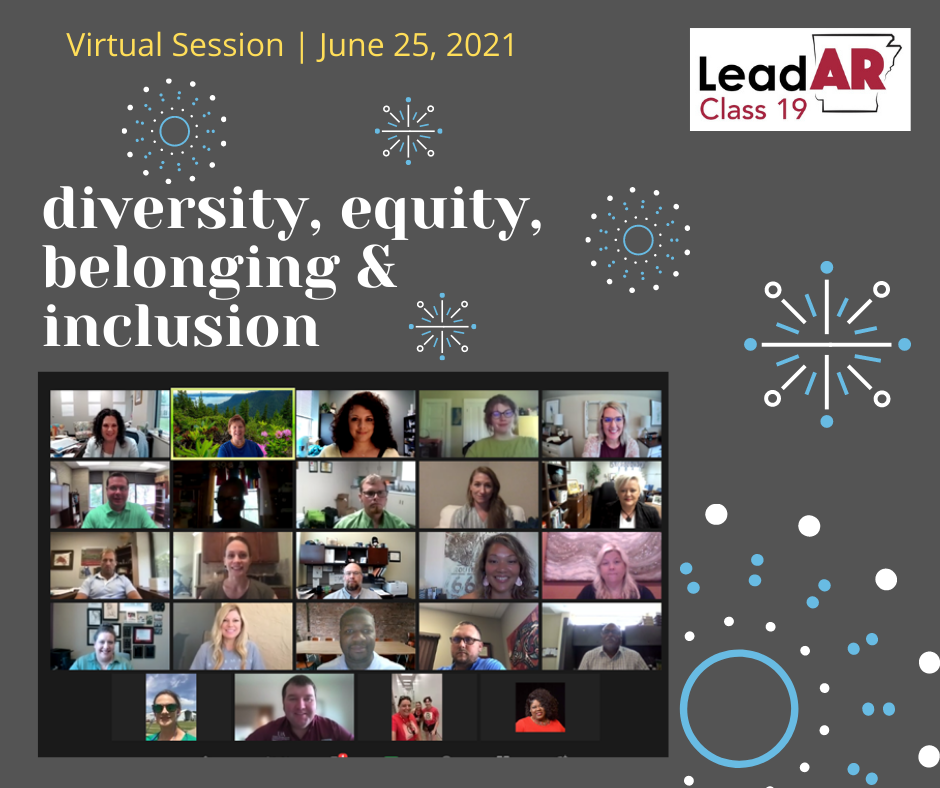 In the June 25th virtual session of LeadAR, through a series of discussions, activities, and exercises, Class 19 collaboratively explored the topics of diversity, equity, inclusion, and belonging.
The session was led by Blanca Hernandez, a family and consumer science Extension agent in Pulaski County, and Emily Smith, a program associate in the Community, Professional and Economic Development unit.
The content covered included the definitions of the terms.
Diversity—The condition of being different or having differences. Differences among people with respect to age, class, ethnicity, gender, health, physical and mental ability, race, sexual orientation, religion, physical size, education level, job and function, personality traits, and other human differences.
Equity—Fair treatment for all while striving to identify and eliminate inequities and barriers.
Inclusion—Everyone is included, visible, heard and considered. Inclusion outcomes are met when you, your institution, and your program are truly inviting to all. To the degree to which diverse individuals can participate fully in the decision-making processes and development opportunities within an organization or group.
Belonging—Everyone is treated and feels like a full member of the larger community and can thrive. It is the outcome of holding space where everyone truly feels empowered to speak up, make change, and shift the culture. It is the responsibility of those in leadership and of the dominant social culture to create these conditions.
Participants also went through a bias exercise to better understand when a person's brain might be unconsciously employing a bias. As an example, think about the first person who comes to mind when you think of the following professions: doctor, professor, social worker, teacher, religious leader, politician, and nurse. The questions to ask are: Is this person a particular race, gender, differently abled, etc. Also, what assumptions do you find yourself making?
On a different hot topic, resources for leadership service projects, Sarah Finzer, chief program officer at Arkansas Community Foundation, shared her insights into the work of the organization. She also shared how to access potential grant funds for community work.
To learn more about the LeadAR program, visit the website.