CREATE BRIDGES helps De Queen Woman launch local business
De Queen, Arkansas has a new nail salon in town and dreams have become reality for a young woman who educated herself with free local business programs held in Sevier County this year.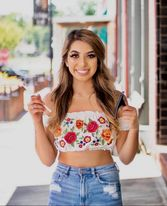 "The Nail Lounge" is located on Colin Raye Drive and opened its doors in May 2021.
Back in January, salon owner Ashley Campos attended the free Spanish Business Development workshop online hosted by the Arkansas Small Business Development and Technology Center (ASBTDC) to learn what it would take to start her own company. The event was hosted in partnership with CREATE BRIDGES of Arkansas and Sevier County Chamber of Commerce. Campos says the program taught her about organizational structure and how to form a business plan for her shop.
The same week her salon opened, Campos also attended a follow-up event held at the local Chamber of Commerce office to receive free business counseling with ASBTDC Director John Caver. She says the session helped her "gather information on how to keep the business organized and develop an effective marketing strategy." The consulting event was free of charge and provided 30-minute one-one-one sessions to advise entrepreneurs on how to start a business from scratch or take an existing company to the next level.
CREATE BRIDGES, ASBTDC, and Sevier County Economic Development have partnered to continue providing the free business consulting events to the public in Sevier, Little River and Howard counties on a quarterly basis going forward. Other strategies carried out by the CREATE BRIDGES steering committee include the "Small Business: Big Rural Impact" podcast, along with a consumer survey used to identify shopping trends around the region, and the "CREATE LIFT" workforce development program, which is set to launch in the coming weeks.
Additionally, the group teamed up with students from UA Cossatot's Immigrant Leadership Institute last winter to deliver a "Shop Local" Holiday guide and goodie bag set to Spanish-speaking business owners along side the Sevier County Economic Development department.
Small Business support methods developed by the CREATE BRIDGES team are formed with the realities of busy community member lifestyles kept in mind, as the podcasts can be downloaded and free advice from successful entrepreneurs is available at the listener's convenience.
The convenience of online business workshops and flexible scheduling of the one-on-one sessions allowed Campos to turn her passion into a paycheck while juggling of many other responsibilities at once. In addition to starting her own business, Ashley was also keeping up with her now 10-month-old son named Malakai Zane (who just learned how to crawl) and spending time with her fiancé Justin, who she credits as being supportive and helping throughout her nail Journey. She also continues to find time for her sisters Melanie and Daisy who "sure are lucky to have their own personal nail technician."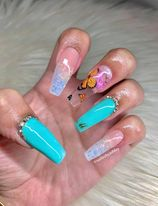 A love of nail art grew after Campos attended a class in Little Rock at the age of 16.
"From there I knew I wanted to do nails as a career," she said. "I feel so proud when I create a design that I feel like I can't do but end up surprising myself."
In 2019 Campos became a licensed Manicurist through the University of Arkansas Rich Mountain Cosmetology school and took an additional nail tech class lead by "Marie Nails," who is known for celebrity nail work.
Now, at just 20-years-old, the young mom and business owner has advice for other entrepreneurs looking to reach their dreams.
"Do lots of research," said said. "It never hurts to ask questions and write everything down."
She also advises to never let other people's opinion of you stop you from reaching your dreams.
"If you can dream it, then it's possible," Campos said.
The Nail Lounge services are available by appointment and the business page can be found on Facebook or Instagram at @nailzzbyashley.
Business development resources offered by the ASBTDC and more information can be found by visiting https://asbtdc.ecenterdirect.com/ or call (800) 862-2040.
For CREATE BRIDGES information, visit here or Contact 3C's program Coordinator Murriel Wiley by emailing mwiley@uada.edu.