True Colors Facilitator Training
Learn Your True
C
o
l
o
r
s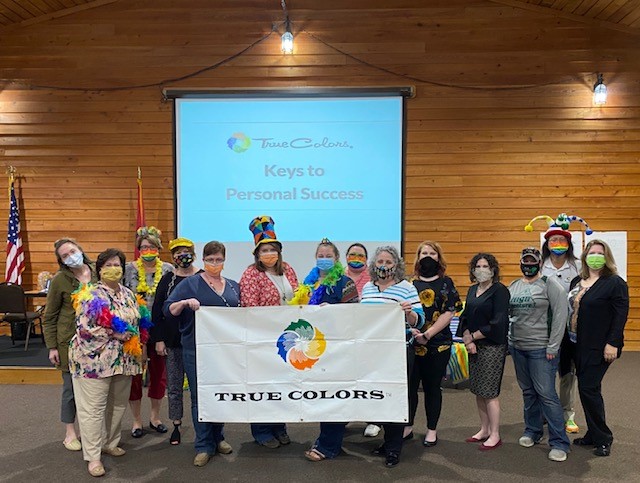 Blue. Gold. Green. Orange. Have you ever thought about the influence colors have on you? Whether it's the calming effect of blue skies or the appetite activating red and yellow of a local fast-food restaurant, each color has impact.
Recently, several Extension professionals attended a True Colors facilitator in-service workshop organized by Community, Professional, and Economic Development team members: Dr. Julie Robinson, Julianne Dunn, and Emily Smith.
True Colors is a personality profile tool using a color spectrum to provide a way for people to quickly understand themselves and others. It uses four colors to identify four distinct perspectives.
Briefly, the colors and what they represent are:
Blue—sensitivity, empathy, tranquility, harmony, and depth of feeling.

Gold—stability, accountability, dependability, and practical sensibility.

Green—creating, growing, developing, and always striving for perfection.

Orange—vitality, immediacy, energy, risk taking, and action.
(Source: True Colors Keys to Personal Success)
Understanding the color associations used in the True Colors profile gives participants an easy and fun way to identify their spectrum of personality preferences and establishes a common language to communicate and foster healthy, productive relationships.
Katie Frizzell, an FCS agent in Ashley County, attended the training and said she signed up to learn more about the concepts so she could help community members who work on teams with different personalities.
"The most important thing I learned was that there is not one color or set of personality characteristics that are better than others," Frizzell said. "Understanding different people's strengths, stressors, and values can help build great teams that work well together."
Frizzell is hoping to first facilitate sessions for 4-H teen leaders, adult 4-H leaders, as well as Extension Homemakers club members before expanding to help community organizations like the Rotary and Kiwanis Clubs.
Extension personnel who completed the training include:
Katie Frizzell – Ashley County
Trish Ouei – Benton County
Tamara Allen – Boone County
Lisa Davis – CPED
Rachel Bearden – Hot Spring County
Carla Due – Miller County
Elizabeth Easley – Mississippi County
Sherry Beaty-Sullivan – Polk County
Creenna Bocksnick – Vine 4-H Center
Katie Teague – Washington County
Leigh Ann Bullington – Woodruff County
Visit the True Colors website for more detailed information about the tool. To learn more about offering a True Colors training session in Arkansas, contact Lisa Davis at ldavis@uada.edu.