Arkansas 2020 Ballot Issues – Where they passed and failed
Arkansas voters ended lifetime term limits for state legislators and created another permanent source of funding for road construction and maintenance on Tuesday in the 2020 General Election.
Two of three proposed constitutional amendments from the legislature had widespread state support. Voters rejected a third proposal that would have significantly changed the citizen initiative process and increased the number of votes required by state legislators to refer constitutional amendments to voters.
Ballot Issue Results
Note: The results below come from the Arkansas Secretary of State's website. They are unofficial and have not yet been certified by county election commissions across the state. The final numbers may change slightly in the next few days but not enough to change the outcome. Newton County's results were not reported as of the time the website was accessed.
Issue 1 Passes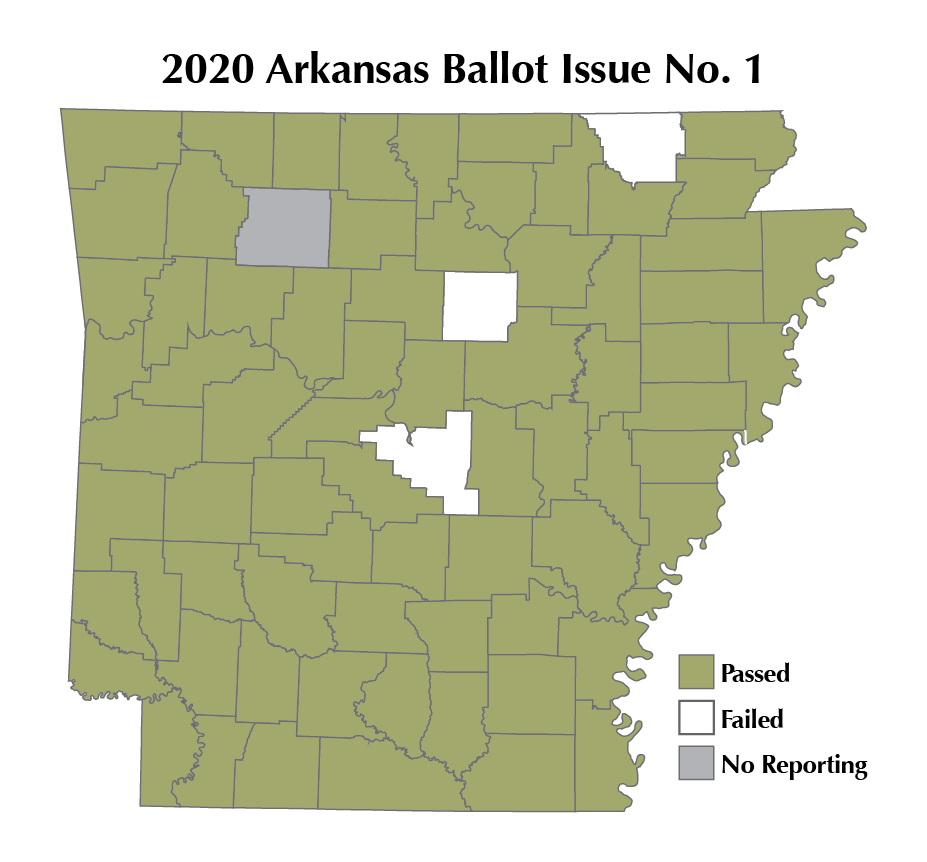 Voters approved Issue 1, a permanent 0.5% sales tax for state, county and city roads, by a vote of 55% FOR (644,647 votes) to 45% AGAINST (521,335 votes).
The sales tax passed in every county except Cleburne, Pulaski and Randolph counties.
Issue 1 will become the state's 101st constitutional amendment to the 1874 state constitution. Read more about Arkansas' state sales tax in this fact sheet published earlier this year.
With the passage of Issue 1, the state's sales tax rate of 6.5% doesn't change. The tax approved Tuesday will replace an existing one that sunsets in June 2023. There will be a seamless transition between the two sales taxes.
Funding from this new sales tax will be split the same between the state, counties and cities (70% state/30% county/30% city). Cities and counties across the state had passed resolutions expressing their support of Issue 1. Their road budgets would have been negatively impacted had Issue 1 failed.
The sales tax is expected to generate $293.7 million a year in revenue. Of that, $205.6 million would be allocated to the State Highway and Transportation Fund, $44 million to cities, and $44 million to counties, according to an impact statement written by the Arkansas Department of Finance and Administration about the amendment.
Issue 2 Passes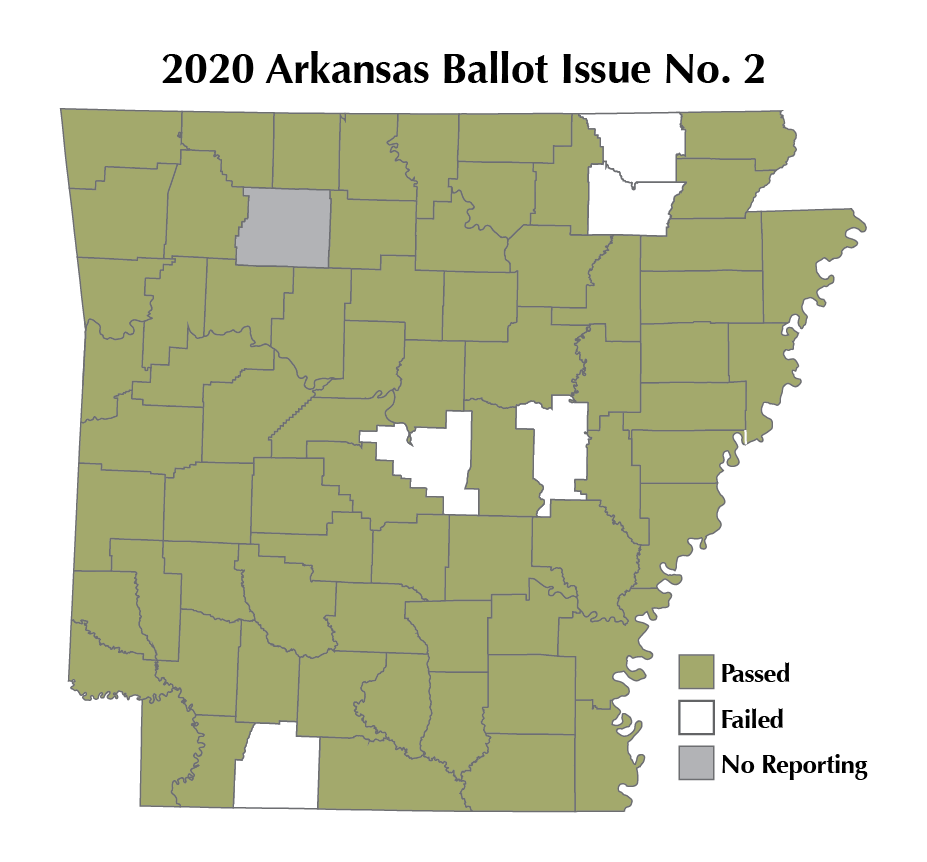 Voters also approved Issue 2, which ends life time term limits for state legislators and allows legislators to run for re-election after a break in office. The amendment passed by a vote of 55% FOR (632,874 votes) to 45% AGAINST (510,556 votes).
Issue 2 passed in every county except Columbia, Lawrence, Prairie, Pulaski and Randolph counties. This is the third amendment Arkansas voters have approved related to lawmaker term limits since 1992.
There was greater support statewide for Issue 2 than there were for changes to term limits approved by voters in 2014. In that election, 37 counties voted against the amendment but the proposal ultimately passed and put into effect what we have today.
Arkansas is one of 15 states that limits how long legislators can serve in office. We were one of six with lifetime limits, which meant legislators could not run for re-election ever again after serving the maximum number of years allowed. Arkansas had the highest maximum number of years people could be in the state legislature - up to 16 years.
The changes contained in Issue 2 will take effect in January 2021. Future legislators will be limited to serving 12 years in a row, but they would be allowed to serve again after a four-year break.
Issue 2 moves Arkansas from a life-time term limit state to a consecutive term limit state, joining nine other states with this structure. However, Arkansas will be the only state with consecutive term limits where lawmakers can serve all their years in whichever chamber they want. The other states have chamber-specific limits.
Current legislators and those elected this week can still serve 16 years. They will then fall under the new rules and be eligible for re-election.
Issue 3 Fails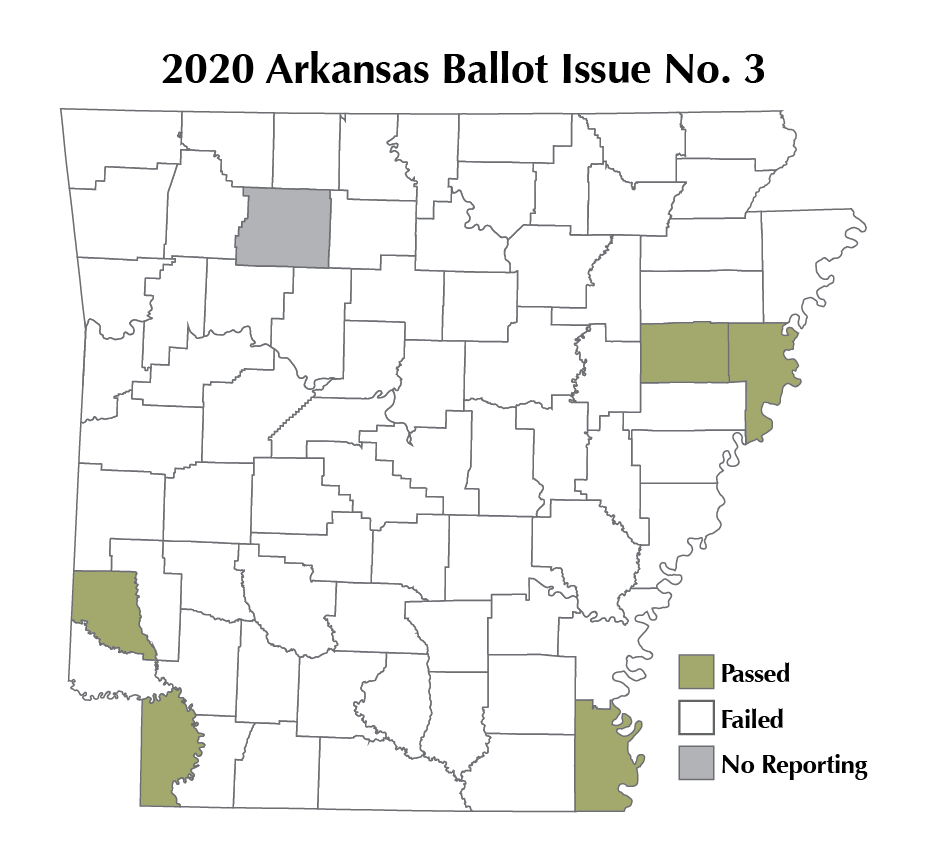 Voters rejected Issue 3, which sought to increase the number of votes required in the legislature to refer constitutional amendments to voters. The proposed constitutional amendment also would have made several changes to the citizen initiative process in Arkansas.
The amendment failed by a vote of 44% FOR (491,905 votes) to 56% AGAINST (623,760 votes).
Arkansas is one of 15 states where citizens have the right to refer constitutional amendments, state laws and referendums to voters. We are one of three southern states with this process in place. (An attempt to change Florida's citizen initiative process also failed yesterday.)
For the citizen initiative process, Issue 3 had proposed:
(1) increasing the number of counties where voter signatures on petitions must come from,
(2) eliminating the ability to gather additional signatures after initial petitions are submitted,
(3) moving up the voter petition submission deadline, and
(4) setting a deadline for filing lawsuits to challenge statewide citizen initiatives.
Issue 3 also sought to allow the legislature to change publication requirements for legislative ballot titles.
The proposal failed in every county except Chicot, Crittenden, Cross, Miller and Sevier counties. This issue had the most voter "roll off," where voters skipped the issue completely. 80,537 people who voted in the general election skipped over Issue 3.
Arkansas Ballot Issue Education Program
The Public Policy Center at the University of Arkansas System Division of Agriculture has provided neutral, research-based fact sheets on every statewide ballot issue since 2004. The purpose is to provide voters with a better understanding of what is being asked on them.