Master Gardener Events in Arkansas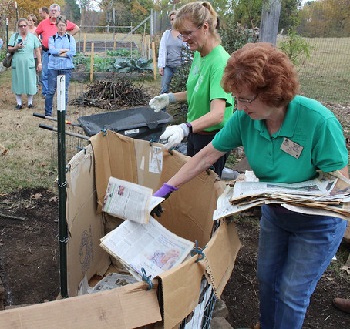 If you would like your Master Gardener or garden event listed in the events calendar, email Julie Treat with the event name, location (physical address with city), date, time, cost, and a contact name with email or phone number with the area code.
March 2023
16 - Grow Your Own Groceries: Strawberries. Learn how to grow strawberries and a new way to prepare your harvest. 12 to 1 p.m. on Zoom. Registration link
17 - Early registration rate deadline for 2023 MG Conference held in Russellville, AR. Check your email for registration information or go to the MG Only portion of our website for more details. MG Only Website Link
The MG only portion of the website is password protected. It is the same username and password for all MGs statewide. (this is not your online reporting username and password) If you need don't know the username and password to the MG Only portion of the website, email your County MG President or jtreat@uada.edu
18 - Baxter County Spring Seminar, 8 a.m. to 3:30 p.m., First United Methodist Church, Mountain Home, AR. Featured speaker: Joe Lamp'l - A Garden to Weather Any Storm. Additional speakers include: Daria McKelvey, Ray Moranz, Jeff Quick, Guy Ames. Cost: $35 (includes lunch). Limited seating available. Send in registration form by March 6. Registration is closed when event is sold out. Registration Form Link
18 - Rose Pruning Demonstration,
Join members of the Central Arkansas Rose Society and the Faulkner County Master Gardeners at the Legacy Gardens in Conway for a rose pruning demonstration.
Bring your pruners, loppers, gloves, etc. if you want in on the fun, or you are welcome to come, observe and learn how to prepare the bushes for a new year of blooms.
Where: The Legacy Gardens at Antioch Church at 110 South Amity Rd. in Conway
What you'll learn: When, how, and why to prune roses.
Cost: FREE
Questions? Contact: Krista Quinn, klquinn@uada.edu, 501-329-8344
20 – Master Gardener Monday, 12 p.m. on Zoom
23 - MGBee (Master Gardener Business Extension Education) Zoom Session. 12 - 1:00 p.m. NEW Zoom session for MGs and Agents. This Zoom session is targeted for MG officers (President, Vice President, Treasurers, and Continuing Education Committee Chair) and County Agents. The session will cover a topic concerning the MG Program from the business side. (This session will not cover plants.) Registration link
27 - Planting Seeds of Hope 2023 Spring Seminar, featuring guest speaker, Janet Carson, on Monday, March 27th from 6 - 8 p.m. This event will be held at Hempstead Hall on the UAHT Hope Campus. Come at 5:30 to shop with vendors.
Carson will be speaking on Color For All Seasons and Gardens Around The World. She is well known and beloved among Arkansas Master Gardeners and landscape lovers near and far. In her nearly-40-year career with the University of Arkansas Cooperative Extension Service she educated, influenced, and inspired innumerable people with her wealth of gardening knowledge.
The cost to attend is $20 per person if you pre-register before March 23rd. For late registrants, the cost will be $22 per person. Save time!
You may also call (870) 777-5771 or come by the Hempstead County Extension office to pre-register. Refreshments and finger foods are provided.
28 - Feed Your Family From a Bucket: Growing Edible Crops in Containers. Join us for another Faulkner County Master Gardener Learning to Grow presentation! This time, we're talking about how to grow edible crops in containers!
When: March 28, 2023 from 6–7pm
Location: Online, via Zoom Cost: Free
Growing nutritious food to feed your family doesn't necessarily require a lot of space or money. Faulkner County Master Gardener, Sheri Bradford, will teach you the basics of how to get started growing fruits, vegetables, and herbs in containers. You'll learn what crops are easiest to grow, how to choose containers, and how to care for your plants to ensure a good harvest.
Questions? Contact: Krista Quinn, klquinn@uada.edu, 501-329-8344
April 2023
6 - Faulkner County Master Gardeners Learning to Grow presentation on Zoom! Introduction to Seed Saving, noon-1pm
Interested in bringing your garden full circle from seed to plant to fruit or flower and back to seed? Faulkner County Master Gardener, Diana Polcar, will teach you the basics of how to get started saving your own seeds! Seed saving can be a cost-effective practice and helps preserve hard-to-find and heirloom varieties of plants. You'll learn what types of seeds are best for saving, how to make sure the seeds you save will produce the plants you want, when to harvest seeds, and the best ways to prepare and store your seeds.
Register for this virtual program
For more information contact Krista Quinn at
501-329-8344 or klquinn@uada.edu
13 - Grow Your Own Groceries: Herbs. Learn how to grow herbs and use them in your cooking. 12 to 1 p.m. on Zoom. Link to register
14 - Deadline to register for 2023 MG State Master Gardener Conference in Russellville, AR.
14 - Cross County MG Planting Your Bloomers Seminar featuring Mike Wilbanks, "Health Benefits of House Plants", Chris Cooper, "Pests and Diseases in the Landscape", Randy Forst, "Birds, Branches and Blooms" and Linda Glickert, "Invite Bluebirds Into Your Garden". 9 a.m. to 3 p.m. Technology Center for the Delta, Wynne, AR. Early registration: $30.00 (prior to April 6.) Registration after April 6: $35.00. Registration includes breakfast snacks, lunch and door prizes. Event flyer
15 - Jefferson County MG Home & Garden Show "Blooms & Bees" and Plant Sale. Speakers: Dr. Jon Zawislak, "Bees: Good for the Garden!", Randy Forst, "Pollinator Power Plants", Lee Anderson, "Conservation Gardening in an Urban Setting, Mary Ann Kizer, "Mediterranean Cooking". Vendors, Kid's Korner, The Plant Doctor, Raffles. 9 a.m. to 3 p.m., White Hall Community Center, 9810 Dollarway Road Ste 101, White Hall, AR. Free Admission
15 - Nevada County Presents "Spring... a Time to Till", Opens at 7:30 a.m. for plant sale and registration and runs until 12:30 p.m. Pre-registration--$15, at the door--$20. Janet Carson will present two sessions—Native Annuals and Perennials and Native Shrubs and Trees. Nevada County Master Gardener, Ralph Harris will do a demo about Irrigation. For more information call 501-627-8341 or email bjones107@yahoo.com
Event flyer and registration form
17 - Master Gardener Monday, 12 p.m. on Zoom.
21 - Online Reporting Managers Zoom Meeting, 10 a.m.