Canned Foods and EHC
Did you know that February is National Canned Foods month? Well, EHC has an extensive history of canning, as the first EHC clubs were canning clubs that aimed to educate Arkansas communities on proper food preservation.
In 1912, the very first canning club in the United States was organized by Mabelvale school teacher Emma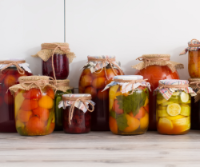 Archer. She was later appointed as the state agent overseeing home demonstration. In 1915, work with women, as well as girls, began as mothers started to take an interest in the education that was freely given to their daughters. In the coming years, clubs would be formed to incorporate other skills such as bread making, drying foods, and cooking. Home demonstration kitchens were opened that would go on to help with relief efforts during war times and children's nutrition efforts in the years to come. This includes delivering jars of canned goods to the struggling Arkansas Children's Home and Hospital during the Great Depression. As clubs grew, so did the possibility of better nutrition for the state.
To celebrate National Canned Foods month and the origins of EHC, check out some of Extension's resources on canned foods. Whether it's fruits or vegetables that you're looking to can or other methods of food preservation, Extension has the answers you're looking for: https://www.uaex.uada.edu/life-skills-wellness/food-safety/preservation/