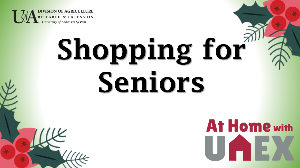 Holiday Shopping: Shopping for Seniors

By Original Author: Kris Boulton, Saline County | Adapted for Blog: Pamela Luker, Pope County
Tips for Shopping for Seniors
This year, the holidays bring extra challenges when it comes to buying gifts for seniors on your list. For those loved ones who may be bedridden or in an assisted living facility, we want to give them gifts they can use. Devotion is the greatest gift you can give. One of the best gifts to give is your time. Just go and spend some time visiting with them. However, with COVID restrictions, this may not be an option. Of course, calling them and spending time visiting with them on the phone may be an option.
Here are some other ideas to help you provide a gift they will love.
A large-print calendar that highlighted family members' birthdays and other important dates.
A gift certificate to a grocery store or pharmacy.
A box of assorted greeting cards and postage stamps. Assortment should include birthday, sympathy, get well, etc.
A new family portrait. Present it in a frame so it is ready to display.
A new easy chair or recliner.
New, cozy warm slippers.
Large numbered television remote control.
Do some minor home repairs.
A nightlight to light the path to the bathroom.
Bathroom enhancements such as a raised toilet seat with handrails, a shower bench with handrails and backrest or a hand-held shower spray. Make plans to install them yourself or have them installed.
Warm washable socks or leg warmers are great gifts.
Make or purchase a tote bag to hook on a wheelchair or walker.
A large face clock with easy-to-read numerals, a large easy-to-read calendar, a talking alarm clock.
Extra lighting of all kinds is always welcome, such as desk lamps, flashlights, night lights, outdoor lighting. Look for products that can be recharged rather than uses batteries.
Gardening tools with large, soft grips; a wheeled garden scoot or padded kneeler. There a lots of great gardening tools for older people or people with disabilities.
Kitchen tools that have large handles, etc. for people with arthritis or limited mobility that make it hard to grip items.
Remember, the gift of love is the greatest gift of all.
If you would like more help with handling money go to: UAEX Personal Finance
Watch below as FCS Agent, Kris Boulton, provide tips for shopping with seniors.