Irrigation Survey Results 2015
A Survey of 2015 Mid-South Irrigation Practices
In 2014, four mid-South states (Arkansas, Mississippi, Louisiana, and Missouri) received a grant from the United Soybean Board and the Mid-South Soybean Board designed to increase the profitability of irrigated soybean growers in the mid-South. The project's goal was to increase the adoption of Irrigation Water Management Practices. A survey of irrigators in the region was conducted as a baseline for adoption rates of commonly used practices. Many of the cultural practices used in the mid-south are not documented, due to the uniqueness of this region that is not found in the rest of the United States. This survey is meant to supplement the Farm and Ranch Irrigation Survey conducted by the National Agricultural Statistics Services. Additionally, the survey provides key benchmark information about where to direct educational programs and where state and federal resources would provide the most benefit.
Although data was collected on several beneficial irrigation practices, three irrigation best management practices (IBMPs) were of special interest. First, these three practices had been the subject of recent endeavors targeted in Extension educational outreach efforts aimed at local irrigators. Secondly, it had been demonstrated that these IBMPs were beneficial. And, thirdly, the IBMPs were identified as being good candidates for transferability since farmers appeared willing to adopt on their farms. These five IBMPs were:
Improved irrigation timing specifically soil moisture sensors adoption
computer hole selection (CHS), that is, assuring proper orifice size in the mainline poly-pipe delivery lines.
Surge Flow Irrigation
Multiple Inlet Rice Irrigation
Maintaining pumping plants at high levels of efficiency and capacity.
The project, in large, would be evaluated on the level of grower adoption of these new practices after three years of efforts; hence baseline data was needed to be collected to ascertain project success. Although, the genesis of the project stemmed from soybean-related funds, data concerning other six other major crops was gathered at the same time. And among this group, other irrigation-related information was collected on rice because of the additional practices specific to it alone. The data from this survey represents irrigation practices that occurred in 2015
This project was funded by the United Soybean Board and the Mid-south Soybean Board representing Arkansas, Mississippi, Louisiana, Texas and Missouri. The following materials and publications have been developed as a result. A series of factsheets have been developed to convey the main results of the survey.
When referencing the mid-south survey data or this report use the following reference:
Henry, C.G., L. J. Krutz, J. Henggeler, R. Levy, Q.Q. Huang and K. Kovacs. 2020. A Survey of 2015 Mid-South Irrigation Practices: Report to the Mid-South Soybean Board and dataset. Mid-South Soybean Board. University of Arkansas Division of Agriculture.
The datasets from this report can be requested from,
Chris Henry, Associate Professor and Water Management Engineer, University of Arkansas, cghenry@uark.edu
L. Jason Krutz, Director, Mississippi Water Resources Research Institute, Mississippi State University, j.krutz@msstate.edu
Factsheet Series: Prime Survey Results
Final Report - A detailed review.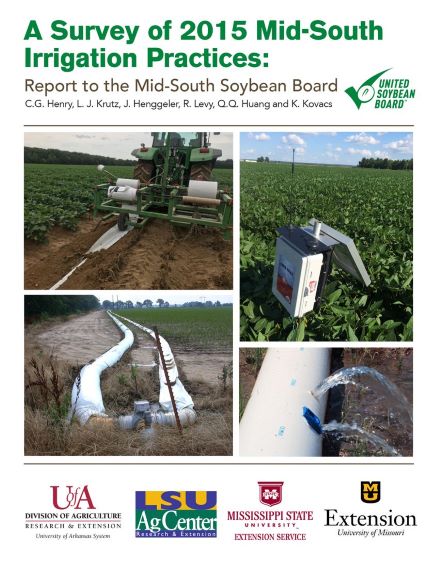 Journal Articles
Kovacs, K. F., J. Y. Lee, C. G. Henry, L. J. Krutz, R. M. Nayga and F. Tsiboe. 2019. Factors influencing the willingness to pay for on-farm water infrastructure. Journal of Soil and Water Conservation. 74(3). 259-268; DOI: https://doi.org/10.2489/jswc.74.3.259
Knapp, T. and Q. Huang. 2018. Assessment of Strategies to Address Future Irrigation Water Shortage in the Arkansas Delta. In Arkansas Bulletin of Water Research Issue 2018.
Knapp, T., K Kovacs, Q Huang, C Henry, R Nayga, J Popp, B Dixon. 2017. Willingness to pay for irrigation water when groundwater is scarce. Agricultural Water Management 195, 133-141.
Nian, Y., Huang, Q., Kovacs, K. F., Henry, C., & Krutz, J. 2018. The Use Pattern of Irrigation Practices by Arkansas Producers. In Norman, R. J. and Moldenhauer, K. A.K., "B.R. Wells Arkansas Rice Research Studies" (2019). Research Series. 154.
https://scholarworks.uark.edu/aaesser/154
Nian, Y., Huang, Q., Kovacs, K. F., Henry, C., & Krutz, J. 2020. Water management practices: Use patterns, related factors, and correlations with irrigated acres. Water Resources Research, 56, e2019WR025360. https://doi.org/10.1029/2019WR025360
Presentations
Adoption Rates for Irrigation Practices in the Mid-South Presentation