Welcome to the Ozark Pastures blog!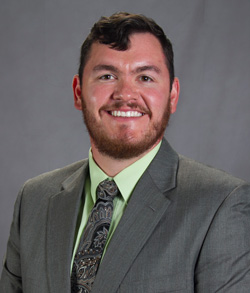 My name is Brad Runsick. I'm the agriculture agent for Baxter County, Arkansas where I work out the Extension Office in Mountain Home. A native of Northeast Arkansas, I grew up on a small cow-calf farm where we cut most of our own hay and ran 30-50 momma cows on whatever number of acres were cleared at the time. I reckon that's where my interest in forages got kicked off.
After college, I landed in a job with the Extension Service where much of my time is spent helping farmers grow more grass and better utilize what they have. I spend a lot of my time answering lots of questions regarding weed control, soil fertility, new pasture seeding, forage quality etc. You name it. If it's related to pasture and hayfields in northern Arkansas, I get asked about it.
In addition to those one-on-one chats with farmers, I spend my field work time putting out weed control demonstration with various products to measure effectiveness in controlling weeds. We also do projects on forage yield based on fertilizer sources, timing, etc. I say "we" because many times these kinds of projects are a joint effort among my counterparts from surrounding counties.
The goal of this blog is to not bombard you with lines of text. I expect it'll be a 1-2x per month kind of thing where we hit on some timely information for grass growers throughout the year. Be it armyworms in the fall or spraying ragweeds in early June. Please subscribe to the blog so you'll get notified when a new post is up. Tell your friends and cousins and granddaddy and whomever else.
If you have a topic that you'd like to know more about, please shoot me an email at brunsick@uada.edu. If there's enough interest in a given subject and we've got some sound, research based information to provide about it, I'll be glad to talk about it.
My beef cattle and animal science friends might disagree with this sentiment, but a good cattle rancher is a good grass farmer first. See you next time.