Share Grounds: Kitchen Incubator and Aggregation Center Development Project
A partnership between the UA System Division of Ag, USDA Local Food Promotion Program and regional partners in Cleveland and Woodruff County.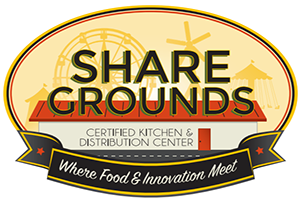 What are Share Grounds?
The Share Grounds project offers an innovative opportunity to develop and grow food entrepreneurs by utilizing existing facilities and infrastructure at the County Fairgrounds. With certified kitchen space and technical support to start or grow your business, the Share Grounds is the perfect place to scale up your food business.
We currently have one kitchen incubator and aggregation center located in Rison, AR, at the Cleveland County Fairgrounds.
The goals of the Share Grounds Project are to:
increase access to and consumption of local foods in Arkansas by expanding utilization and capacity of fairgrounds for aggregation, distribution, and value-added product development,


support local farms,


develop and expand opportunities for value-added food businesses,


foster the growth of regional food economies, and


improve access to food in underserved communities and institutions
Have a food concept?
Consider becoming a client! Get resources to start your own food business and attend our upcoming events to learn more about the services offered at your local Share Grounds facility.
---
Upcoming Events: Check back often for updates!
---
Starting your Small Food Business at the Share Grounds
Creating Opportunities for Food Entrepreneurs
For more videos including webinars on starting a local food business in Arkansas and at the Share Grounds kitchens, please visit our Local Food Business & Share Grounds webinars webpage and the Local, Regional & Safe Foods YouTube playlist by clicking the buttons below.
View Food Business Webinars View YouTube Playlist
---
FAQs