Arkansas Food Freedom Act
Fast Facts
The Arkansas Food Freedom Act will go into effect on July 28th, 2021
The Act replaces the Arkansas Cottage Food Law

This allows for direct sales of homemade "non-time/temperature control for safety" food
What does this mean?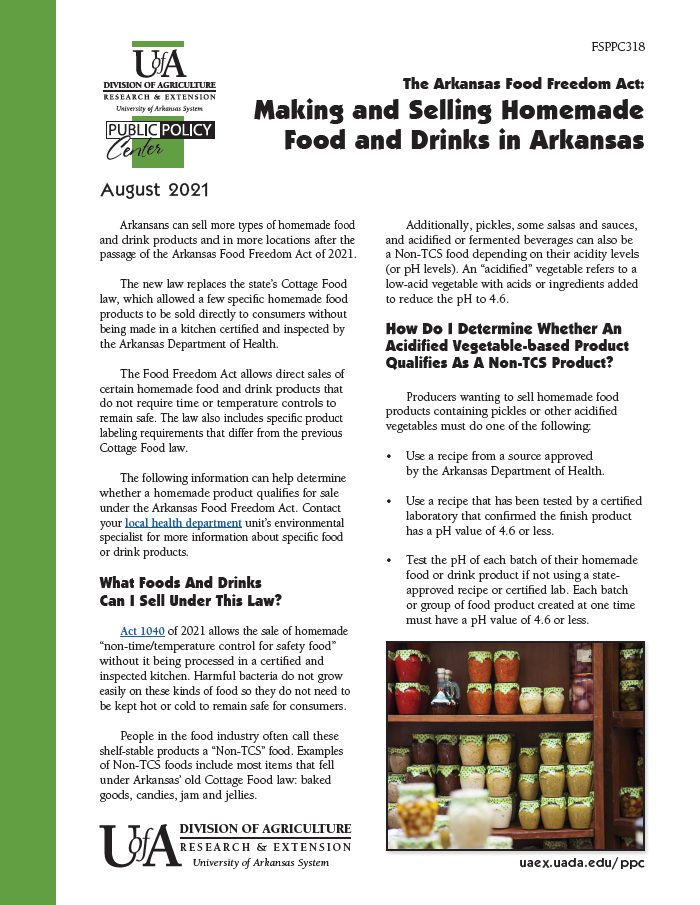 Act 1040 of 2021, also known as the Arkansas Food Freedom Act, expands home-based food production of "non-time/temperature control for safety" (Non-TCS) food items. Review the Homemade Food Production Guidelines by the Arkansas Department of Health (ADH) for additional guidance and resources on how to produce homemade food products covered by the new law.
The law does not exempt home-based food producers from the Federal Food, Drug, and Cosmetic Act. All product made must be unadulterated and branded appropriately.
For additional policy specific information, the Arkansas Public Policy Center has developed a fact sheet and blog post to educated the public on the new rule.
What is a homemade Non-TCS food?
Homemade Non-TCS food are food or drink products that do not require refrigeration to prevent the growth of microorganisms and are produced in the private residence of the producer. These items are non-potentially hazardous food that do not require an Arkansas Department of Health permit and can only be sold directly to the consumer.
The list of allowable foods in Arkansas include:
Bakery products

Candy

Fruit butters, jams, jellies

Chocolate-covered fruit and berries that are not cut

Honey products

Non-TCS products with a pH below 4.6 such as some pickles, salsas and sauces
NOTE: Bakery products, jams, jellies and fruit butter made with splenda and similar sugar substitutes are considered potentially hazardous food and are not covered by the Arkansas Food Freedom Act
However, not all foods can be made at home and sold to the public. We are currently developing a flowchart to help producers navigate which products can be homemade or manufactured in a permitted facility.
If you have additional questions, please contact the Environmental Health Specialist at your local health department (also known as the local health unit).
What steps do I take to comply with the new law?
1. Know your recipe - Use a recipe verified for food safety. This is especially important for canned products such as pickles and salsas. The National Center for Home Food Preservation provides research-based recipes that meet the criteria under ADH guidelines for homemade food products.
2. Log production - keep a record of every batch of product made that includes:
the batch number and date it was prepared,
the recipe used,
the source of the recipe,
pH result of batch, if applicable to your product.
3. Log pH data - Some products, such as acidified vegetables (pickles), require a recipe that achieves a pH of 4.6 or lower to ensure food safety. Producers wanting to make these types of product must do one of the following:
Use a recipe from a source approved by the Arkansas Department of Health.
Use a recipe that has been tested by a certified laboratory that confirmed the finish product has a pH value of 4.6 or less. Record this pH value on the production log for that batch.
Test the pH of each batch of their homemade food or drink product if not using a state-approved recipe or certified lab. Each batch or group of food product created at one time must have a pH value of 4.6 or less. Record the pH value on the production log for the batch.
4. Label appropriately - Ensure your label provides all information required by law. This ensures easier traceback in case of a quality concern or food illness. Producers who do not wish to disclose personal information for safety reasons may request an identification number provided by the Arkansas Department of Agriculture.
5. Know your market - The direct-to-consumer marketplace is a low capital entry point to start your food business. However, this is a small segment within the packaged food industry. Most grocery stores and food retail establishments source food products made in permitted and inspected facilities. Also, if selling product out-of-state, understand the rules regarding homemade food sales in those states as these laws may differ from Arkansas law.
What are additional considerations not covered under the law?
This law does not provide exemptions from the following:
ADH investigations - ADH can still conduct investigations and ensure adulterated or misbranded food is not introduced into commerce.
Liability - The law does not protect the producer if an injury or illness results from the production or consumption of a homemade product. Consider purchasing a food liability insurance policy.
Business requirements - The law does not exempt producers from acquiring business licensure, certificates, and recording taxes. If you need assistance with setting up your business, contact the Arkansas Small Business and Technology Development Center for free consultation services.
---
Want to learn more?
Staff with the University of Arkansas System, Division of Agriculture and the Arkansas Health Department teamed up to provide information about the Arkansas Food Freedom Act and to answer questions from a live audience. This webinar also resulted in a Frequently Asked Questions document.
Who can I contact for assistance?
Allowable/Unallowable Product Questions
Arkansas Department of Health - contact the Environmental Health Specialist at your local health department
Meat products must be made in an inspected facility. Visit our Animal Science webpage for additional resources and contacts.
Recipe Review
If you have a recipe that needs to be verified for food safety, visit the AFDO Food Processing Authority Directory.
Have a product complaint?
If you purchased a homemade food product and have a complaint, contact the Arkansas Department of Health at adh.ehs@arkansas.gov with the subject line, Arkansas Food Freedom Act product complaint.
---
What are Wholesale Manufactured Foods?
Food products not allowed for home-based production under the Arkansas Food Freedom Act are considered "Manufactured Foods". Manufactured foods require a higher level of food safety due to potential hazards that could cause food illnesses. Some examples of manufactured food include:
Non TCS foods above the required pH level (Pickles, salsas and sauces)
Fresh-cut fruits and vegetables
Baked goods with cream cheese frosting and cheese fillings
Jams, jellies and fruit butter made with sugar substitutes
TCS foods, such as meat products
These items will need to be approved and made in a facility inspected and permitted as a "Manufactured/Wholesale Food Establishment" by the Arkansas Department of Health.
The Share Grounds facilities are permitted by the Arkansas Department of Health and are a space available to clients who want to develop, test and produce manufactured food products.
Visit our Share Grounds webpage and contact the Share Grounds manager for more information.
Additional Resources