LeadAR Class 19 Journey Culminates in Graduation Event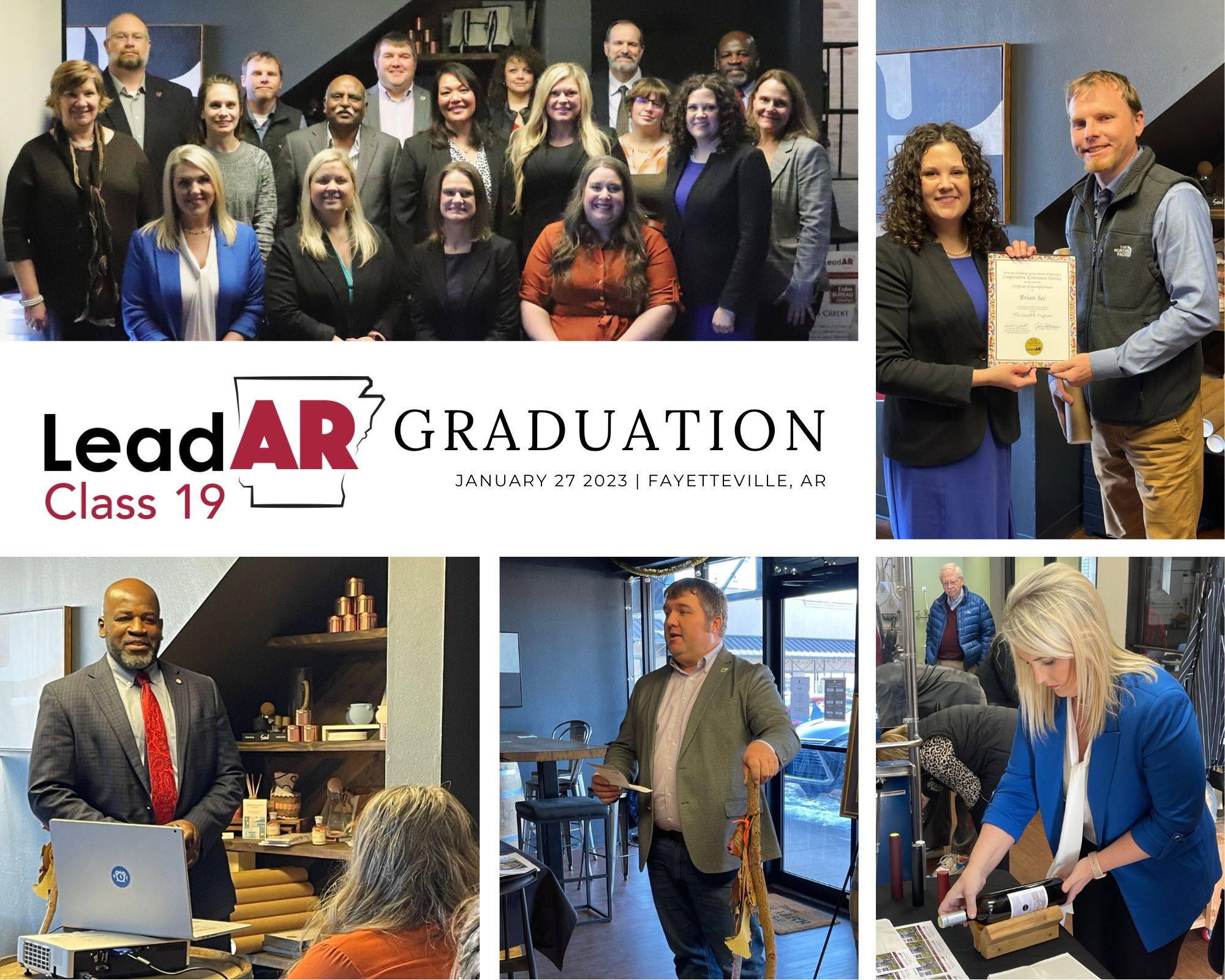 Twenty leaders from across the state completed their LeadAR journey this month. LeadAR Class 19 celebrated their graduation at the Urban Cellar Winery on Jan. 27 in Fayetteville.
Participants shared in a wine bottling experience and a ceremony recognizing their accomplishments over the past two years.
Julie Robinson, LeadAR program director, kicked off the agenda with a welcome and remarks about the program.
University of Arkansas System Division of Agriculture Vice President Deacue Fields, and Bob Scott, director of the Cooperative Extension Service, congratulated the class on their perseverance through the program and flexibility due to Covid. They also thanked them for their hard work on their leadership service projects.
LeadAR Class 19 graduates include:
Srinivasa Bande, President, SAI Strategic Solutions, Inc.
Scott Bass, Deputy Director, Response and Recovery, Arkansas Division of Emergency Management
Jesse Bocksnick, 4-H Outdoor Skills Instructor, University of Arkansas System Division of Agriculture
Karyn Bradford Coleman, Midwest Regional Director, Democratic National Committee (DNC)
Tyler Davis, Market President , Diamond Bank
Brittany Farmer, Executive Director, USDA Farm Service Agency
Shelby Fiegel, Director of the Center for Community and Economic Development, University of Central Arkansas
Courtney Fisher, Director of Student Services, Arkansas Northeastern College
Stacey Gorman, Director of Communications, The Cotton Board
Michal Harris, Flood Mitigation Assistance Coordinator, Arkansas Department of Natural Resources
Tiffany Henry, Instructional Designer of Training and Workshops, University of Arkansas Office of Entrepreneurship and Innovation
Susan Koehler, Manager, NWA Land Trust and Benton County Fair
Mark Lambert, Director, Commodity Activities and Economics, Arkansas Farm Bureau Federation
Amanda Lance, Researcher, Hempstead County Abstract and Title Company
Krista Patrick, Pathway Builder, Canopy NWA New American Cities
Brigit Rollins, Staff Attorney, National Agricultural Law Center
Brian See, Marion County Staff Chair, University of Arkansas System Division of Agriculture
Jennifer Terry, Development Director, Hamilton Center for Child Advocacy
Hazelle Whited, Small Business Economic Developer, Marketing Specialist, Sharp County Outdoors LLC
Laura Wiles, Election Coordinator, Perry County
Watch LeadAR Class 19 Slideshow
Application Period for LeadAR Class 20 Open
LeadAR is accepting applications for its next class of Arkansas leaders. LeadAR provides an in-depth learning experience covering important economic and social issues impacting the state. The 18-month LeadAR program includes two-day seminars in different regions of the state. Monthly virtual seminars also cover topics including ethical leadership, communication and storytelling, and diversity, equity, belonging and inclusion.
"Through the LeadAR program, participants receive hands-on experience in skill development and gain a better understanding of local issues," Robinson said. "Participants see policy impacts at the local, state and national level and gain a better understanding of the legislative process."
The deadline for applications is Feb. 24, 2023, and application details can be found on the website.
The LeadAR Advisory Council will conduct interviews from March 6-17, and all applicants will be notified of the Class 20 selections by March 31.
LeadAR is a program designed to help Arkansans broaden their understanding of issues and opportunities facing our state and strengthen their ability to make a difference. For more information about LeadAR, visit the website or contact Robinson, jrobinson@uada.edu, or Lisa Davis, ldavis@uada.edu.