Arkansas Procurement Technical Assistance Center Success Story: C&C Lawn Service Care, LLC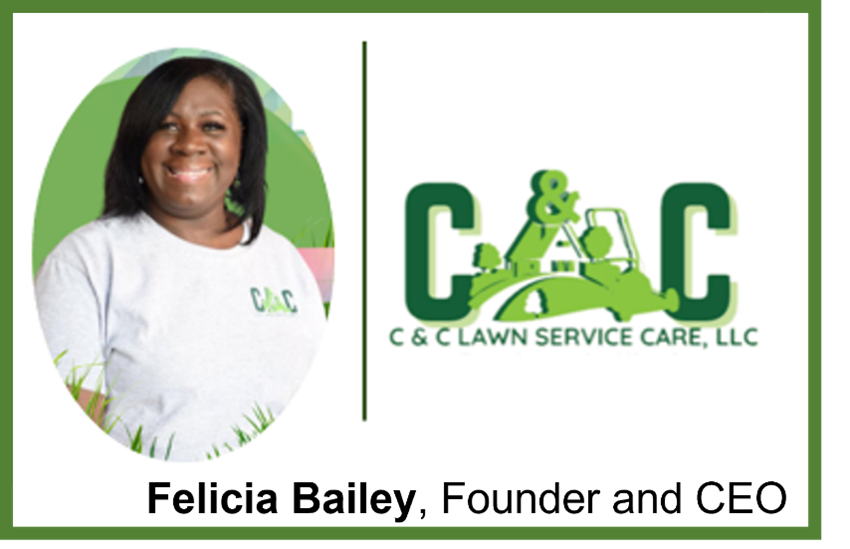 What started as a part-time business 32 years ago for founder and CEO Felicia Bailey has now very much become a full-time business.
C&C Lawn Service Care, LLC (C&C) is a minority woman-owned business located in Little Rock and now offers all areas of lawn care details including tree removal, shrub removal and installation, sod installation, hauling away, trimming, edging, landscaping, pressure washing, lawn care, mulching, planting, mowing, blowing, weed eating and gutter cleaning. Bailey provides these services herself along with her four employees. Fun fact about Bailey is that she has personally won "Yard of the Year" multiple times.
C&C was recently awarded a government contract with the city of Little Rock. The contract will generate $76,000 for the business and consist of tree trimming and removal. She mentioned that Derrick Rainey, Small Business Coordinator for the city, as extremely helpful during the bid process and to her business in general.
Bailey learned of the services provided by Arkansas PTAC through a Newport friend who was already a PTAC client. Since becoming a client in 2018 herself, Bailey has had a complete PTAC experience. She worked with PTAC Counselors Tim Hicks and Tierra Hutley as well as former PTAC Counselor Debra Garcia.
"The staff uses professionalism and goes out of their way to make sure that I understand everything so that I leave with a clear mind, and nothing left on the table. The knowledge they provide has been immensely helpful," said Bailey.
"Whenever I need something, I reach out to Tim Hicks and he responds quickly," added Bailey.
Hicks assisted Bailey in registering and preparing for United States Army Corps of Engineers (USACE) Industry Days, reviewing bids, and renewing her Dynamic Small Business Search (DSBS), System for Award Management (SAM), and Women-Owned Small Business (WOSB) certification.
Along with the assistance from Rainey and the PTAC staff, Bailey considers herself fortunate to have her loving husband, Charlie, and their two girls, Charlisha and Chassity, involved. The business was named after the girls. She also has an actively-involved admin, Yuketa Hall, who worked remotely to assist with the city government contract process.
Bailey said she is also grateful for her team on the grounds who work hard and ensures that their customers "Experience the Miracle" as the company's slogan.
"I am tremendously pleased and grateful to have such an active circle of support on the C&C Lawn Service Care, LLC team," she said.
Bailey encourages other businesses to utilize the services offered by PTAC as she feels that they will bring closure to questions. She also suggests staying consistent so that businesses will see results.
To take Bailey's advice and utilize the no fee services offered by Arkansas PTAC or to learn more about the services, please reach out to us at PTAC@uada.edu.