2023 Leadership Lunch and Learn Book Review Series--Good to Great reviewed by Dr. Julie Robinson
We are excited to be hosting a book review series this year featuring leadership experts from across the south. Each presenter will review a leadership development book. The Book Review series gives you the opportunity to hear the cliff notes version of many popular leadership development books.

The series kicked off Jan. 25, 2023 with Good to Great reviewed by Dr. Julie Robinson, associate professor-leadership, University of Arkansas System Division of Agriculture. Robinson provided the following highlights from each chapter of the book.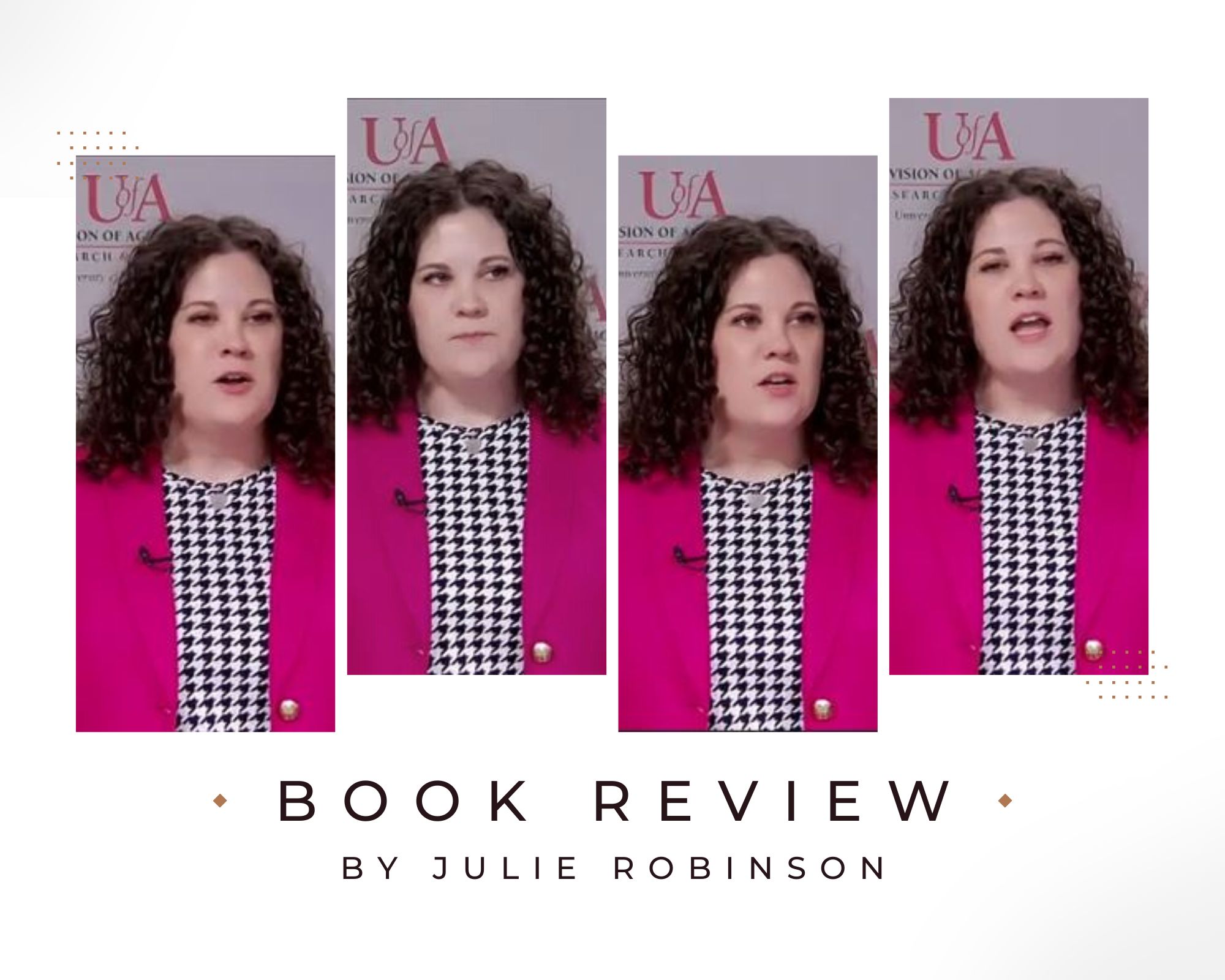 Chapter One: Good is the Enemy of great
Emphasis on how a good company can go from good to great.
Described the research process.
Identified companies that made the leap from good to great.
Compared companies that have sustained growth over 15-year period and increased stock shares.
11 companies made the cut in a variety of industries.
Unsustained comparison companies.
Chose publicly traded companies due to metrics and public documents.
Chapter Two: Level 5 Leadership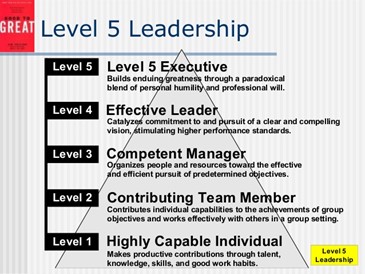 Distinguished traits of good to great leader or Level 5 leaders.
Every good-to-great company had a Level 5 leader during the pivotal transition years.
Embody a mix of personal humility and professional will.
Set up successors for success.
Modest, self-effacing.
Drive to succeed, need to do well for the company.
Plow horse vs. show horse.
Window or Mirror.
Flashy hires.
Chapter Three: First who…then what
Get the right people on the bus before you figure out where you're going.
It is not necessary to set new directions, strategy and to get new people to ensure the success of the transformation.
Good to great companies always understand who should join the organization.
Exact standard at all levels especially at upper management. There are three steps on how the companies can be rigorous.
Practice discipline, when it doubt, don't hire and keep looking.
When you know there is need to make people change, do it.
Put the best people on the biggest opportunity not the problems.
Chapter Four: Confront the brutal fact (yet never lose faith)
Good to great companies did not have a perfect track record.
Made more good decisions than the comparison companies.
Lead with question, not answer.
Engage in dialogue and debate, not coercion.
Conduct autopsies, without blame.
Build red flag mechanisms that turn information into information that cannot be ignored.
Chapter Five: The hedgehog concept (simplicity within the three circles)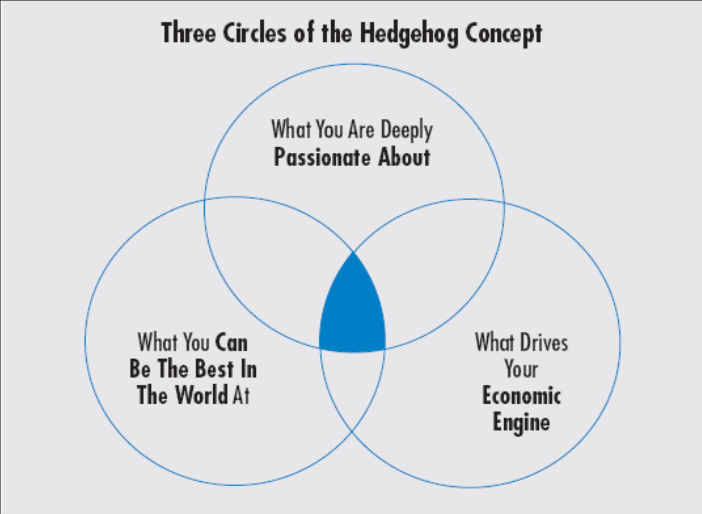 Deep understands about the intersection of the three circles.
Strategy to be the best, not a goal.
What you can be best in the world.
What drives your economic engine.
What you are deeply passionate about.
Great companies recognize when they can no longer do a certain thing better than someone else.
Chapter Six: A Culture of discipline
Build a culture around the idea of freedom and responsibility, within a framework.
Fill that culture with self-disciplined people who are willing to go to extreme lengths to fulfill their responsibilities. They will "rinse their cottage cheese."
Don't confuse a culture of discipline with a tyrannical disciplinarian.
Adhere with great consistency to the Hedgehog Concept, exercising an almost religious focus on the intersection if the three circles.
Chapter Seven: Technology accelerators
Think differently, about technology and technological change.
Avoid technology fads and bandwagons.
Become pioneers in the application of carefully selected technology.
Used technology as an accelerator of momentum, not a creator of it.
None of the good to great companies in the book began their transformations with pioneering technology.
Technology fit with their three circles and after they hit breakthrough.
Chapter Eight: The Flywheel and Doom Loop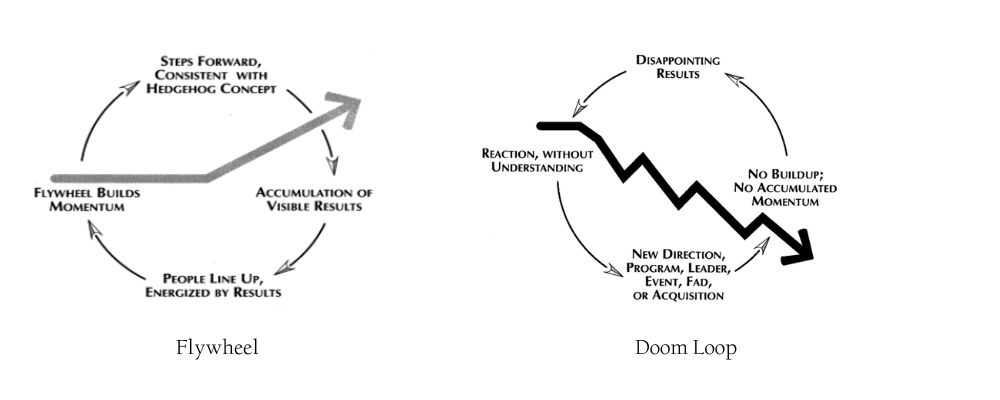 Open look like dramatic, revolutionary events to observing from the outside.
Actually, cumulative processes, never happened in one fell swoop.
Sustainable transformations follow a predictable pattern of buildup and breakthrough.
The comparison companies followed a different pattern, the doom loop. Already fast-spinning flywheel.
Chapter Nine: From Good to Great to Built to Last
Conducted the research for Good to Great as if Built to Last didn't exist.
Treated Good to Great as a prequel to Built to Last.
Commit to applying what we learn to whatever we do for our company, social sector work and your own life.
Application must be a company shift, not an industry event.
---
Join us for future LLL book reviews. Here's the upcoming schedule.
Feb. 22, 2023 – Start with Why | Cheryl Newberry, Program and Personnel Development Specialist, Oklahoma State University
March 29, 2023 – Dare to Lead | Brandi Berven, Extension Specialist – Staff Development, University of Tennessee
April 26, 2023 – Triggers | Tia Gregory, Data Management Coordinator, Mississippi State University
May 31, 2023 – Tribe: On Homecoming and Belonging | Dr. Kristi Farner, Program & Staff Development Specialist, University of Georgia
June 28, 2023 – The Burnout Epidemic | Dr. Rochelle Sapp, Leadership Development Specialist, University of Georgia
July 26, 2023 – The Four Agreements | Karl Bradley, Leadership Development Specialist, Extension Foundation
Aug. 30, 2023 – Leader's Eat Last | Dr. Hunter Goodman, Assistant Professor – Community and Workforce Development, University of Arkansas System Division of Agriculture
Sept. 27, 2023 – It's the Manager | Dr. Tearney Woodruff, Assistant Professor and Extension Specialist, Texas A&M
Oct. 25, 2023 – Collective Genius | Dr. Matt Benge, Extension Assistant Professor, University of Florida
Nov. 29, 2023 – Essentialism | Dr. Lauren Griffeth, Extension Leadership Specialist, University of Georgia
Click here to register for each Book Review session.