Fact Sheet Available for Upcoming Hot Spring County Alcohol Sales Election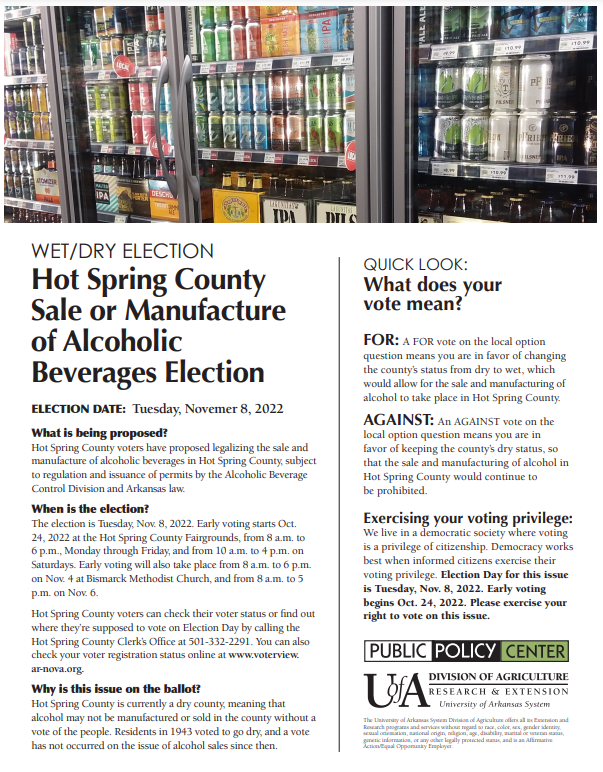 Voters in Hot Spring County will decide whether to legalize alcohol sales in their community after nearly 80 years of prohibition when they vote in the November 2022 General Election.
The Public Policy Center at the University of Arkansas System Division of Agriculture partnered with the Hot Spring County Extension Office to produce a fact sheet explaining the countywide ballot issue.
Hot Spring County voters proposed legalizing the sale and manufacture of alcoholic beverages in Hot Spring County, subject to regulation and issuance of permits by the Alcoholic Beverage Control Division and Arkansas law.
Voters on Nov. 8 will decide:
Whether the county should allow alcohol sales or remain a dry county.
Download the fact sheet at: https://www.uaex.uada.edu/business-communities/voter-education/docs/2022-Hot-Spring-County-Alcohol-Election.pdf
Hot Spring County is currently a dry county, meaning that alcohol may not be manufactured or sold in the county without a vote of the people.
Using the citizen initiative process allowed under state law, citizens making up the Vote Hot Spring County Wet collected signatures from 6,734 registered voters in Hot Spring County to place this local option proposal on the ballot.
Voting is already underway for people casting their votes via absentee ballots. Early voting starts Oct. 24. at the Hot Spring County Fairgrounds, from 8 a.m. to 6 p.m., Monday through Friday, and from 10 a.m. to 4 p.m. on Saturdays.
Early voting will also take place from 8 a.m. to 6 p.m. on Nov. 4 at Bismarck Methodist Church, and from 8 a.m. to 5 p.m. on Nov. 7.Hot Spring County voters can check their voter status or find out where they're supposed to vote on Election Day by calling the Hot Spring County Clerk's Office at 501-332-2291. You can also check your voter registration status online at www.voterview.ar-nova.org.
People who live in Hot Spring County and are registered to vote are eligible to vote in this election.
Find More Information
The voter guide produced by the Public Policy Center includes more information about the Hot Spring County ballot issue, including what supporters and opponents say, the status of wet and dry counties in the state, and answers to voters' frequently asked questions. Find similar fact sheets for statewide ballot issues at www.uaex.uada.edu/ballot.