Two Days in the Life of iLEAD: Visits to Stuttgart and Lonoke
Wondering what iLEAD participants do? iLEAD is a developmental experience exploring critical and emerging issues to help Division of Agriculture personnel become effective leaders.
iLEAD participants can increase their knowledge of the organization, build relationships, and practice their leadership skills through a leadership service project. The latest face-to-face seminar was held in Stuttgart and Lonoke, AR on February 17-18, 2022.
Here's a synopsis of the session.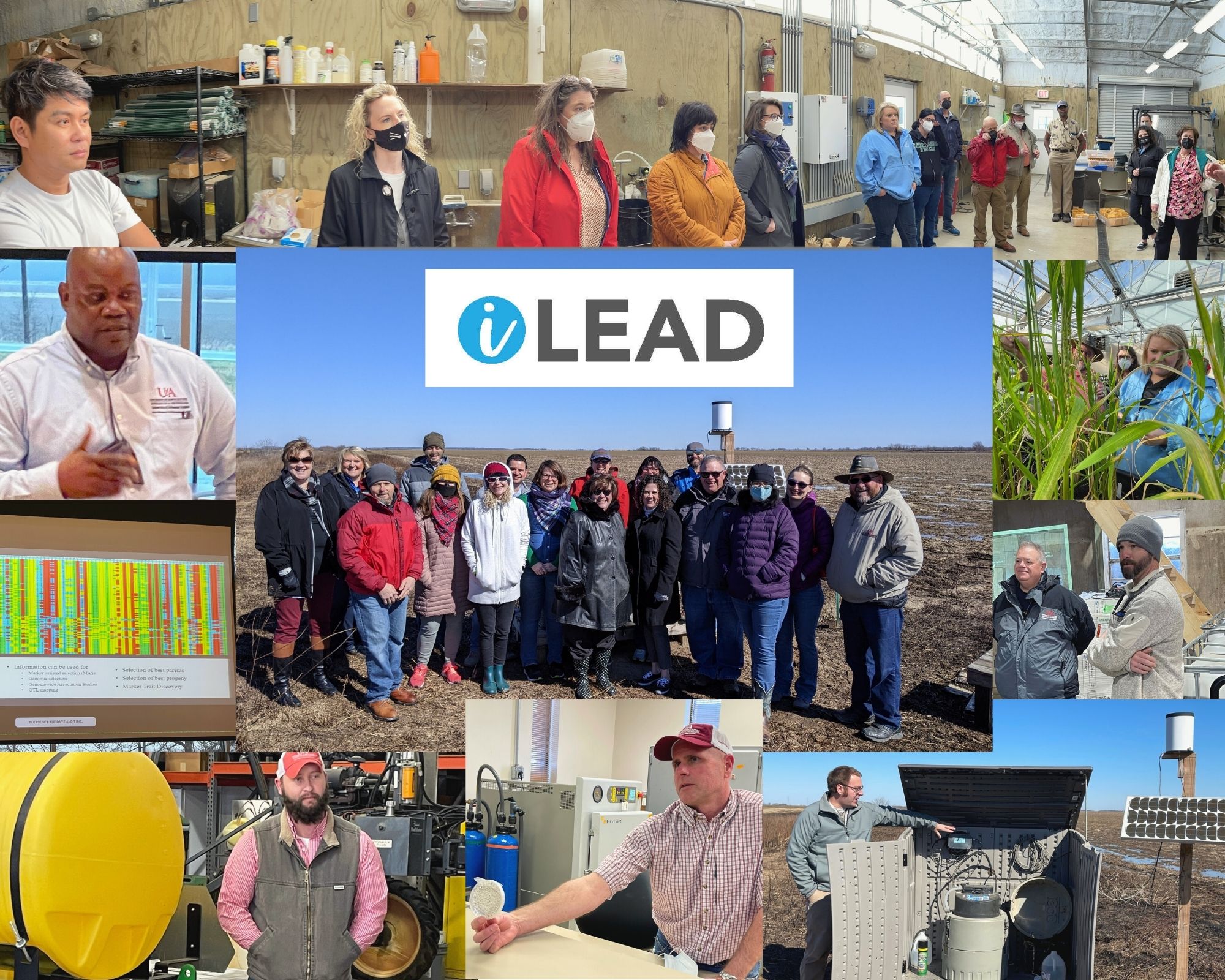 Day One
Rice Research and Extension Center
The iLEAD Cohort One was welcomed to the Rice Research and Extension Center (RREC) by Dr. Alton Johnson, RREC Director. He shared his career path to his new position, information about RREC, and his leadership style. Johnson said he participated in several leadership and management training programs which helped him develop a transformational leadership style. One participant noted in the evaluation that it was a highlight in the program to hear leaders in their respective roles talk about their leadership lessons.
Dr. Chris Henry, associate professor and water management engineer, spoke about global and state water use and water management studies with rice. He said research indicates that irrigation is not sustainable in Arkansas. The study showed, "If no action is taken to address the groundwater supply gap, over 80% of the acreage, or 3.8 million acres, projected for irrigation in the East Arkansas Region will be without (groundwater) irrigation in 2050."
Dr. Xueyan Sha, professor of plant rice and genetics, and Dr. Stan DeGuzman, assistant professor and rice breeder, shared information about the Arkansas rice breeding program. Sha said Arkansas ranks first among the six U.S. major rice-producing states, accounting for approximately 45% of U.S. rice production. The UADA rice breeding program began in 1980 and the objectives are to increase yields, improve cooking and processing quality, and increase disease resistance.
"Breeding is a numbers game. About 4,500 crosses were made, selected, and advanced in the last five years," he said.
Next, Dr. Yeshi Wamishe, extension plant pathologist, shared information about the plant pathology extension programs for rice production. In her presentation, she talked about how plant diseases are a real problem in rice. She said their focus is on applied research and Extension education which includes education, field disease diagnosis, and providing management strategies/options.
When sharing about her leadership style, she said she believes in leading by example and noted "Nothing is about me; it is all about the job."
Dr. Brad Watkins, professor agricultural economics, discussed Arkansas field crops and values, farm sizes, farmland tenure, and cropland irrigation statistics. He said Arkansas County had 157 1,000-plus acre farms in 2017. Also, in eastern Arkansas, 18% of operators were full owners of the land they farmed, 52% were part owners, and 30% were tenant farmers. One iLEAD participant said he was surprised by those statistics.
The iLEAD group toured the molecular biology lab guided by Virginia Boyett, program associate III. She shared with the participants information about the process, equipment, and format of data results.
Grant Beckwith, Arkansas County extension staff chair, provided details about the 2021 Arkansas County Extension Educational Outreach. A few highlights of the details include:
Total educational contact: direct - 8,455; media - 37,143,
Total volunteer hours: 4,118
Number of soil samples: 5,774
Field demonstrations: 21
Plant samples: 44
4-H members: 41
Family and Consumer Sciences: 7,343 educational contacts
Community, Professional and Economic Development: 729 educational contacts
The last item of the day was a RREC tour led by Dr. Glenn Bathke, RREC assistant director. iLEAD participants visited the greenhouse and toured the property.
Day Two
Dabbs' Discovery Farm
Trent Dabbs, fourth-generation row-crop farmer, and Dr. Mike Daniels, an extension professor in water quality, both discussed their leadership experiences and work with various agriculture and conservation partners. Dabbs provided an overview of the farm and their efforts to combat limited groundwater availability. Daniels discussed the founding of Arkansas Discovery Farms and their work with the Arkansas Conservation Partnership.
When sharing information about his leadership style, Daniels said he tried to emulate the characteristics of leaders he admired.
He said a leader once told him "Leadership is 80 percent showing up and being willing to work."
Daniels said if you want to be a leader, find something to lead. It does not matter what role you are in. Lee Riley, program associate, detailed how the edge-of-field monitoring equipment works, and how samples and data are collected.
Lonoke Extension Center
Dr. Travis Faske, Lonoke Extension Center director, welcomed the group and shared information about the Center. One of the participants noted that it was surprising that Lonoke did not have any of its own farmland. Jodi Blackard, entomology and plant pathology administrative coordinator, introduced staff and shared her career path and information about the center. The group toured the Extension Center and visited the following:
Fish diagnostic laboratory where Dr. Jyotsna Shrivastava, extension associate, and her colleagues provide vital laboratory support for fish inspections and field support for research.
Labs and greenhouse where researchers investigate the integrated use of host plant resistance and nematicide/fungicide to manage plant-parasitic nematodes and fungal diseases.
Seed treatment equipment. Dr. Ben Thrash, assistant professor and extension entomologist, discussed and demonstrated how the equipment works.
Plant spraying equipment. Dr. Tommy Butts, assistant professor and extension weed scientist, demonstrated this new equipment used to research weed management practices to maximize crop yields.
Dr. Jeremy Ross, professor and extension soybean agronomist, discussed his work leading the development of production recommendations for soybean and edamame in Arkansas and providing leadership for educational programs in soybean production.
iLEAD members continue to learn about the research and educational programming that benefits Arkansas citizens, expands agricultural sustainability and profitability, promotes environmental stewardship, strengthens local and state economies, and ensures safe and nutritious food supply.
The iLEAD program enhances interpersonal skills through virtual and in-person sessions, providing participants with knowledge, skills, and opportunities for growth. For more information about the iLEAD program contact Dr. Julie Robinson, jrobinson@uada.edu or Lisa Davis, ldavis@uada.edu.