LeadAR Class 19 Passionate about Serving Their Communities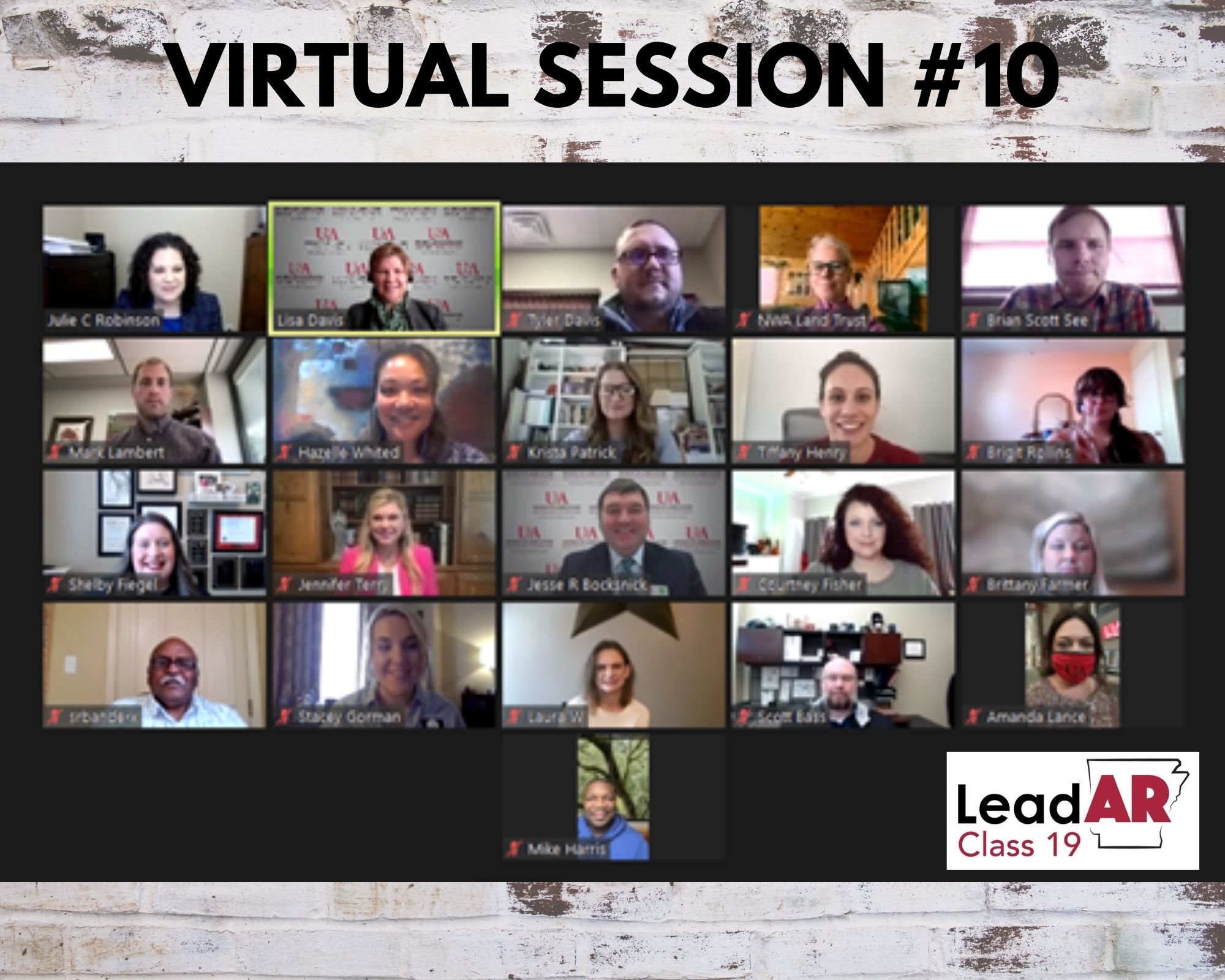 In the latest LeadAR Class 19 virtual session, participants shared details about their community leadership projects. See what they are planning.
Srinivasa Bande | Introducing Digital Technology Career Skills to Foster Care Youth
"My project will provide youth in foster care with computer training. Computer skills are especially relevant if they hope to find a career in today's ever competitive world."
Scott Bass | Shannon Hills Park Broadband Access
"For my project I will seek to implement free broadband internet access to the community park in Shannon Hills. The expectation is that access will bring more citizen usage to the park by allowing the city to have more community functions (concerts, movies, etc.) and provide for park video security."
Jesse Bocksnick | Perry County Elected Officials Tour
"My project will be a local tour for Perry County elected officials. This tour will demonstrate the importance of agriculture in their county and share the role that the University of Arkansas System Division of Agriculture (UADA) Cooperative Extension Service plays. My plan is to invite the Justices of Peace and County Judge to tour a variety of agriculture enterprises specifically including farms that have utilized extension recommendations or demonstrations."
Tyler Davis | All Inclusive Playground
"I will seek funds to build a playground that will be inclusive for children with special needs. The playground will be installed adjacent to the Ashdown Splash Pad."
Brittany Farmer | Revive Lawrence County Rice Tasting Luncheon
"My community leadership project is to restart the Lawrence County Rice Tasting Luncheon. For years the tradition of the event celebrated rice production in our county during National Rice month in September. All four county schools participated along with many of our farm families, and local farm businesses. Reviving this luncheon will educate our community about the industry that is so important to its existence, while also celebrating it. As a subproject, I also plan to revive the Women's Committee for the Lawrence County Farm Bureau."
Shelby Fiegel | Community Development Institute (CDI) Alumni Network and Friends Reunion
"My project is to develop a training and convening of Arkansas leaders to share best practices with one another. These leaders will have participated in various leadership cohorts or groups such as: CDI, LeadAR, Leadership Arkansas, Arkansas Community Development Society, etc." Learn more and register for the March 30, 2022 event here.
Courtney Fisher | Walk-A-Mile: An Exercise in Understanding Differences
"Walk-A-Mile is a project that is designed to allow others to understand differences of the people in our community. By pairing up people and allowing them to walk together and have conversation, it allows for the sharing of differences and similarities and a general understanding of each person's perspective. It is the proverbial equivalent of "walking a mile in someone else's shoes." "
Stacey Gorman | Securing a Wheelchair Swing for the City of Warren, Arkansas
"For my service project, I will work with local officials, seek funding, and secure bids for the purchase and installation of a wheelchair accessible swing. 53% of children with special needs lack friendships and part of the problem is that their disability excludes them from certain activities. An inclusive playground design has no barriers. It allows people from all walks of life to get to know each other while enjoying rewarding play and fitness activities. By offering a wheelchair accessible swing at the city park, that space can become a true hub for our community."
Michal Harris | Entrepreneurship Round Table
"The goal of my project is to empower youth with entrepreneurial and leadership skills, coupled with life lessons. The youth in the program, ages 14-17, will be exposed to the business world through experiential learning in business literacy and leadership skills necessary to be successful in school and life. At the completion of the program, participants will qualify for a scholarship to be used for tuition and/or books."
Tiffany Henry | Extracurricular Class for Children with Disabilities
"My project is to host an event or class for children with disabilities and their siblings. Examples of potential activities include art, music, or something STEM related. It will be open to any child with disabilities, although the partners and marketing will be targeted to Washington and Benton counties. It will be held in Northwest Arkansas (NWA) and will be an in-person event."
Susan Koehler | Farmland Preservation: Access and Support Program
"The NWA Food Systems' Farmland Preservation Plan includes two integrated efforts to grow farmers by increasing their access to land and resources to farm, and by conserving vital farmland in NWA for growing fruits and vegetables. These local farmers will rejuvenate our working lands, increase the supply of fresh fruits and vegetables for NWA residents for generations to come, as well as enhance our quality of life and economy." Learn more here.
Mark Lambert | Ricebird Readers Unite
"I am helping expand the outreach of the Ricebird Readers Unite program into the community to help improve reading and literacy in my hometown. The program creates free book libraries where unwanted books can be donated and placed in locations where students can "check" them out. The book libraries are placed at laundromats, school libraries, and public libraries. The focus is to help children that may not have access to books for reading access to help improve their reading scores. Community involvement is critical to the program's success."
Amanda Lance | United Way of Hempstead County Gala
"The United Way of Hempstead County has been unable to host its typical annual fundraiser for several years due to COVID and other local issues. To replace those lost funds, I am chairing a committee to plan a formal gala in October. This will also give a chance to showcase each of the 15 agencies that are supported by United Way."
Krista Patrick | The Personal Community Project
"For my project, I will design a holistic program to teach self-reliant principles within a targeted low-income community that will be chosen with the help of local leadership. Existing organizations will partner together to teach and support the chosen community. Families will participate on a volunteer basis. The program will work on a goal setting/reward system to encourage families to lift themselves out of poverty with the support of our program partners."
Brigit Rollins | Fundraiser for Northwest Arkansas Planned Parenthood
"I will spearhead a fundraiser to benefit the Planned Parenthood that recently reopened in Rogers and serves all Northwest Arkansas."
Brian See | Bruno-Pyatt School Outdoor Classroom
"My project is to create an outdoor classroom at Bruno-Pyatt School. The classroom will provide an outdoor learning environment for teachers to utilize."
Jennifer Terry | Courtyard Improvements at Ramsey Middle School in Fort Smith
"I plan to seek funding to support the installation of sunshades, benches, and tables in the school's courtyard area; as well as implement green space there."
Hazelle Whited | Campaign for State Legislature 2022, District 2
"My leadership service project is to win nod for Republican primary May 2022 and General primary in November. This plan is important because the voice of Rural Arkansas needs to be heard and remembered in Little Rock. A side goal is to also have the largest voter engagement during a primary in our district."
Laura Wiles | Period Products for Students
"My project will provide feminine hygiene products for public school students in Perry County. The project will begin at East End School District. It will then be expanded to Perryville School District if needed."
LeadAR, now in its 38th year, is a program designed to help Arkansans broaden their understanding of issues and opportunities facing our state and strengthen their ability to make a difference. For more information about LeadAR visit the website or contact Julie Robinson, jrobinson@uada.edu or Lisa Davis, ldavis@uada.edu.