Pope County Group Seeks to Override Casino Vote

A recent amendment to the Arkansas Constitution has supporters and opponents lining up for a potential replay in 2022.
Voters approved Amendment 100 to the Arkansas Constitution in 2018 by a vote of 470,954 in favor to 399,530 against. The amendment called for issuing four casino gaming licenses, one each in Crittenden, Garland, Jefferson and Pope counties.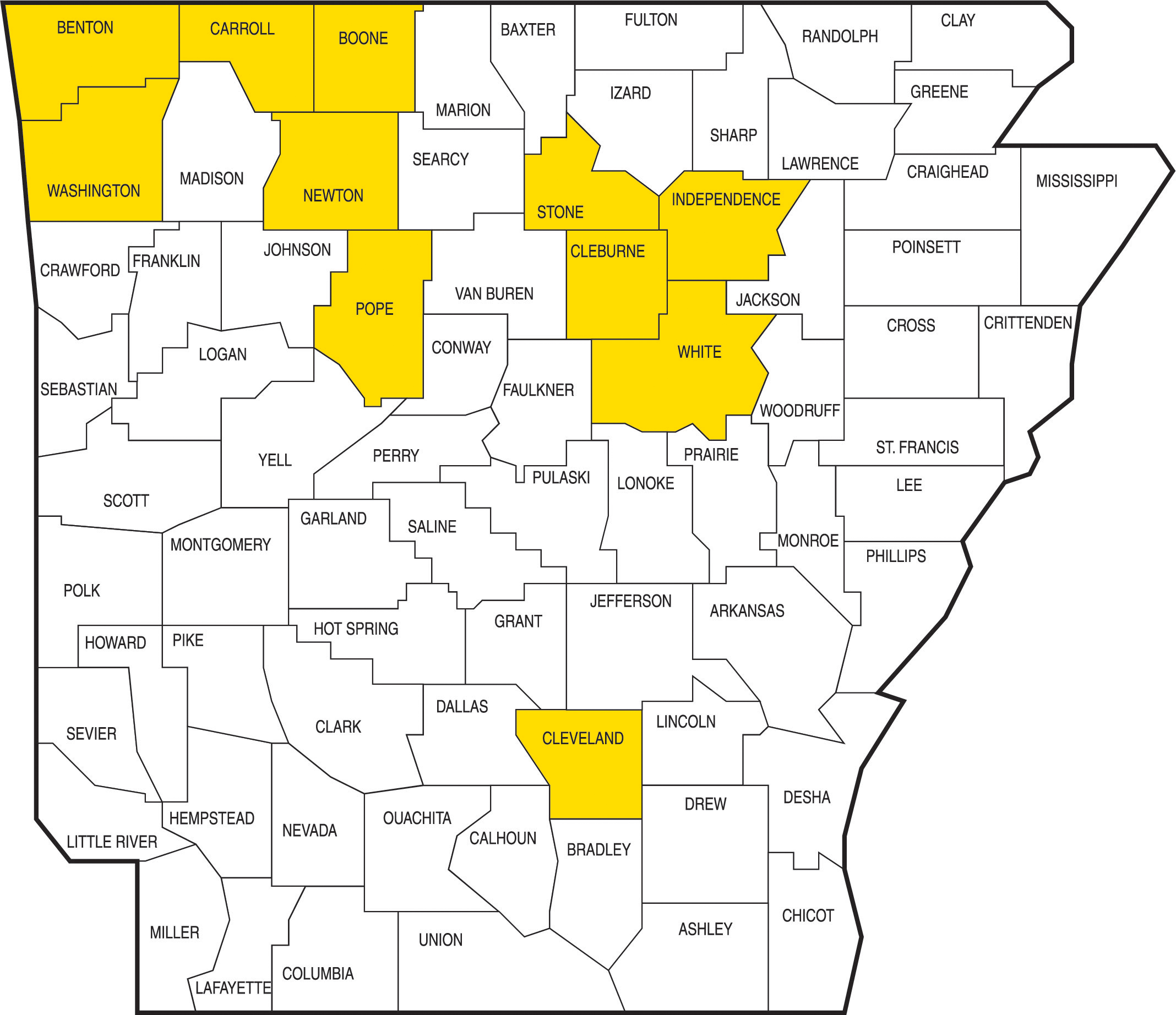 The measure
failed
in Pope County, where residents created their own ballot issue group to campaign against the amendment that ended up failing in the 11 counties highlighted in yellow on the state map. Jim Knight led the group, which didn't want voters statewide to decide the fate of an issue impacting their county.
Three of the four approved casinos have since opened. Pope County's casino license has been tied up in court challenges. In October, the Arkansas Supreme Court invalidated a previously issued license to Gulfside Casino Partnership. The Arkansas Racing Commission then awarded the Pope County license to Cherokee Nation Business in November. Another lawsuit was filed in December to stop the new license.
While the license issue went through the courts, Knight filed ballot issue paperwork in 2020 and 2021 to remove Pope County from the mix. Knight filed an updated version of the proposed amendment this month with the Secretary of State's Office, which lists
Fair Play Arkansas 2022
as the ballot issue group name.
Fair Play Arkansas 2022 supporters have donated $132,300 so far, according to campaign finance documents filed with the Arkansas Election Commission this month. The majority of the money - $125,000 - has come from the Choctaw Nation of Oklahoma.
Meanwhile, the Arkansas Tourism Alliance filed
campaign paperwork
with the Arkansas Ethics Commission on Feb. 22 to oppose the proposed casino amendment. Dustin McDaniel, a former attorney general for Arkansas and legal counsel for Cherokee Nation Business, was listed as the alliance's director and treasurer. They have not filed finance reports yet.
Status of Statewide Ballot Issues
As of Feb. 24, 2022, titles for
12 ballot issue
have been filed with the Secretary of State's Office for the November 2022 election. Proposals from the legislature and those filed by citizen groups can be found at
https://conta.cc/3sgzJlq
.
Share Our Handout
Our voter guide on the 2022 ballot issues will be available by the end of September. In the mean time, if you're interested in sharing information about Arkansas ballot issues, download our new one-page handout.