iLEAD Travels the Highway to Hope
In their next stop on the iLEAD journey, Cohort One traveled to the University of Arkansas System Division of Agriculture (UADA) Southwest Research and Extension Center (SWREC) in Hope. During the April 14-15, 2022 seminar, participants observed the SWREC research areas and Hempstead County Extension programming.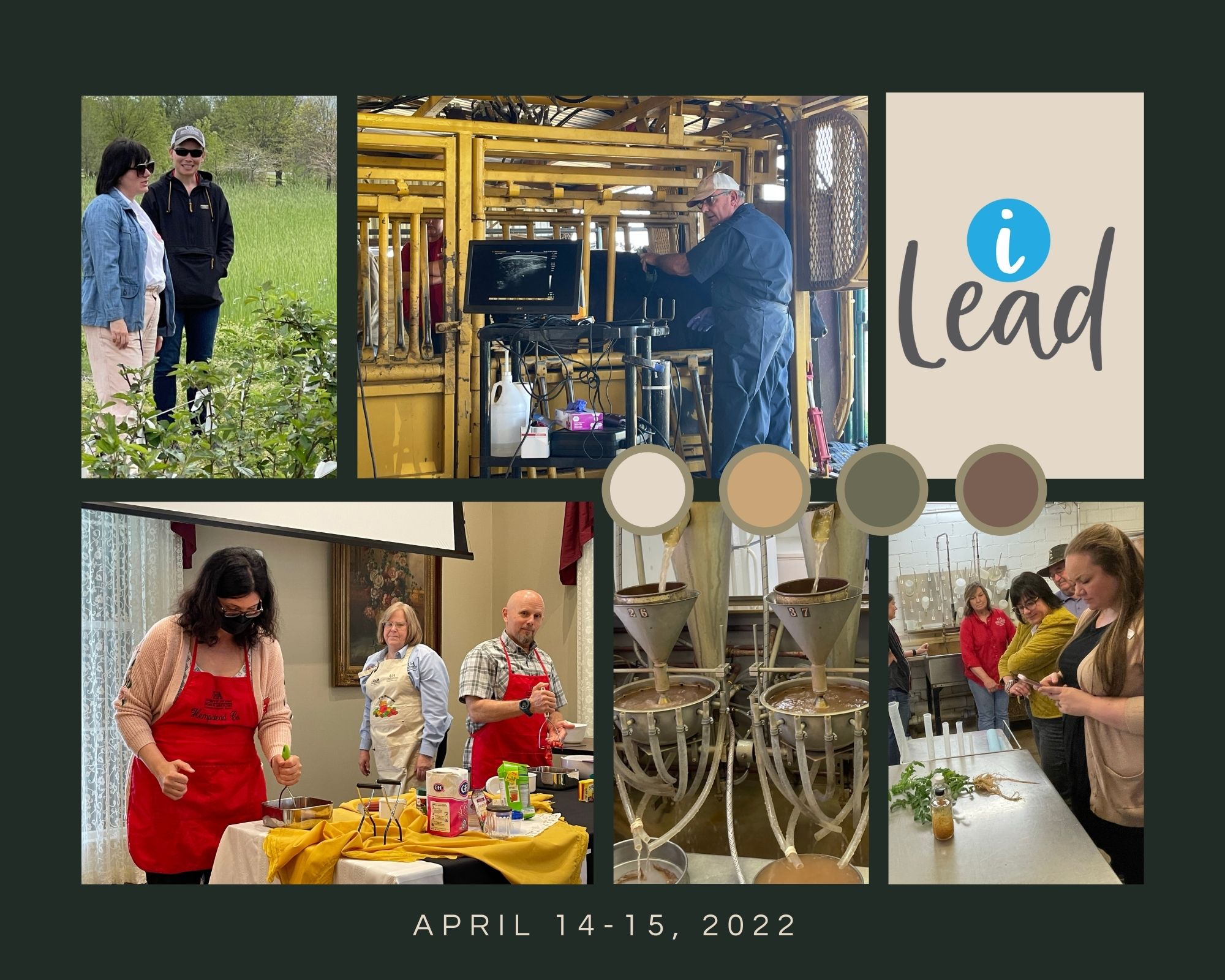 Participants learned these facts about SWREC.
The Center:
Encompasses 1,185 acres located in Hempstead County about three miles northeast of Hope in southwestern Arkansas.
Has a 200-cow beef cattle research and demonstration herd.
Engages in horticultural research, primarily small fruit and tree fruit crops, and agronomic crop (wheat, soybean, cotton, and corn) research are conducted annually.
Is home to the Arkansas Nematode Diagnostic Laboratory that provides statewide nematode identification services.

Day one began with a welcome and tour by SWREC director, Dr. Daniel Rivera. Dr. Dustan Clark, veterinarian, shared his insights and experiences with the Institutional Animal Care and Use Committee. District Directors Jerry Clemons, Carla Due, and Kevin Lawson participated in a panel discussion and led a robust discussion about UADA programming, bright spots, and issues. Then, Amanda Greer, nematode lab supervisor, showed the class the Nematology Lab and extraction process. The day culminated with Emily Smith, a program associate in the Community, Professional and Economic Development unit, sharing tools and exercises to assist with difficult conversations.

Day two kicked off with a presentation about leadership styles by Dr. Vic Ford, associate vice president - Agriculture and Natural Resources. Then, Dr. Amanda McWhirt, extension specialist—horticulture crops and Dr. Aaron Cato, extension specialist—integrated pest management, provided a tour of the fruit and vegetable research underway at SWREC.
Next, the iLEAD cohort traveled to Historic Washington State Park and learned about Hempstead County programming from Terrie James, county extension agent (CEA)—staff chair, Kim Rowe, CEA—agriculture, and Betty Wingfield, CEA—4-H. James conducted a demonstration on making strawberry freezer jam, and participants took home samples. The day wrapped up with the sharing of additional information and tools on resolving conflict led by Dr. Julie Robinson, associate professor and iLEAD director.
The iLEAD program enhances interpersonal skills through virtual and in-person sessions, providing participants with knowledge, skills, and opportunities for growth. For more information about the iLEAD program contact Dr. Julie Robinson, jrobinson@uada.edu or Lisa Davis, ldavis@uada.edu.