Preparedness for Disasters, Critical Infrastructure, Cyberattacks, and Serving on a Board were the Latest Topics for LeadAR Class 19
Spring in Arkansas can be pleasant and mild; however, spring is also the primary severe weather season in the state. In the April virtual session, LeadAR Class 19 heard how the Arkansas Division of Emergency Management (ADEM) provides state-level leadership, resources, and coordination for a comprehensive all-hazards approach to emergencies and disasters impacting Arkansas.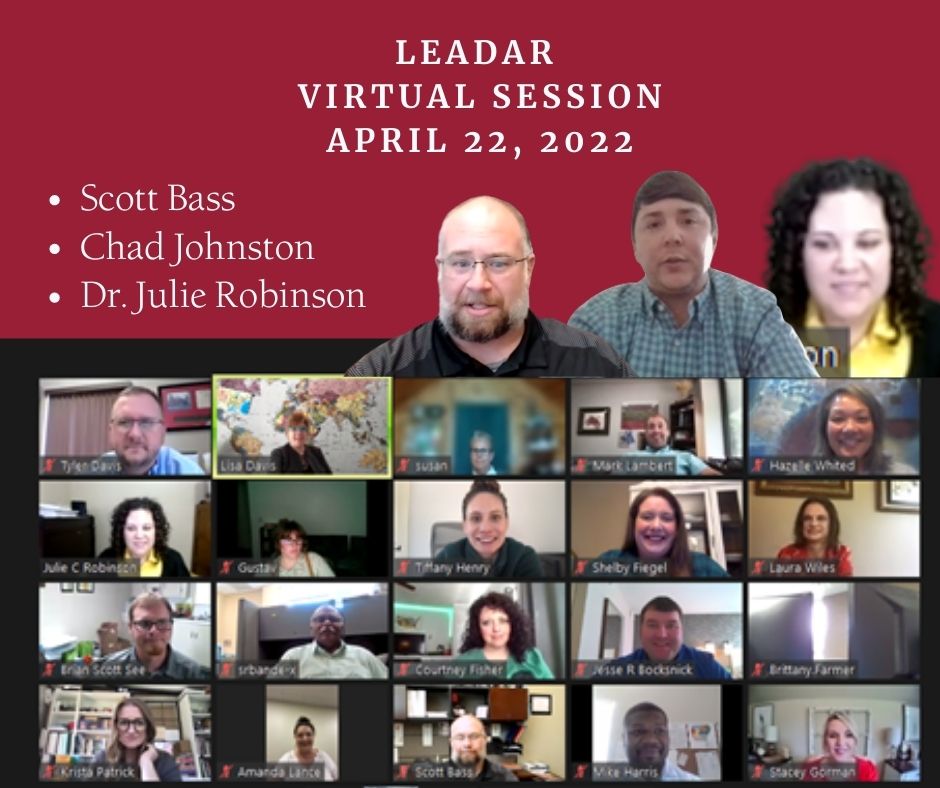 Scott Bass, deputy director of ADEM's Response and Recovery, and a member of LeadAR Class 19, shared a list of potential emergencies in Arkansas. These include:
Natural: Flooding, severe storms/tornadoes, ice/winter storms, earthquakes, and epidemics/pandemics.


Man-Made: Hazardous materials spills, search and rescue, downed aircraft, terrorism, and cybersecurity.
Bass said ADEM is committed to assisting and supporting local jurisdictions in all five core components of a comprehensive emergency management program: prevention, protection, response, recovery and mitigation. ADEM area coordinators serve as a liaison to local jurisdictions representing ADEM to promote and expand the role of emergency management in Arkansas.
Did you know ADEM also operates and maintains the state's public safety communications system — Arkansas Wireless Information Network (AWIN)? The objective of AWIN is to ensure public safety personnel across all disciplines and jurisdictions can exchange information seamlessly, as authorized, on demand, and in real-time. The system is monitored 24-7-365.
Bass shared details about funding programs available to support local preparedness and mitigation efforts. Learn more here.
"ADEM employees guarantee timely and compassionate service to the residents of Arkansas before, during, and after disaster. We will be there for you as 'your partner in preparedness," he said.
Later in the day, Chad Johnston, protective security advisor-Arkansas for the Cybersecurity and Infrastructure Security Agency (CISA), discussed critical infrastructure protection. He shared a list of potential threats:
Acts of terrorism
Cyberattacks
National hazards/extreme weather
Pandemics
Accidents or technical failures
He said his role as a protective security advisor is to serve as a critical infrastructure specialist and work with local governments and organizations to provide vulnerability assessments, outreach, training, and information sharing.
Johnston said the United States is at risk of malicious cyberattacks. He shared that all organizations must be prepared to respond to disruptive cyber incidents. As the nation's cyber defense agency, CISA can help organizations prepare for, respond to, and mitigate the impact of cyberattacks.
Visit the Shields Up website to get the latest updates or to sign up for free cyber hygiene services.
Toward the end of Class 19's day, Dr. Julie Robinson, an associate professor and LeadAR director at the University of Arkansas System Division of Agriculture, shared information and insights about how boards operate.
She described the three categories of duty for board membership and what a board does.
Duty of Care: Ensure prudent use of all assets, including facility, people, and good will.
Duty of Loyalty: Ensure activities and transactions are advancing its mission, recognize, and disclose conflicts of interests
Duty of Obedience: Obey applicable laws and regulations, including its own bylaws.
Boards are charged with the following responsibilities:
Provide strategic guidance
Select and compensate senior management or employees (depends on the size of the organization)
Monitor and evaluate performance
Establish organizational policies
Monitor and safeguard financial resources.
Self-assess and self-regulate
Manage organizational risks
Uphold fiduciary duties
She said the primary reason to serve on a board is to meaningfully contribute to serving an organization and its mission. Board membership can also expand a person's network, support initiatives that are important, be an intellectual challenge, and make one better at her/his current job.
LeadAR is a program designed to help Arkansans broaden their understanding of issues and opportunities facing our state and strengthen their ability to make a difference. For more information about LeadAR, visit the website or contact Robinson, jrobinson@uada.edu, or Lisa Davis, ldavis@uada.edu.