LeadAR Class 19 Thankful for Golden Triangle Seminar
LeadAR Class 19 recently visited the Golden Triangle, an area in south Arkansas rich in cultural heritage, natural resources and southern charm. The Golden Triangle is comprised of Camden, El Dorado and Magnolia. These three communities are located within about 30 minutes of one another and serve as the center of commerce, education, and employment for a population of more than 100,000 people.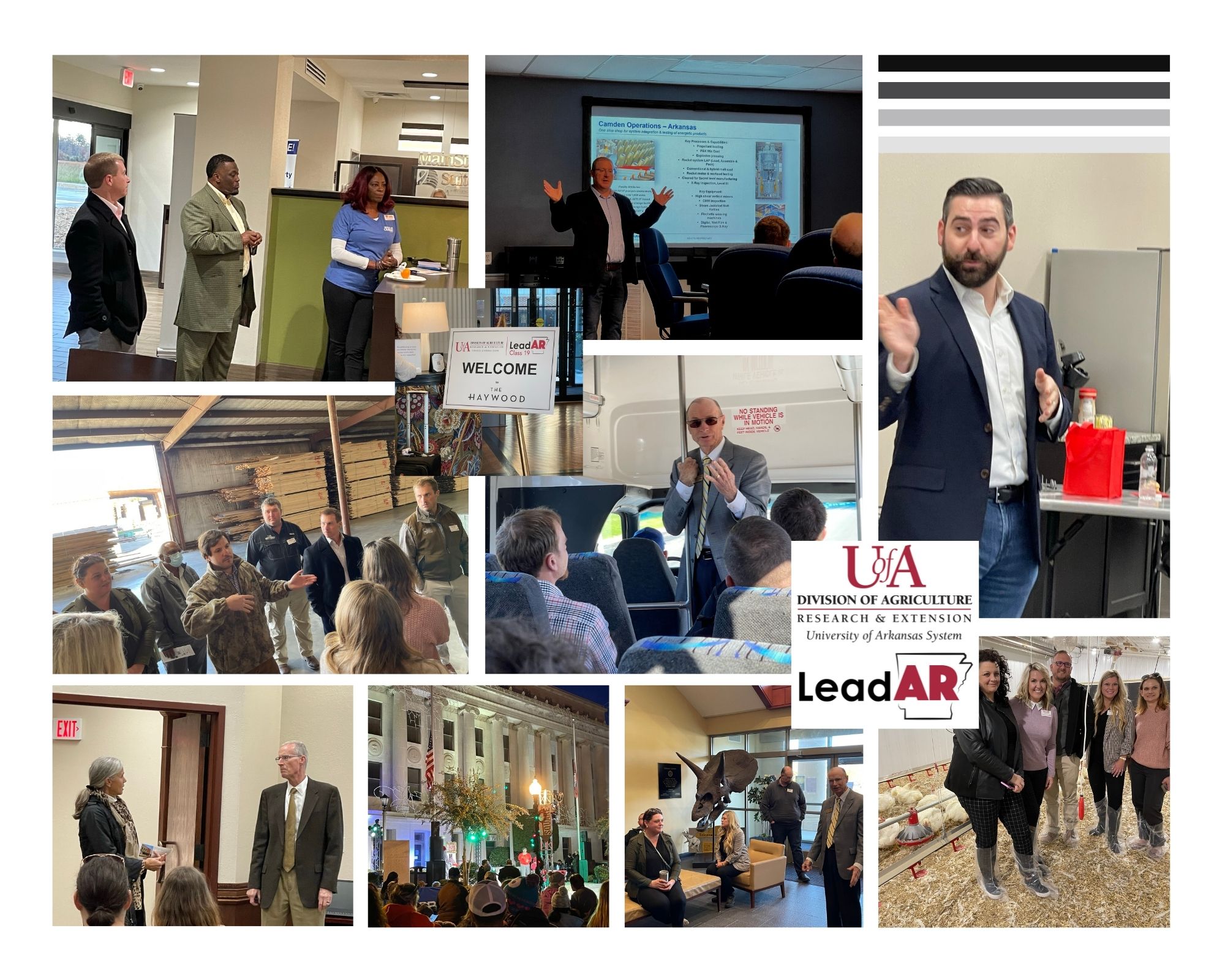 LeadAR's first stop was in Camden. Eric Perrin, operations manager, led a tour of General Dynamics Ordnance and Tactical Systems, a global aerospace and defense company.
"The company provides the U.S. military and its allies with an extensive range of overarching products that provide a cutting-edge advantage to our war fighters," Perrin said.
Mayor Julian Lott and Ben Wooten, building inspector-code enforcement, then took the class on a tour of Camden itself.
A catfish lunch from award-winning Woods Place was provided. County Judge Robbie McAdoo also welcomed the class to Camden.
Next, the class traveled to El Dorado to learn about El Dorado and Standard Lithium from Bill Luther, El Dorado Chamber of Commerce president, and about the natural resources of south Arkansas presented by Robert Reynolds. Mayor Veronica Smith-Creer welcomed the class to El Dorado and joined us after the city council meeting for dinner.
Standard Lithium recently completed the installation of a lithium carbonate plant in El Dorado and is engaged in the testing and proving of the commercial viability of lithium extraction from over 150,000 acres of permitted brine operations.
LeadAR Class 19 had the pleasure of staying at the new Haywood Hotel in the Murphy Arts District. Participants were fortunate to see the holiday lighting of the town square. The evening closed with dinner and live entertainment at Mule Kick restaurant.
The next day, Class 19 traveled to Magnolia where they were welcomed by Mayor Parnell Vann and County Judge Denny Foster. Mike Accordino, part owner and president of AMFuel, and Faith Elliott, vice president of operations, shared information about the company.
"Amfuel's fuel cells go into almost every U.S. military aircraft. Amfuel's product is unique because the cells hold up under ballistics testing. Bullets can literally pass through Amfuel cells loaded with jet fuel without causing an explosion. The cells seal themselves, making it possible for air crews to continue engaging an enemy," Accordino said.
Steve Card, environmental manager for Albemarle Corporation's south Arkansas facilities, also presented.
"Albemarle's Magnolia manufacturing plants are two of the world's largest suppliers of bromine and bromine chemicals. Our two plants in Columbia County produce different chemical ingredients used in the manufacturing of a wide range of products. In addition, our sites in Magnolia also house an artificial marsh, which acts as a unique wastewater treatment facility and demonstrates our commitment to the local environment," he said.
LeadAR alum David Nelson, Class 13, and chairman of the Magnolia Blossom Festival Championship Steak Cook-Off prepared the LeadAR steak lunch.
Next, participants traveled to Anthony Oak Flooring for a presentation from Chris McQueen, operations manager, and tour of the facility. Dr. David Rankin, Southern Arkansas University president emeritus, provided a tour of the SAU campus with stops at the rodeo arena, science center, and poultry facility.
The seminar was organized by a local planning committee. Committee members include:
Chris Wasson, chair
Ellie Baker
Reese Broadnax
Britta Clark
Stacey Gorman
Bill Luther
James Lee Silliman
The overall LeadAR program is sponsored by three Eagle sponsors: Electric Cooperatives of Arkansas, Farm Credit, and Farm Bureau. Several local sponsors supported the Golden Triangle seminar. Local sponsors included:
El Dorado Chamber of Commerce
Entergy
Farmer's Bank and Trust, Magnolia
Golden Triangle Economic Development Council (GTEDC)
Ouachita Partnership for Economic Development (OPED)
Southern Arkansas University Foundation
LeadAR is a program designed to help Arkansans broaden their understanding of issues and opportunities facing our state and strengthen their ability to make a difference. For more information about LeadAR, visit the website or contact Robinson, jrobinson@uada.edu, or Lisa Davis, ldavis@uada.edu.