Tree Swinging Ensues Team Building for iLEAD Cohort
Through a series of activities and exercises invoking skills in communication, team building, and trust, employees at the University of Arkansas System Division of Agriculture began to unlock their leadership potential through the new iLEAD program.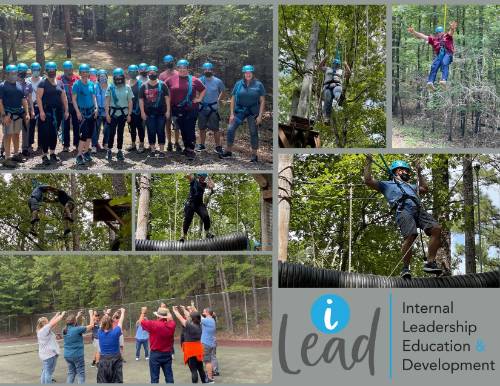 iLEAD participants met for the first time face-to-face at the C.A. Vines Arkansas 4-H Center in Little Rock on August 19-20, 2021. The cohort of 15 employees from across the division were welcomed by administration, oriented to the program, and challenged to expand their leadership abilities.
Day One served as an introduction to the iLEAD program. Dr. Mark Cochran, vice president for agriculture, Dr. Bob Scott, director of the Cooperative Extension Service, and Dr. Stacey McCullough, director of the Community, Professional and Economic Development (CPED) unit welcomed the group. Dr. Julie Robinson, associate professor and iLEAD director, covered the schedule and details of the program.
After lunch, Emily Smith, a program associate in the CPED unit facilitated the True Colors personality assessment profile. True Colors uses colors to represent four different personality types to provide a method of understanding ourselves and others.
On the program evaluation, one participant wrote, "Finally learning what 'True Colors' was all about. I had heard of it for years but knew very little. I felt skeptical at first but now I see the value of understanding a different color's approach to a situation and how that will improve my ability to understand my coworkers and program partners."
That evening, a series of fun games including scavenger hunts, organization chart challenges, and Family Feud-style trivia, provided opportunities for participants to interact, collaborate, and work in teams.
On Day Two, the physical team building on the ground and in the trees ensued while participating in the ExCEL Leadership Program at the 4-H Center. Since 1986, ExCEL has been helping build better teams, and their high ropes course offers a fun and excited way for participants to build rapport with their peers.
One participant said, "Implementing the teambuilding activities into our unit will strengthen our work bonds and help us work more cohesively."
The next iLEAD session will be virtual on September 17, 2021. To learn more about the iLEAD program contact Julie Robinson, jrobinson@uada.edu or Lisa Davis, ldavis@uada.edu.