Arkansas Procurement Technical Assistance Center Success Story: Magna IV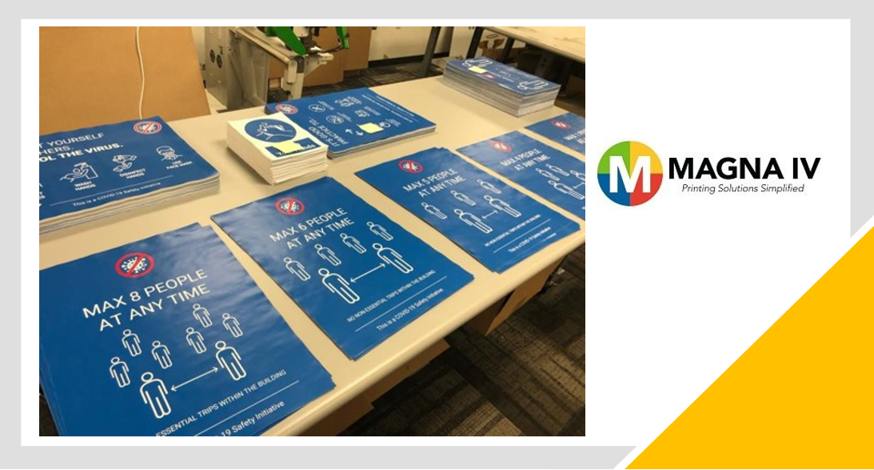 Magna IV Color Imaging located in Little Rock is a printing and marketing business. In business since 1975, Magna IV usually relies on business from printing material for national brands in the restaurant, fitness, non-profit and event industries.
When COVID-19 hit our nation, Magna IV was significantly impacted as national businesses were closed and events were canceled due to social distancing requirements. Pre-COVID, Magna IV employed over 60 people. Now, they have shrunk to less than 40 employees. Magna IV quickly took action to pivot their business model to stay afloat.
Magna IV has been an Arkansas PTAC client since 2012. Steven Schilling, director of sales and marketing, reached out to PTAC Counselor Liz Russell when making pivoting decisions. They discussed opportunities in the emergency response arena, qualifications of printing as an essential service, as well as general contracting.
Schilling along with Magna IV President Kristi Dannelley adapted by expanding their product offerings, and saw demand grow when Gov. Asa Hutchinson mandated COVID-19 signage for businesses. The company initially provided the mandatory signage free of charge to other businesses. That led to creating special kits to sell that included a mix of floor graphics, window clings, posters, sandwich board stands, sandwich board inserts and banners.
The kits are not the only way that Magna IV is helping fellow businesses. They are dedicated to assisting in coming up with creative ways for their business customers to get their message out during these times when they are not able to host events or attend trade shows. This includes creative ways of sourcing, distributing and packaging swag or products to continue getting their message out.
Magna IV has taken "marketing for the new normal" to heart. Other COVID specific products now in their portfolio include customized masks, school sanitization supply packages, desk partitions, branded PPE, disposable menus, directional signage and more.
Our monthly success story typically features a client that has recently received a government contract. However, these are not normal times. We wanted to feature Magna IV and congratulate them on the success of pivoting their business, and thank them for helping other businesses survive and thrive during the pandemic. We are grateful to our resource partner Arkansas Manufacturing Solutions for referring Magna IV to Arkansas PTAC.
To learn more about Arkansas PTAC and discuss opportunities in different arenas, connect with us by calling 501-671-2390.