Printed 2020 Arkansas Ballot Issue Voter Guide now available for pickup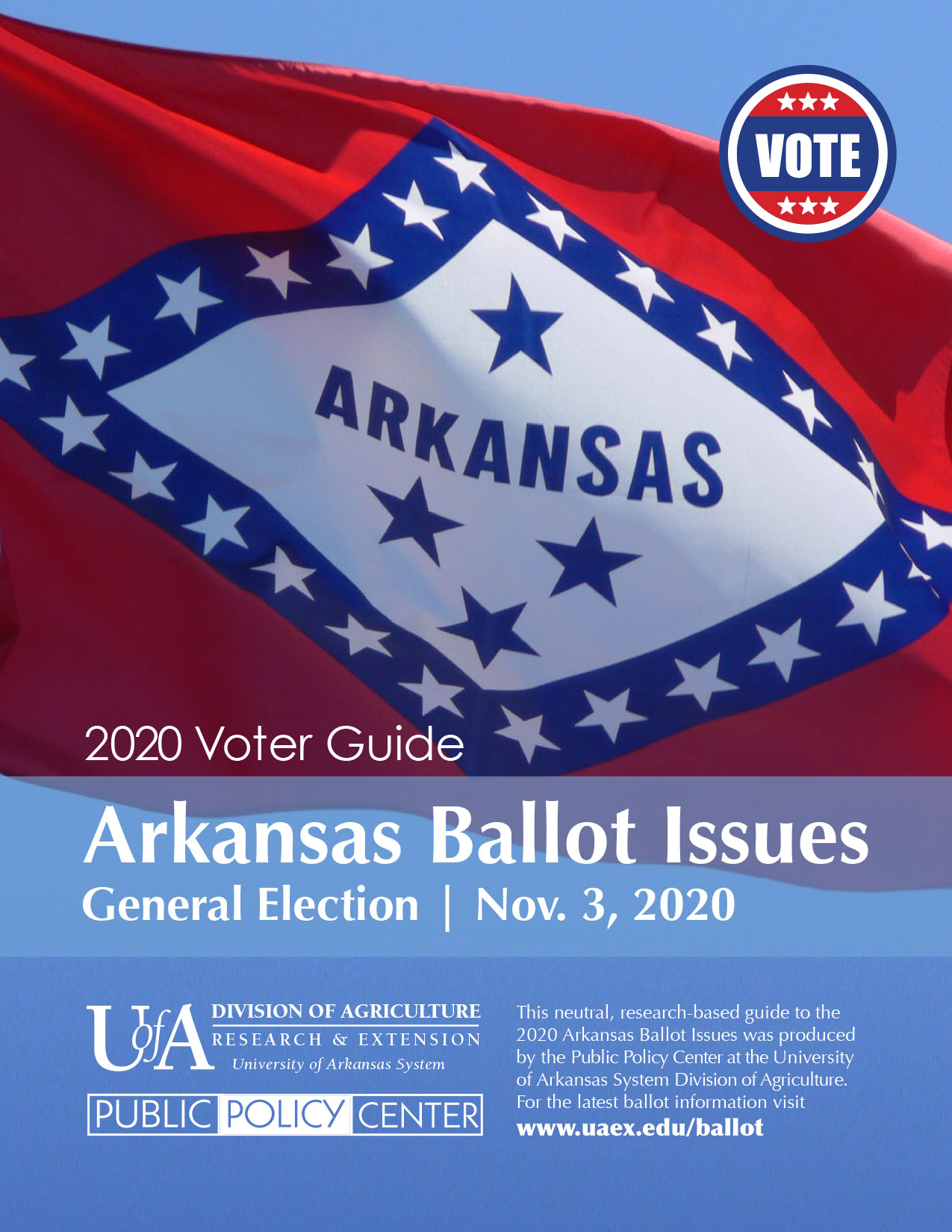 Arkansas voters who like to have information in their hand rather than on the screen can now pick up a printed copy of the 2020 Arkansas Ballot Issue Voter Guide.
The University of Arkansas System Division of Agriculture's Public Policy Center has published neutral, research-based information on all statewide ballot issues since 2004. The voter guide was published online last month, but hard copies of the guide can now be picked up at every county Extension office.
This year, early voting begins Oct. 19 and Election Day is on Nov. 3. The voter guide can help voters better understand what is being asked of them, said Kristin Higgins, a program associate in the Public Policy Center.
"We want people to be aware that there are ballot issues to decide in addition to candidates," Higgins said. "The voter guide includes a tear-out worksheet to make notes on, and provides some historical context as well as what a FOR or AGAINST vote would mean."
Due to printing deadlines, Higgins said the voter guide covers all six statewide ballot issues that had been proposed. The Arkansas Supreme Court recently disqualified Issue 4, Issue 5 and Issue 6. Some voters may see Issue 6 still listed on their ballot because of when ballots were printed, but votes cast on that issue won't be counted.
Proposals remaining include three constitutional amendments from the legislature. These issues are:
Issue 1, which would make permanent a 0.5% state sales tax that currently funds state, county and city road and bridge work. An existing half-cent sales tax for roadwork approved by voters in 2012 is set to expire in June 2023. Issue 1 proposes replacing that temporary tax with a permanent 0.5% sales tax that would take effect in July 2023. Revenues would continue to be split between the state highway department (70%), counties (15%) and cities (15%) for road, bridge and other surface transportation needs.


Issue 2, which would eliminate Arkansas' life-time term limits for state legislators and replace an existing 16-year cap with a 12-year consecutive limit. When reaching the 12-year limit, legislators would have to sit out four years before they could serve in office again. Current legislators and those elected this November would be eligible to serve up to 16 years consecutively or not before falling under the new rules.


Issue 3, which would make several changes to the citizen initiative ballot process and increase the number of votes required in the legislature by 12 for referring constitutional amendments to voters. The proposal would increase the number of counties where voter signatures must be collected to qualify a constitutional amendment, state law or referendum for the statewide ballot, from 15 counties to 45 counties. The proposal would also set a January 15 deadline for submitting voter signatures to the Secretary of State's Office, create an April 15 deadline for filing lawsuits challenging citizen initiatives before an election, and eliminate extra time ballot issue groups have at the state, county and city level to collect additional voter signatures. The proposal would also eliminate a requirement that legislative ballot titles be published in a newspaper for six months ahead of an election, and instead would allow titles to be published in a manner provided by law.
Issue 2 and Issue 3 still face court challenges over their ballot titles so go to www.uaex.uada.edu/ballot for the most up-to-date information. Follow the Public Policy Center on Facebook or Twitter, or sign up to receive the center's ballot issue education newsletter by emailing publicpoilcycenter@uada.edu.
Understanding the issues
Arkansans see the popular name and ballot title of each proposed constitutional amendment when casting their votes. Every amendment actually includes more information that is not included on the ballot. Voters can find the full proposals and learn more about what they would do in the voter guide.
The voter guide includes:
How the proposals will appear on the ballot
What a "FOR" or "AGAINST" vote means
Questions and answers about what proposals would do
Supporter and opponent viewpoints