How to Request an Absentee Ballot for Runoff Elections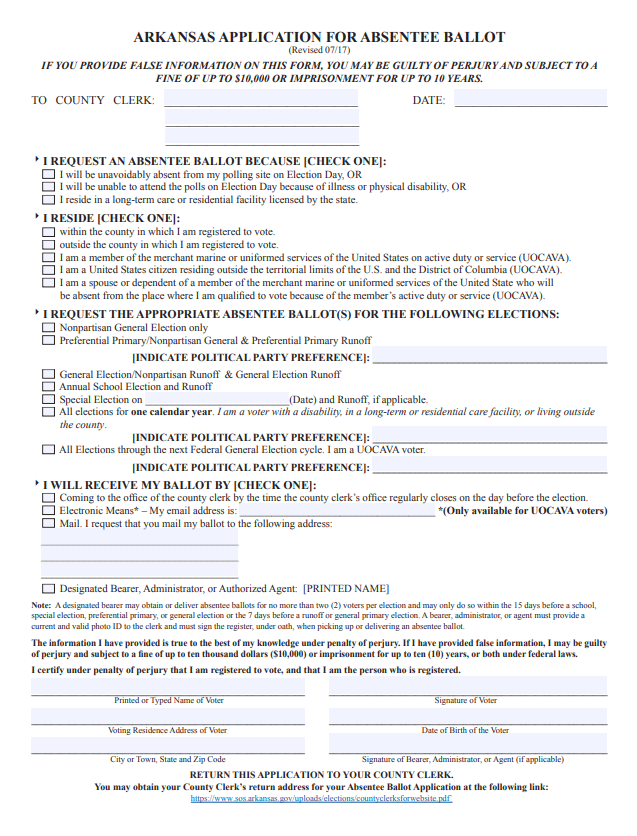 Election officials are urging voters to request absentee ballots to participate in runoff elections taking place in 12 Arkansas counties March 31.
To receive an absentee ballot, voters must first submit an application request to their county clerk. Many counties are posting these forms on their websites or you can find one at the Arkansas Secretary of State's Office website.
Applications must be received by county clerks by Tuesday, March 24 regardless of whether they're mailed, emailed or faxed. According to the Arkansas Secretary of State, if you are unable to submit an application by March 24, then you may request one in person or through a designated bearer from your county clerk by March 30.
Absentee ballots received by the county clerk by 7:30 p.m. March 31st will be counted. Early voting also starts Tuesday, March 24.
As policies and staffing at county courthouses change due to precautions taken to limit the spread of COVID-19, voters may want to call their county clerks office for more information about what they should do to apply for an absentee ballot or to learn where they can vote in person.
Counties With Runoff Elections

Click on a county below for a link to the county clerk's office or their contact information.
Arkansas
Benton
Conway
Craighead
Garland
Grant
Greene
Hot Spring
Jefferson (read press release)
Lonoke
Saline
White
Maintaining A Safe Distance
Voting is an important right to exercise. Voters casting ballots in person should try to maintain a six-foot distance from others if possible. Consider bringing hand sanitizer with you or remember to wash your hands for at least 20 seconds after returning home from the voting center.
For more information about Extension's COVID-19 resources, check out our website at uaex.uada.edu/covid-19