Arkansas PTAC Success Story All Electric Supply, Inc.
Jordan Beard is the third generation owner of All Electric Supply, Inc. located in Little Rock. The company was started in 1957 by his grandfather. All Electric is central Arkansas' supplier of all things electric. They currently employ 15 people and hold a general contractor license. They like to place emphasis and focus on ways to reduce energy bills for homeowners such as using LED lighting. Arkansas PTAC has featured this business in the past, but wanted to focus on their continued success as encouragement for businesses to stick with the government contracting process.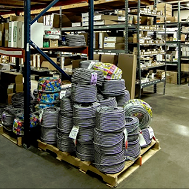 All Electric started their government contracting journey by subcontracting. Last year, they were awarded their first small prime contract. In January 2020, they were awarded a substantial prime contract. The recent contract is for rehabilitation of the excitation system retrofit at Dardanelle Dam Power Plant and is through Department of Defense. Beard described this job as replacing aging products with more energy efficient options. He feels this job aligns perfectly with the scope of their business. Beard likes the idea of keeping all work and money in Arkansas (as do we) and assisting others as subcontractors. Therefore, he uses subcontractors from Morrilton.
All Electric is a Native American owned company. He encourages others who may fall in this category, or other categories, to get certified as it can certainly be a competitive advantage and helped them secure their first prime contract last year which was awarded by Department of Interior Bureau of Indian Affairs.
We congratulate Beard and the company on their continued success. Beard worked with counselor Mary Love in the beginning of his journey and gives her much credit for their success. Mary has since retired and he now works with counselor, Max Franks. He mentioned that he appreciates the communication that he has with Max.
"I like being able to go in with a solicitation and have a PTAC counselor look over it with me. Federal Acquisition Regulations (FAR) provisions can be scary and they went through these with ease. I honestly would not have responded to bids without their assistance," Beard said.
Connect with our Arkansas PTAC counselors at 501-671-2390 to learn how you can expand your business into new areas.