How to Get Out the Count in Times of Social Distancing
Over the past few month, county agents and other Extension professionals have been working to ensure their community counts in the 2020 Census. Some have been collaborating with local county leadership programs while others have been presenting at Quorum Court meetings.
There are several examples of county agents working alongside local librarians to ensure people who don't have access to reliable internet can complete their 2020 Census questionnaire online. Whether it's presenting at a production meeting or sharing social media posts, county agents are taking the necessary steps to secure a vibrant future for their communities.
Due to the recent coronavirus developments, it may not be possible to conduct 2020 Census outreach efforts in the normal ways. As a result, we've highlighted ways to engage your community in times of social distancing.
What Can Your Community Do to Get Out the Count in Times of Social Distancing?
There are a myriad of activities you and your community can facilitate to ensure every person counts in the 2020 Census. It's become clear that large gatherings are off the table as many communities prioritize social distancing in light of the coronavirus. It's imperative that communities across the state take these precautions seriously and reimagine their 2020 Census outreach efforts.
Below, are some ways you can continue to engage in census outreach efforts while simultaneously promoting the health, safety, and well-being of all Arkansans:
Use e-mail, social media marketing and phone calls to help educate community members about the #2020Census, using the #ARCounts hashtag as well.
Start a phone bank or text community members and remind them to complete their questionnaire.
Share pictures and videos of community members completing their Census on social media and encourage people to share their 2020 Census stories.
Ask people to apply the official 2020 Census filter to their profile picture on Facebook.
Encourage community members to complete and share pledge cards via AR Counts.
Share flyers, handouts, and display boards virtually so community members stay updated.
Virtually remind everyone to complete their 2020 Census form by visiting my2020census.gov or by calling 844-330-2020 (English).
Continue to embed educational materials into appropriate virtual meetings.
Use the U.S. Census Bureau's lesson plans and educational activities for children to educate your family about the importance of participating in the Census.
We encourage everyone to exercise discretion when conducting 2020 Census outreach efforts. The U.S. Census Bureau wants to ensure everyone remains safe while completing their #2020Census questionnaire and so do we.
That's why U.S. Census Bureau workers are diligently monitoring the coronavirus situation and will continue to make accommodations and recommendations for groups that may be impacted. For questions about responding to the 2020 Census, call 844-330-2020 from 7 a.m. to 1 a.m. Eastern Time.
2020 Census Champions
We want to give a special shout out to our colleagues for keeping us up to date on the various ways they are leveraging the Community, Professional and Economic Development Unit's 2020 Census Toolkit to educate their communities about the importance of participating in the 2020 Census. The below examples can help you imagine ways to embed 2020 Census information into your existing programs even in the absence of events.
Arkansas Extension Homemakers Council
Shared tools with Extension Homemakers Council members
Clay County (Stewart Runsick, Debbie Baker, & Allison Howell)
Used

the display board and handouts to educate community at the Local Emergency Planning Committee luncheon
Presented 2020 Census information at the Cotton and Corn Production Meeting, the Rice and Soybean Production Meeting, and the Pesticide Applicator Training
Presented 2020 Census tools at the Quorum Court meeting which resulted in the county judge recognizing the importance of sharing 2020 Census information at every meeting
Equipped various community centers and public places with census display boards
Conway County (Alicia Hugen)
Shared tools with Morrilton Area Chamber of Commerce Board
Shared tools (and continues to support) the Conway Community Leadership Program in their efforts to educate the community and stakeholders about the importance of participating in the 2020 Census
Assisting the Conway Community Leadership Program in the planning and organization of their (tentative) April 1 2020 Census Kickoff Day which aims to educate and offer computers for community members to complete the questionnaire at the event
Grant County (Brad McGinley)
Shared tools with local community and economic development coalition Kick Start Sheridan
Incorporated 2020 Census information into Kick Start Sheridan's newsletter
Lincoln County (Steven Stone)
Equipped courthouses and libraries with handouts and display boards
Shared handouts with county judge who has shared with other stakeholders
Shared newsletter blurbs in FCS and AG newsletters
Posts educational information on various social media pages
Supporting (tentative) educational event at library to help people without internet access complete their Census
Mississippi County (Ray Benson)
Submitted article to local paper
Shared educational handouts at meetings
Monroe County (Valerie Turner)
Shared educational handouts at Quorum Count meeting.
Hosted a booth at local schools during parent teacher conferences
Equipped courthouse with handouts and display board
Presented information at Corn and Cotton Production Meeting
Shared newsletter blurbs with local newspapers
Sent census educational e-mails to various program participants
Shared census information at NAACP meeting and senior centers
Shared social media posts
Perry County (Mary Cody)
Shared information/toolkit at various Quorum Court meetings
Equipped local library with census display boards
Collaborating with libraries as they (tentatively) prepare to provide technical assistance to help communities complete the 2020 Census questionnaire
Polk County (Sherry Beaty-Sullivan)
Equipped public space and community centers with display board
Shared social media posts
Saline County (Kris Boulton)
Shared handouts with Quorum County and equipped courthouse with display board and handouts
4-Her Kahlan H helped complete her family's 2020 Census questionnaire and was featured on social media
Woodruff County (Leigh Ann Bullington & Brett Gordon)
Hosted a table with display and information at the Woodruff County Agriculture Expo
Equipped county extension office with educational materials
Shared social media posts
Don't see your name but are doing the work? Want more information about ways to use these tools? Do you have creative ways of bolstering 2020 Census efforts in times of social distancing? We want to hear from you! Again, please remain safe as you conduct 2020 Census outreach efforts. Contact Emily Smith at elsmith@uada.edu or 501-671-2138 to share your stories or to discuss ways to #getoutthecount.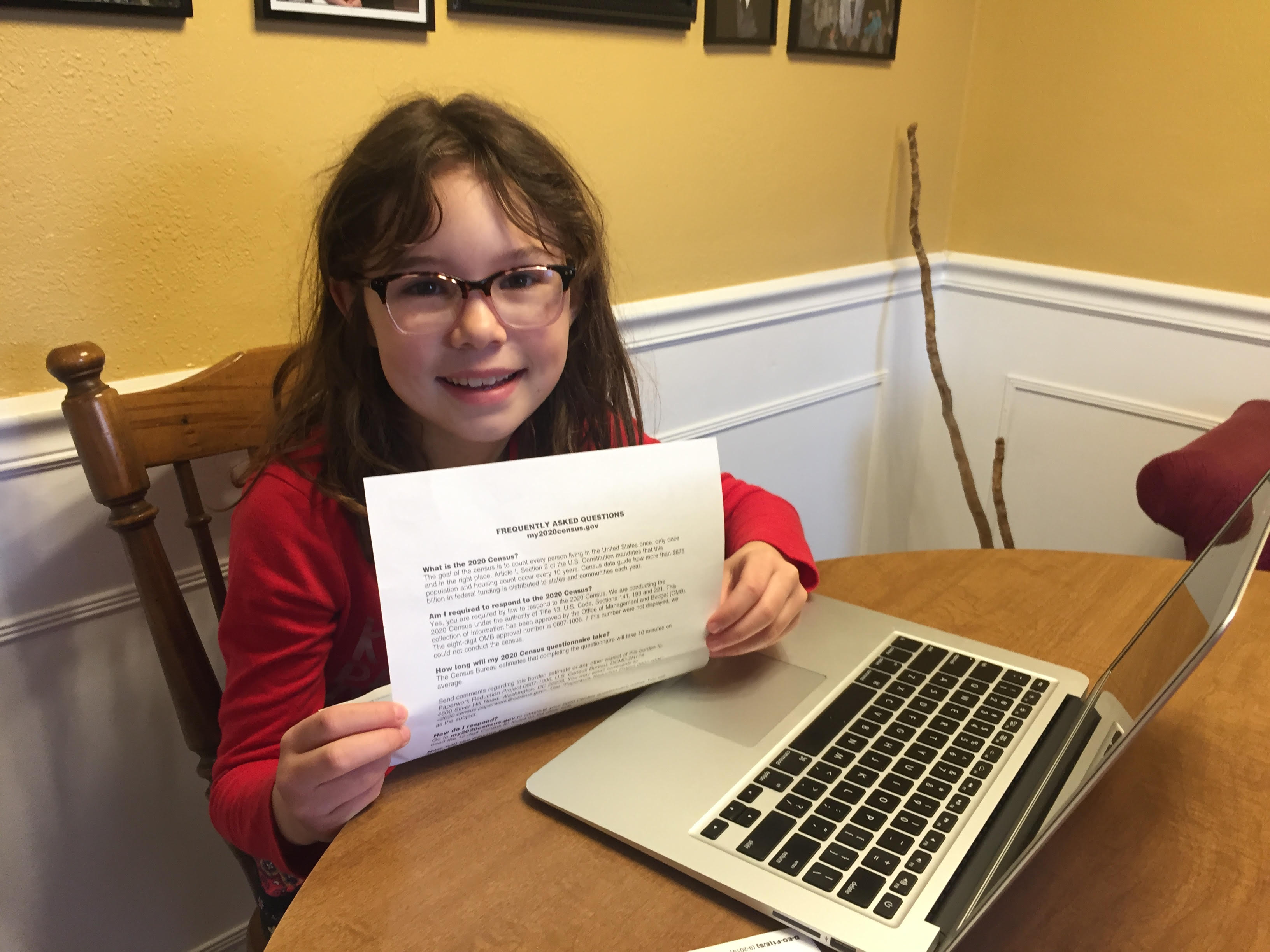 Saline County 4-Her Kahlan H. helps her family fill out the 2020 Census.