LeadAR Alumni Spotlight: Lori Burrows
Lori L. Burrows is Vice President and General Counsel for Arkansas Electric Cooperative Corporation and Arkansas Electric Cooperatives, Inc. and has more than 15 years' public utility experience. Lori is a graduate of Harvard Business School's Advanced Management Program (AMP193) and holds a Juris Doctor, with honors, from the UA Little Rock Bowen School of Law. She also has a Bachelor of Arts degree in Speech Communication from the University of Central Arkansas, where she is a lifetime member of the Alumni Association.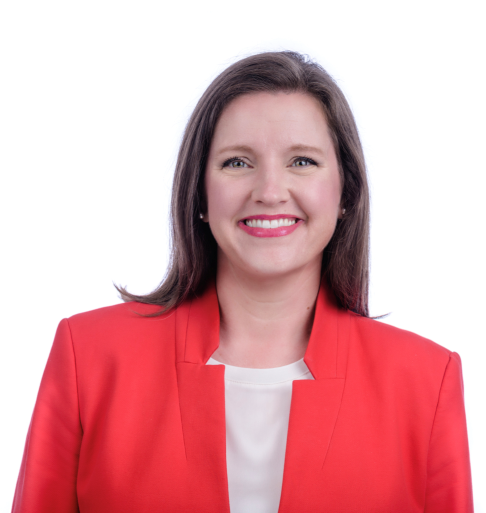 Lori is a Founder as well as the Inaugural and immediate Past President of Arkansas Women in Power, President of the Historic Arkansas Museum's Foundation Board and Vice President of the Friends of KLRE/KUAR Board of Directors. She has also volunteered for Tree Streets for more than 20 years. In 2019, Lori graduated from LeadAR Cohort 18 and is a graduate of Leadership Greater Little Rock (Class XXX), as well as an honoree in Arkansas Business' 40 under 40. She was also featured by AY Magazine as the 2016 Powerful Woman in Law. Recently, Lori's public service work was featured in Vanguard Law Magazine and she was named to the Arkansas Business' 2018 and 2019 Arkansas 250 lists. Before law school, Lori served as a United States Peace Corps volunteer in the Pacific island country of the Federated States of Micronesia, living on the FSM capitol island of Pohnpei for more than 2 years.
Immediately before joining AECC, Lori served as a legal advisor to the Arkansas Public Service Commissioners and was an assistant attorney general in the consumer division of the Arkansas Attorney General's office prior to that. Lori is a corporate governance and complex business transaction expert who is recognized as a strong public advocate for the cooperative story and the non-profit public utility business model. We've asked Lori to share a little about her LeadAR experience and how leadership can help move the state of Arkansas forward. We've shared her answers below.
Tell us about yourself.
I am a Saline County native educated by the Bryant School District, University of Central Arkansas and the Bowen Law School. In addition to being a wife to a hilariously sarcastic husband, I am a mom to two precious and precocious little girls, 7 and 9. We have two fur babies who bark with reckless abandon at every passerby. I also have a very large extended family of huggers who keep me honest, and plied with macaroni and cheese. On any given weekend, you will find my family of four baking and biking together in and around Little Rock. Right now, we're also busy eating every summer tomato, peach and berry we can get our hands on.
What leadership roles or positions have you held/currently hold?
I have a long history of community service and have been honored to serve many nonprofit organizations. Currently, I serve as the President of the Historic Arkansas Museum Foundation Board of Directors, Vice President of the Friends of KUAR/KLRE Board of Directors and Past President of Arkansas Women In Power.
Why did you choose to be a part of the LeadAR program? What motivated you?
Arkansas' Electric Cooperatives provide reliable, affordable and responsible electricity every day, and we have long supported the LeadAR program. That support is because we believe it is a great vehicle to train bright professionals to advocate for positive change on issues affecting this rural state we love – Arkansas – and its most rural communities, which we also serve. Many electric cooperative leaders, all of whom I greatly respect, are LeadAR alumni, and I wanted to participate to increase my own understanding of issues affecting areas outside the central Arkansas region, which has been my home for my entire life, save the nearly two and half years I spent living abroad in the Peace Corps.
How did you your LeadAR experience impact your professional life?
I have developed a broader understanding of issues that are acutely affecting rural communities and the economies that support them through federal and state policies. I regularly draw on the vocabulary and understanding that LeadAR provided me to tackle some of the matters plaguing the communities served by our state's electric cooperatives.
What LeadAR activity or part of the program do you believe helped you develop as a leader?
I enjoyed bonding with my talented, fellow members of the LeadAR Cohort 18. A key to effective leadership is establishing and maintaining positive connections with a wide variety of people and LeadAR served me well there.
What is a significant LeadAR memory or moment that you still think about today?
I value family more than anything else, and I am always drawn to people, above all. So, what stands out to me about my LeadAR time is the other humans I met and the stories they shared with me about what they value, what moves them and how life has enriched their personal perspectives.
What advice would you give to an up and coming leader?
I would share with any leader – whether a newer leader or a long-seasoned one – that taking the high road avoids regret, so always take it. Also, to borrow the words of a great, dearly departed STARkansan Maya Angelou, "I've learned that people will forget what you said, people will forget what you did, but people will never forget how you made them feel." Strive to invest in others and you will always reap the dividends of that investment.
What leadership quality do you admire most in others?
Humility.
What would people be surprised to learn about you?
I can sew and have made clothes that other humans have actually worn.
What book are you reading? What show are you watching?
I am currently finishing "How to be An Anti-Racist," and "White Fragility" is next in the queue. My family finished watching the 2019 Tour De France last night – after watching it every night for a couple of weeks. We are in a "show hole" on binge-watching, though.
What is one crucial ingredient for true happiness?
Being oneself, all the time.
How can leadership help move communities and the state of Arkansas forward?
Leadership can help move communities forward and benefit our whole state and country by engaging across racial, gender, socio-economic, religious and other typical barriers to involvement by truly including all affected. Leaders create the atmosphere for innovation and change by being aware of their own biases and ensuring their blind spots do not become the blind spots of the teams in their care.
Is there anything else you want us to know?
I want the LeadAR program to evolve and adapt to the changing rural/urban paradigm so that it is around to shape the future of our great state as well as to benefit more great leaders. By attracting a more diverse cohort, we can create additional ambassadors for the cause who will expand LeadAR's network far and wide.