Covid-19 and Absentee Voting in Arkansas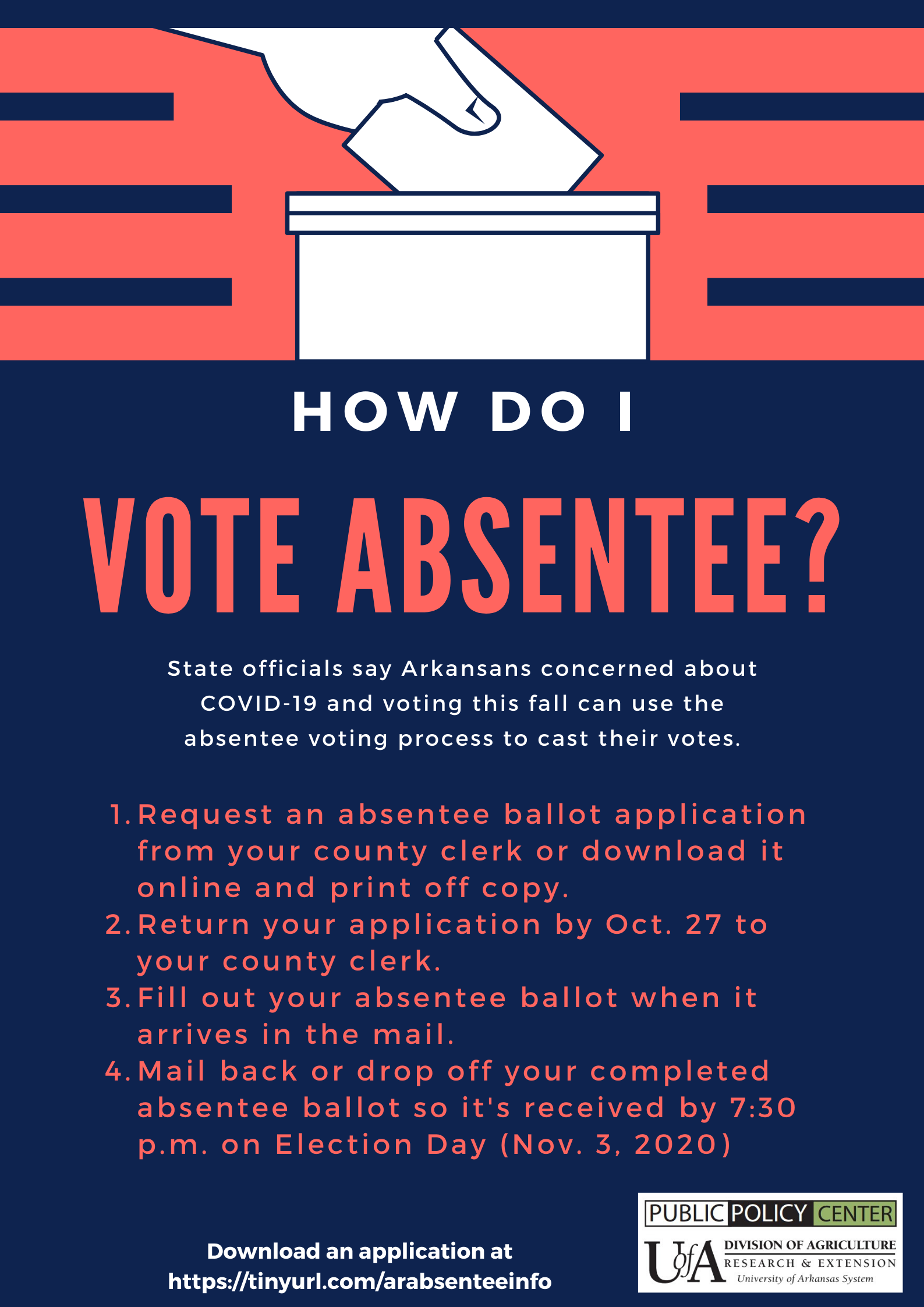 A small percentage of Arkansas' 1.7 million registered voters routinely make their choices in elections using an absentee ballot, so the process may be unfamiliar to many people concerned about voting this fall during the pandemic.
Rules for absentee voting vary by state. In Arkansas, voters are eligible for absentee ballots if one of the following situations is present:
You will be unavoidably absent from your polling site on election day

You will be unable to attend your polling site on election day due to illness or physical disability

You are a member of the Uniformed Services, merchant marines or the spouse or a dependent family member and are away from your polling location due to the member's active duty status

A U.S. citizen whose residence is in Arkansas but is temporarily living outside the territorial limits of the United States.
Gov. Asa Hutchinson issued executive orders earlier this year to allow people to vote absentee during elections in March, May and June. Questions continued to surface about whether he would do the same for the Nov. 3 General Election. A lawsuit was filed last month seeking clarification on absentee voting during the pandemic.
In a July 2 press conference, the governor and the secretary of state told reporters they believed Arkansas' current law would allow for absentee voting by people concerned about health risks this fall.
"What we've done today, and with the action of the secretary of state, who is also chairman of the State Board of Election Commission, I think that adequately solves the problem as whether COVID-19 is a good reason for an absentee ballot. That issue is resolved," Hutchinson said.
He responded to further reporter questions by saying, "They just simply have a concern, a fear of going to the polling place because of Covid-19. That's enough of a reason."
UPDATE: Gov. Hutchinson signed an executive order on Aug. 7 recognizing concerns about COVID-19 as being a qualifying reason for using an absentee ballot in the November general election. Read the executive order.
Process for Requesting And Completing Absentee Ballot
Voting in-person in Arkansas requires being registered to vote and then you show up at your voting location on Election Day or during early voting. But when you cast your vote via absentee ballot, there are more steps involved.
First, you must fill out and submit an application for an absentee ballot. You can request this form from your county clerk now by calling, emailing, faxing or walking into their office. You can also download the form online and print it off.



You then complete the application form and return it to your county clerk. You may choose to receive your ballot in the mail or to pick it up from the clerk yourself, or have a designated person pick up your ballot.





Once you receive your actual ballot, you would fill it out and return it to your county clerk. You can choose to return the completed ballot by mail (you have to pay postage) or in person.
Requests for absentee ballots are valid for one election cycle or one calendar year depending on the voter.
Absentee Voting and Photo ID - Amendment 99
Arkansas voters in 2018 approved a constitutional amendment that requires most voters to present valid photographic identification when casting their votes in person or by absentee ballot.
Voters without photographic identification can still vote. When completing the absentee ballot, a voter signs their name swearing their identity. This affidavit is considered proof of identity if they are unable to enclose a copy of their photo ID with their ballot.
"When you sign, you are signing an affidavit swearing you who you say you are under the risk of perjury. An absentee vote is essentially a provisional vote," Secretary of State John Thurston said at the press conference.
First-time voters have different rules for casting their first ballots, as do people who live in nursing homes or are members of the military. Click here to read more information about photo ID and voting absentee. Under Amendment 99, people who do not have valid photo ID can request a free voter ID card from their county clerk.
Thurston said that in 2016, the last presidential election, about 42,000 Arkansans voted using absentee ballots. He speculated Thursday that three times the number of voters may choose to vote absentee this year.
When asked Thursday why not mail applications to all registered voters, Thurston said it was a funding issue.
"It's a huge price tag," he said, because the application would need to be mailed in addition to the ballot. Thurston said county clerks or anyone else could send out the applications if they chose to do so.
In-Person Voting This Fall
The secretary of state said they were looking into using CARES Act funding to help offset costs of ordering supplies for the election this year.
Thurston said he believes voting this November "will look like all of the other elections in the past with the exception there will be folks wearing masks. There will be gloves. There will be hand sanitizers, those types of things."
The state is also planning to order disposable stylus pens that voters could use this fall when casting ballots on electronic voting machines. Thurston said they were ordering enough for every voter.
"When you come to the polling sites technically you should not have to touch a single thing except that stylus pen. I'm very excited about that," he said.
Important Dates
Oct. 5 - People who aren't already registered to vote in Arkansas have until this date to register to vote in the Nov. 3 General Election
Oct. 19 - Early voting in the November General Election begins
Oct. 27 - Last day to request an absentee ballot application be mailed to you. Voters can still request a form for pickup.
Nov. 3 - Election Day. Polls are open from 7:30 a.m. to 7:30 p.m. Absentee ballots must be received by the close of voting hours to be counted.