Updated Publication Tells Spending Story of Arkansas Counties Since 2000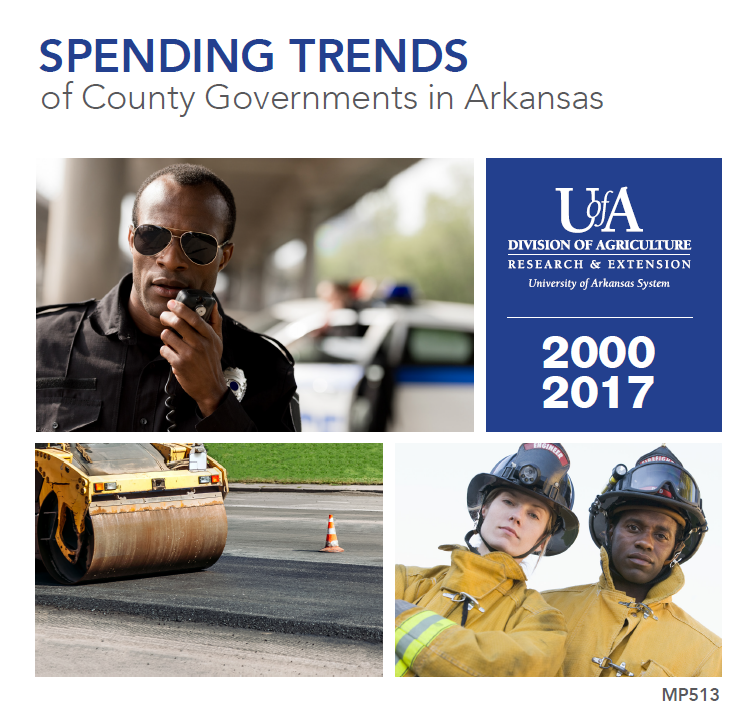 An updated publication from the University of Arkansas System Division of Agriculture provides detailed information about how county governments are spending their revenue dollars, and how those expenditures changed from 2000 to 2017.
County governments must provide some public services such as law enforcement, a court system and county jail. They are also involved in property tax administration and public records management.
Arkansas counties also fund a variety of other critical services, including highways and streets maintenance, solid waste, emergency services, community and rural development, and agricultural assistance.
Recently updated, the Spending Trends of County Government in Arkansas publication provides detailed information on county government spending.
County Spending Trends - Differences Seen in Urban vs. Rural Counties
While total spending by Arkansas county governments grew between 2000 to 2017, there was wide variability in spending trends between Urban and Rural regions and among counties (Figure 1).
Thirteen Arkansas counties spent less in 2017 than in 2000 - after adjusting for inflation. All but one were Rural counties. Meanwhile, expenditures grew more quickly in Arkansas' 13 Urban counties from 2000 to 2017.
However, per capita total spending in Rural countries showed more volatility and grew at a faster rate compared to Urban counties. This is because Rural counties still had to provide services, but there were fewer people to share the cost of these services. Between 2000 and 2017, the population of Rural counties decreased 2% while the population of Urban counties increased 25%.
Figure 1. Percent Change in Total Expenditures (2000-2017)
Source: Arkansas Legislative Audit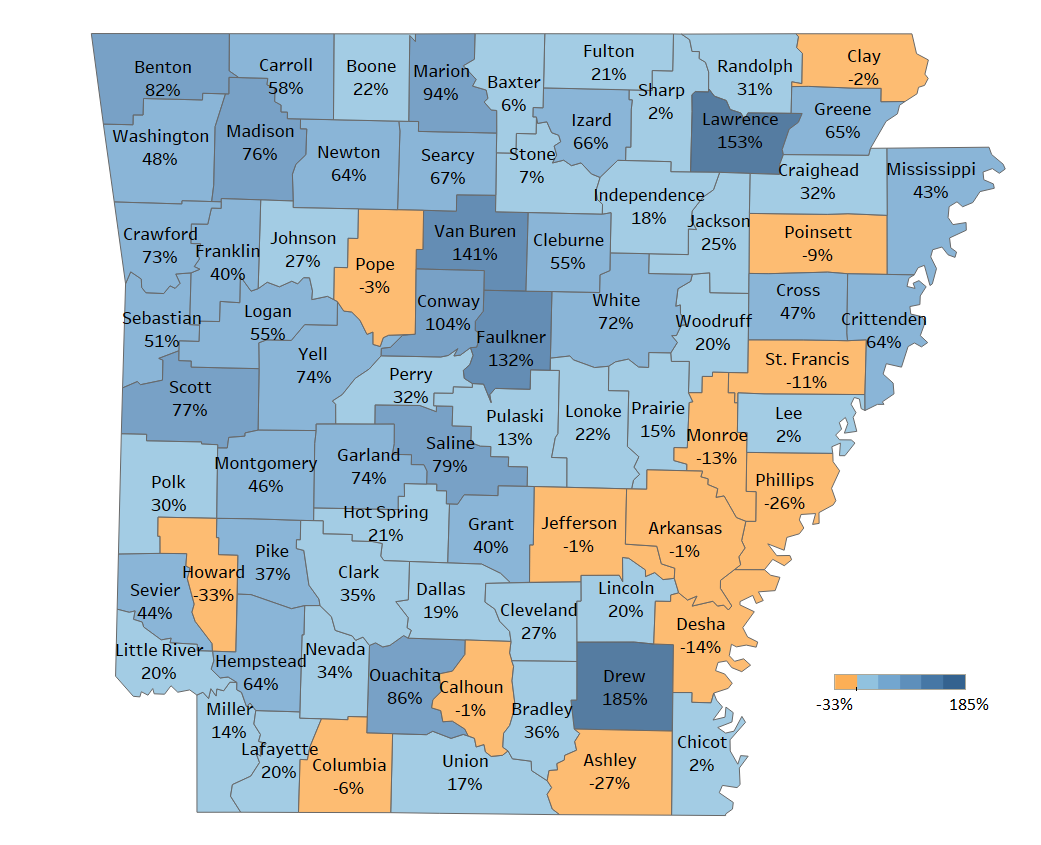 Categories and Per Capita Spending Trends
There were also considerable differences in the share and growth of spending on different expenditure categories between Urban and Rural regions and among counties.
For the majority of the study period, law enforcement and public safety spending accounted for the largest share of total county government expenditures for both Urban and Rural counties. However, Urban counties spent a considerably smaller share on highways and streets compared to Rural counties.
Sixty-eight of the 75 counties in the state spent more per capita in 2017 than in 2000. Nonetheless, large variations in per capita county government spending were observed. It should be noted that there are sometimes economies of scale in providing services. Therefore, counties with larger population may be able to provide similar services at a reduced cost per person. In 2017 there was a strong inverse relationship between total population and per capita expenditures among the 75 counties. This means that, in general, counties with a larger population had lower per capita expenditures.
Find out how county expenditures have changed in your county compared to other counties in the state in our Spending Trends of County Government in Arkansas report and our Fact Sheet.