EHC State Meeting 2022
EHC held their annual three-day State Meeting at the Wyndham Riverfront Little Rock hotel in North Little Rock this past week. There were over 200 EHC members in attendance, not counting speakers, guests, and Extension agents.
Everyone enjoyed fellowship with EHC members from across the state. Members participated in a variety of educational and craft classes that were led by Extension employees, community leaders, fellow EHC members and even 4-H members. Class topics ranged in interest from fire safety to social media and from mental wellbeing to planting to attract pollinators and more. Lovely DIY decorations with those that attended the craft classes and beautiful succulent plants went home with those that took part in the succulent class led by White County Ag Agent Jan Yingling.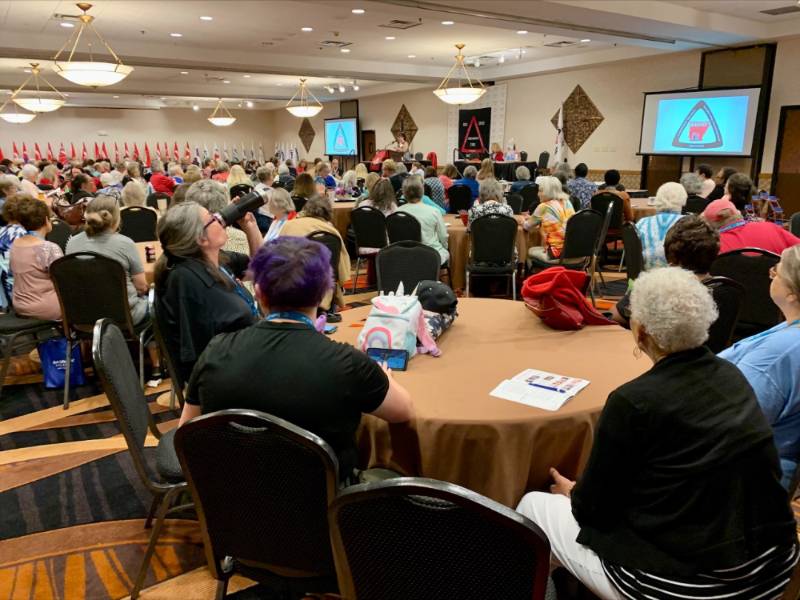 Luncheon speakers Rob Roedel, Director of Corporate Communications for the Electric Cooperatives of Arkansas, and Mike Hamilton, retired Extension Ozark District Director, were inspirational and funny as they spoke about leadership qualities and life in Arkansas. The evening entertainment was a hit again this year as EHC members put on their annual bingo night on Tuesday night and talent show on Wednesday.
As much fun as there was to be had, there were some very bittersweet moments during the meeting as this was an inaugural year for the organization and outgoing officers stepped down to allow for the installation of incoming officers.
EHC State Executive Board Changes are as follows:
President Cheryl Stewart will now be serving as the Immediate Past President
Immediate Past President Karen Bell Fox bids a "see ya around" to the Executive Board Team as she steps away from the Immediate Past President position.
President Elect Debbie Thompson will now be serving at the President.
Vice President Deb Teague will now be serving as President Elect.
EHC welcomes Karla Wadley as the new Vice President.
Secretary Bernadette Freigy is stepping down and Darlene Holliday will be serving as the new EHC Secretary.
We are very excited to see where our Executive Board takes this wonderful organization the next two years.
Thank you to everyone that attended the meeting and to everyone that helped make it happen! As always, we hope to see everyone next year!