Commercial Fruits and Nuts in Arkansas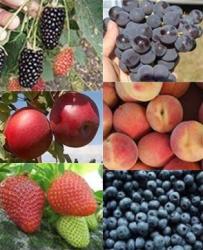 Arkansas' climate allows for the production of a wide variety of healthy and delicious, high market value perennial fruits and pecans.
Knowledgeable specialists and county Extension agents are available to assist you with your questions.



Licensed Propagators: University of Arkansas Patented Fruit Cultivars
The Division of Agriculture's Technology Commercialization Office (TCO) helps faculty and research scientists with the University of Arkansas System identify, protect, and commercialize intellectual property developed from their research or other university supported activities.
To set up a license to propagate fruit cultivars developed by the University of Arkansas, please contact: agritco@uark.edu or Cheryl Nimmo at (479) 575-3953.
If you are purchasing these plants to propagate and resell, you must be a licensed propagator with the Division of Agriculture of the University of Arkansas System. Contact Cheryl Nimmo at cnimmo@uark.edu for more information about licensing.
U of A System Licensed Fruit Propagators
PDF maintained by the TCO.
University of Arkansas System Division of Agriculture Fruit Cultivars and Growing Information
Website maintained by TCO; includes current and expired patents for blackberries, blueberries, nectarines, peaches, table grapes and wine grapes.
Planning for Fruit Growing
Cultivar Selection
Selecting the correct fruit cultivars can determine the success of your orchard.
The commercial success of a fruit orchard is highly dependent on the selection of cultivars which will perform reliably for the selected site and location and meet market demands. When selecting cultivars for your orchard you must consider the following: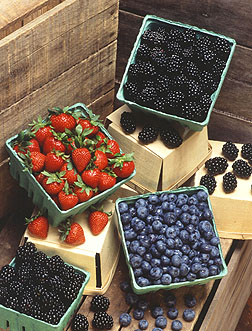 Climatic adaptability of the cultivars
The cultivars you select need to be adapted to the climatic conditions for your geographic location. Pay close attention to the information given by the nursery catalogs such as USDA winter hardiness zones and chilling requirements. Arkansas has six hardiness zones (6a -8a). If your orchard is located in a colder area of the state (USDA hardiness zones 6a or 6b), you need to select cultivars that are adapted to the colder winter temperatures. If you are in the southern part of then you must select fruit cultivars with lower chilling requirement hours.

Time of bloom and days to harvest
You can select early, mid and late season cultivars to extend or concentrate the season to match a specific market. However, care must be taken to make sure that you do not select cultivars that bloom too early, especially in crops such peaches because there might be a danger of frost damage to the blooms. For fruit that require cross pollination
such as apples and pears, the time of bloom of the cultivars must coincide in order to have viable pollen.

Pest resistance
One way to decrease the number of pesticide sprays you apply to your orchard is by selecting cultivars that have some resistance to the major diseases in your area.


Soil Testing
Maintaining Commercial Fruit and Nuts in Arkansas
Pruning & Training Fruits
Pest Control for Fruits
Disease Control
Weed Control
Advantages of high tunnels relative to field production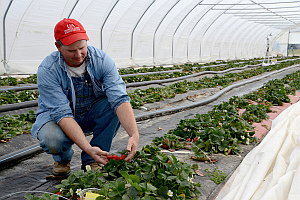 Season extension/off season production

Reduced moisture on foliage from rainfall and dew
– Lower disease potential

Increased growth rates and production
– Increased heat unit accumulation and retention
– More even light distribution
– Reduced plant stress

Exclude insect pests and some animals
– Plant health and food safety

Controlled water application

Higher quality products
The Potential for High Tunnels
presentation by Dr. Curt Rom & Dr. Elena Garcia | Division of Agriculture | University of Arkansas System
High Tunnel Construction and Selection Considerations
presentation by David A. Dickey and Jason D. McAfee | Division of Agriculture | University of Arkansas System
High Tunnels or Hoop Houses Education
Southern SARE
FSA-9512
Diagnosing Farm Profitability Problems
FSFCS-56
Estate Planning Defined
Arkansas CropMap
View crops produced within Arkansas by crop, acres produced, and yield. Information for the entire state as well as individual counties.
Ag Risk & Farm Management Library


Information on production risk, crop insurance, enterprise diversification, price risk, natural disasters, legal risk, and human risk.
USDA Risk Management Agency
The Risk Management Agency is part of the USDA with the goal of assisting producers manage risk through effective risk management solutions. The three divisions of the RMA include: Insurance Services, Research and Development (R&D), and Risk Compliance.
National Agricultural Statistics Service (NASS) - Arkansas
USDA's NASS Arkansas Field Office is operated in cooperation with the University of Arkansas System's Division of Agriculture.
Economic Research Service (ERS)
The ERS mission is to inform and enhance public and private decision making on economic and policy issues related to agriculture, food, the environment, and rural development.
Marketing Your Products Directly (FSA31)
by Arkansas Extension
This publication shows you how to market your products directly and legal considerations.

Commodity Markets
by Arkansas Extension
This site provides various links to cash market prices, futures market prices, USDA reports, market commentary and analysis, and other market related analysis.
Arkansas Grown
by Arkansas Agriculture Department
This website was developed by the Arkansas Agriculture Department (AAD) to help potential buyers locate Arkansas producers. Any resident of Arkansas who produces an agricultural product in our state may, at no charge, list their marketing information here. AAD may also make this information available for distribution in other formats.
Agricultural Marketing Service
by USDA
This site provides information on the various AMS programs, discusses current hot topics in agriculture, and provides various web resources to assist producers.
Farmers' Markets and Local Food Marketing
by USDA Agricultural Marketing Service
National Organic Program
by USDA Agricultural Marketing Service
National Organic Program page that supplies links for certifying agents, consumer information, NOP regulations and policies, producers, handlers, and processors, and state information as well as a link to the National Organics Standards Board.
Food & Farm Policy
by Arkansas Extension
The Agricultural and Food Policy webpages are developed as a resource to help users increase their understanding of public decision making by providing sources of information, data, analysis and news on public issues impacting Arkansas' agricultural and rural sector.
Legal and Business Guide
by University of Arkansas System's Division of Agriculture
This book includes chapters on contract laws, food safety, food labeling, agricultural labor, business organizations and the application of the Perishable Agricultural Commodities Act. In addition, since the industry is also confronted by other unique challenges that directly affect competitiveness, it also includes a chapter addressing the marketing of various types of specialty crops and one discussing the third-party audit system.
Farmdoc - Law & Taxation
by University of Illinois
The educational materials provided on this site can assist producers, as well as others, in understanding the impact of laws and regulations on agri-related decisions and activities. Topics on this site include: Agricultural Biotechnology, Selling Agricultural Products, Acquiring Farmland, Water, Natural Resources & Environment, Labor Law, and Taxation.
Farm Labor Laws and Regulations
by Ohio State University
This site provided by Ohio State University gives a summary of labor laws and regulations that affect agriculture.