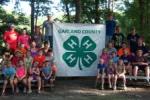 Garland County 4-H
Photo: Garland County 4-H Camp
The mission of 4-H is to provide opportunities for youth to acquire knowledge, develop life skills, form attitudes, and productive behavior that will enable them to become self-directing, productive, and contributing members of society. 4-Hers learn by doing. In a safe and enriching environment, 4-H brings youth and adults together to learn everyday life skills with hands-on learning. In addition, 4-Hers learn problem-solving skills that can make a positive impact upon their community. For more information on the Garland County 4-H program, contact our 4-H Agent, Carol Ann McAfee
Garland County 4-H has many activities to keep our youth busy:
Club Meetings Project Work

County O-Rama - BBQ, Bait Casting, BB Gun, Bicycle, Illustrated Talks, Talent, and Fashion Revue

County Camp

County Fair - Photography, Livestock, Art, Cooking, Sewing, and Talent

Annual Achievement Banquet

County Horse Show

Holiday Workshop

Poultry Chain Chicks

Vet Science
There are also district and state level 4-H activities for Junior and Senior 4-Hers (ages 9-19):
District and State Horse Shows

District and State Fairs

Teen Leader Conference

High Adventure

District and State O-Rama

State Camps

Photography Contests
So what do the 4 H's stand for? Head, Heart, Hands, Health. 4-H Pledge: I pledge my Head to clearer thinking, my Heart to great loyalty, my Hands to larger service, and my Health for better living for my club, my community, my country and my world.
Current 4-Hers: Here is a link to Register for 4-H Events.