LeadAR Class 19 Experiences Mock Legislative Session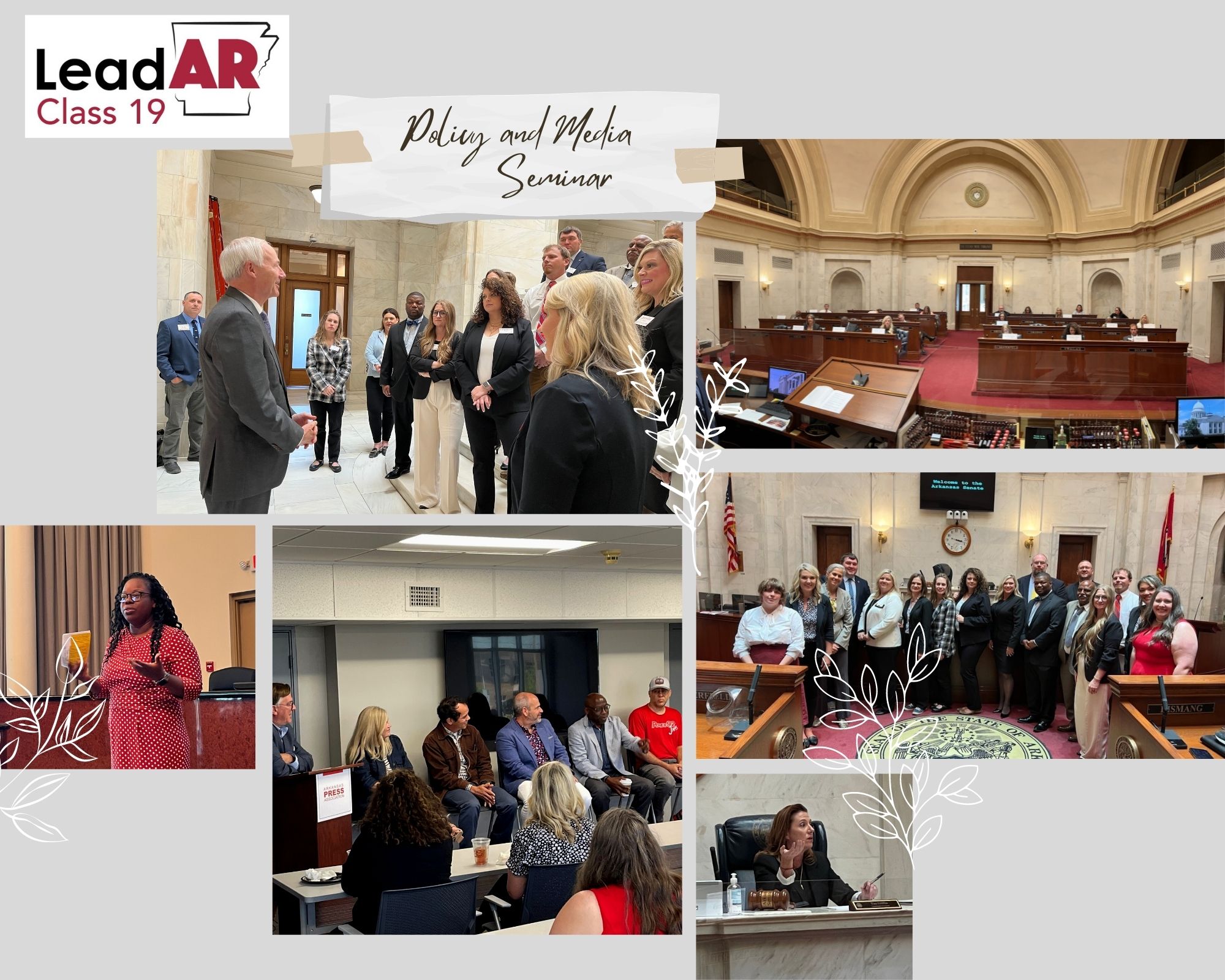 LeadAR Class 19's May seminar focused on Policy and Media. The session was originally scheduled for January was postponed due to an increase in Covid cases in Arkansas. The seminar was worth the wait.
"Thank you so much for such an informative and immersive session! On the policy side, I learned more in two days about how our legislature gets things done that I had learned in my previous educational and professional experiences combined. I appreciate the preparation from the staff and speakers, and my cohorts. The media portion of the session was also great, and so very timely. This has been my favorite session so far, by far," said Stacey Gorman, LeadAR Class 19.

Class 19 spent the day in the boardroom at Arkansas Electric Cooperative Corporation (AECC) in Little Rock. The agenda included:
Welcome from AECC President and CEO Buddy Hasten.
The experience of a legislator with Rep. Jamie Scott, District 37 (LeadAR Class 17).
Lobbyist Panel - Loriee Evans, Arkansas Community Organizations and Indivisible Little Rock and Central Arkansas; Michelle Kitchens (LeadAR Class 13), Arkansas Center for Health Improvement; and Amanda Story, Hargraves Consulting LLC. Moderated by Stephanie Malone (LeadAR Class 18), CEO of Arkansas Trial Lawyers Association.
Media interview skills with Rob Roedel, AECC, and Jeannie Roberts, Arkansas Democrat-Gazette.
Parliamentary procedures - Stephanie Malone, a former state representative, led this session.
The day culminated with dinner at the family farm of Tom (LeadAR Class 1) and Judy Hersey Riley (LeadAR Class 14).

LeadAR Class 19 spent the day at the Arkansas State Capitol for committee meetings and a mock legislative session.
"This seminar provided great insight on the role of our legislators during general session," said Michal Harris, LeadAR Class 19.
The agenda for the day included:
Mock legislative committee meetings.
Meeting and discussion with Gov. Asa Hutchinson.
Media Panel - Wes Brown, Daily Record Inc.; Benji Hardy, former editor, Arkansas Nonprofit News Network; Kelly Frazier, At Home in Arkansas Magazine; Travis "Tre' Day" Rowan, Power 92 Jams - 92.3 FM in Little Rock; and Marty Schack, president and general manager of THV11. Moderated by Roby Brock, Talk Business & Politics.
Andrew DeMillo, Associated Press.
LeadAR General Assembly in the Senate Chamber.
Jesse Bocksnick, LeadAR Class 19, said, "The legislative session and learning more about the process was great experience. My bill made it out of committee and passed the House. As we were only having a mock session as state reps I was pleased that it made it that far! We did use the Senate chamber to conduct our business though."
During the session, LeadAR legislators made "headlines" with their bills and had surprise interviews streamed live to other class members. Special thanks to Kristin Higgins with the Public Policy Center and Emily Smith, UADA program associate-community and economic development, for serving as representatives of the media to strengthen the reality of the session.
LeadAR wants to acknowledge all the support that was received to make this seminar a reality. Special thanks to the following:
Arkansas Electric Cooperative Corporation | Kristin Higgins | Emily Smith | Nikki Dawson | Jamie Scott, LeadAR Class 17 | Stephanie Malone, LeadAR Class 18 |Tom Riley, LeadAR Class 1 | Judy Riley, LeadAR Class 14 | Jonathan Duran, LeadAR Class 18 | J.J. Pitman, LeadAR Class 14 | John Hoefl, LeadAR Class 13 | Diane Tatum, LeadAR Class 8 | Shannon Caldwell, LeadAR Class 17 | Don Crabbe LeadAR Class 13 | Michelle Kitchens, LeadAR Class 13
LeadAR is a program designed to help Arkansans broaden their understanding of issues and opportunities facing our state and strengthen their ability to make a difference. For more information about LeadAR, visit the website or contact Robinson, jrobinson@uada.edu, or Lisa Davis, ldavis@uada.edu.