iLEAD Cohort I--Two Powerful Presentations Focused on Heart
The presenters in the latest iLEAD Cohort I virtual session focused on heart.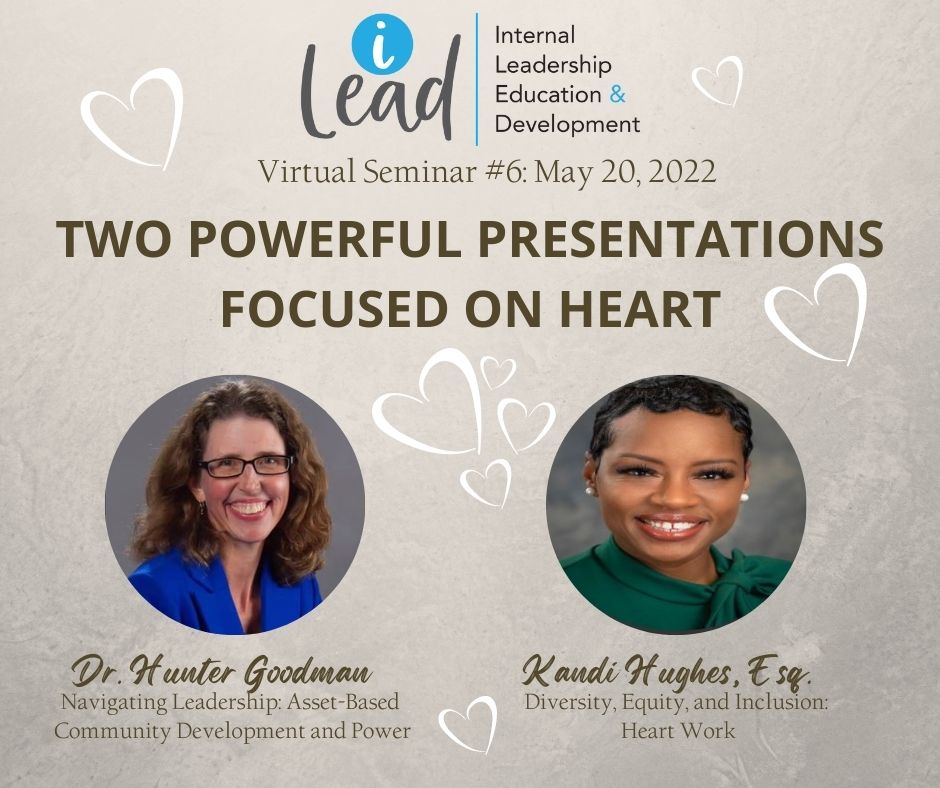 Dr. Hunter Goodman, an assistant professor in the Community, Professional and Economic Development unit at the University of Arkansas System Division of Agriculture, presented "Navigating Leadership: Asset-Based Community Development and Power."
Asset-Based Community Development
Asset Based Community Development (ABCD) is a strategy for community development. This strategy uses the assets that are already found in the community and not concentrated on their needs.
In ABCD, time is spent in identifying the assets of individuals, associations, and then institutions before they are mobilized to work together to build on the identified assets of all involved. Then the identified assets from an individual are matched with people or groups who have an interest or need in that asset. The key is to begin to use what is already in the community.
The benefits of using ABCD are:
Discovers what strong not what's wrong.
Places community in the center of local decision making.
Activates individuals and community participation.
Builds on community leadership.
Strengthens local connection and relationships.
Gift of Heart
Goodman shared a simple guide to discovering people's abilities with the gifts of the head, hand, and heart exercise. The tool is an asset mapping exercise to identify individual talents a person brings to the community.
Overview of the gifts:
Gifts of the Head. (Things you know something about and would enjoy talking about with others, e.g., art, history, movies, birds.)


Gifts of the Hand. (Things or skills you know how to do and would like to share with others, e.g., carpentry, sports, cooking.)


Gifts of the Heart. (Things you care deeply about, e.g., protection of the environment, civic life, children.)


Gifts of the Heel. (Things you do to help stay grounded and would like to share with others, e.g., meditate, walk, breathing exercises, hang out with friends.)


Gifts of Human Connection. (Things you do to stay connected to your community, e.g., join an interest group, visit someone, introduce someone you know to someone else with a similar interest.)
Diversity, Equity, and Inclusion: Heart Work
Kandi Hughes, an attorney with Southwest Power Pool, shared "Diversity, Equity, and Inclusion: Heart Work."
Organizations that exhibit gender and ethnic diversity are, respectively, 15% and 35% more likely to outperform those that don't, according to global management consulting firm McKinsey & Co. Hughes said an organization must clearly identify what it is trying to achieve by advocating for diversity and that you have to win hearts and minds.
She shared the following definitions to define the concepts.
Diversity refers to the variety of similarities and differences among people, including, but not limited to: gender, sex, gender identity and expression, ethnicity, race, native or indigenous identity/origin, age, generation, disability, sexual orientation, culture, religion, belief system, marital status, parental status, pregnancy, socio-economic status/caste, appearance, language and accent, mental health, education, geography, nationality, work style, work experience, job role and function, thinking style, and personality type. Representation of various diversity dimensions within organizations may vary by geography, time, or organization.


Equity is about fairness and justice. It is about taking deliberate actions to remove systemic, group, and individual barriers and obstacles that hinder opportunities and disrupt well-being. Equity is achieved through the identification and elimination of policies, practices, attitudes, and cultural messages that create and reinforce unfair outcomes.


Inclusion is a dynamic state of feeling, belonging, and operating in which diversity is leveraged and valued to create a fair, healthy, and high-performing organization or community. An inclusive culture and environment ensure equitable access to resources and opportunities for all. It also enables individuals and groups to feel safe, respected, heard, engaged, motivated, and valued for who they are.


Belonging is the feeling of security and support when there is a sense of acceptance, inclusion, and identity for a member of a certain group. It is when an individual can bring their authentic self to work.


Culture is a complex set of shared values, beliefs, language, communication, and behaviors that are taught, learned, and shared by a group of people. Culture also includes the material objects and symbols that are common to that group or society. Culture can refer to organizational culture in addition to national, ethnic, or regional culture.


Diversity Champion refers to someone who advocates for the interests and causes of DEI. A diversity champion is usually active in DEI initiatives and is seen as a knowledgeable, tenacious, and tireless advocate of DEI. Ambassador is another term used for Diversity Champion.


Allyship is a lifelong process of building relationships based on trust, consistency, and accountability with marginalized individuals and/or groups of people; when a person of privilege works in solidarity and partnership with a marginalized group of people to help take down the systems that challenge that group's basic rights, equal access, and ability to thrive in our society. (Dictonary.com's 2021 word of the year!)


Psychological safety is a shared belief that people are safe for interpersonal risk taking and personal expression. Individuals within an organization should be able to show themselves and share their opinions without fear of negative consequences of status within the organization.


Unconscious bias is social stereotypes about certain groups of people that individuals form outside their own conscious awareness. Everyone holds unconscious beliefs about various social and identity groups, and these biases stem from one's tendency to organize social worlds by categorizing.
Source: Global Diversity, Equity, and Inclusion Benchmarks
Hughes said the difference between equality and equity must be emphasized. Although both promote fairness, equality achieves this through treating everyone the same, regardless of need and circumstances. Equity achieves this through treating people differently dependent on need, circumstance and consideration of historical and systemic inequities. The goal is equity.
The iLEAD program enhances interpersonal skills through virtual and in-person sessions, providing participants with knowledge, skills, and opportunities for growth. For more information about the iLEAD program contact Dr. Julie Robinson, jrobinson@uada.edu or Lisa Davis, ldavis@uada.edu.