Handout About Elections in Arkansas Now Available in English and Spanish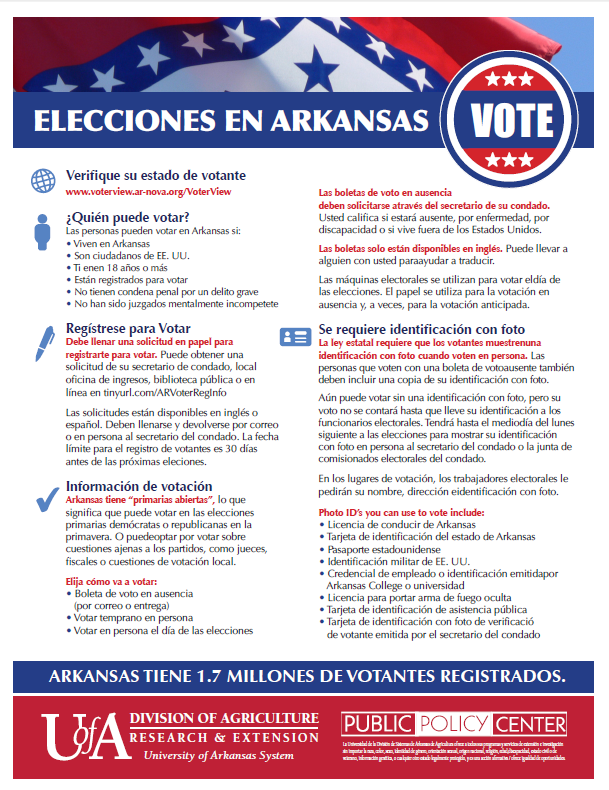 People new to voting in Arkansas have a new resource for learning about what to expect when casting their vote.
The Public Policy Center on Monday released a handout in English and Spanish about elections in Arkansas. The materials were created at the request of an Arkansas library system that wanted more materials for Spanish-reading voters in their community.
Voter registrations are published in English and Spanish, but ballots on Election Day are only in English in Arkansas. The handout is a resource for new voters to learn in either language about when elections typically take place in Arkansas, the types of identification voters must bring, and what types of elections typically appear on ballots.
View the handouts and answers to other frequently asked questions at uaex.uada.edu/voter-resources or click on the links below for a PDF.
Elections in Arkansas Handout (English) Elecciones en Arkansas Folleto (Espanol)
2022 Arkansas Election Dates
May 24, 2022 - Arkansas Primary (sometimes called "preferential primary") and school elections
June 21, 2022 - Runoff election, if needed, for Arkansas Primary and school elections
Nov. 8, 2022 - General Election and school elections
Dec. 6, 2022 - Runoff election, if needed, for General Election and school elections