Exercise Equipment for Extension Get Fit Classes
The exercise routine chosen will determine your equipment needs.
What types of equipment are available?
Many types of resistance training equipment are available for increasing strength, all of which are specifically designed for exercise.
We strongly discourage participants from using homemade weights or household objects as weights in EGF programs.
Water bottles, canned foods, laundry detergent, gallon jugs, etc. should not be used in EGF classes. These items are not specifically designed for exercise, lack the appropriate grip, may have liquid weight that shifts, and can pose injury risk.
It is important that participants determine the appropriate amount of weight for their fitness level and slowly increase weight as they grow stronger. Standardized weights, which are available through major retailers and fitness stores, are optimal. Medicine balls, stretch tubes/bands, and kettle balls are also acceptable resistance training equipment for the exercise included on this page.
Selecting Weights or Resistance Levels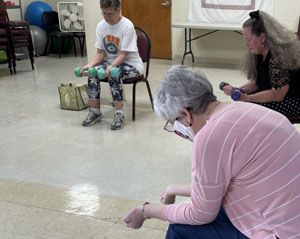 Participants should select a weight they can lift at least eight times (but no more than twelve times) with moderate difficulty. EGF is a progressive resistance training program, which means participants should progress as they become stronger and increase the amount of weight lifted. After a couple of weeks of strength training, participants should reassess the difficulty of each exercise with the amount of weight they are lifting to determine if weight should be increased.
For example, a participant who started the program using a three-pound dumbbell for the biceps curl may determine that the exercise is too easy after several weeks of strength training if they can perform the exercise more than twelve times in proper form. The Borg Rating of Perceived Exertion Scale may also be used to determine if increased weight is needed. Participants should aim to exercise at a perceived exertion of 12-14 on the scale.
Dumbbells, also called hand weights, are widely available in a variety of styles and materials. Most commonly, dumbbells are made of iron and may be coated with neoprene or vinyl to make them more comfortable to grip.
Specialty weights, such as palm weights, soft weighted balls, soft-grip weights, and wrist and forearm weights are an option for those who are unable to grip a traditional dumbbell. Those with severe arthritis should consult their doctor before beginning to strength train to determine the exercises and equipment most appropriate and safety precautions.
Medicine balls are an effective strength training tool, a creative way to change up your strength training routine, and come in various styles and sizes. Most medicine balls are suitable for people of all ages, fitness levels, and abilities.
What medicine ball should you use?
This depends on your gender, age, current strength and fitness levels, and the type of exercise. Medicine balls range in size from 1 pound up to over 30 pounds. According to the American College of Sports Medicine, many people use a heavier ball than needed. As a rule of thumb, the medicine ball should be heavy enough to slow the motion but not so heavy that the control, accuracy or range of motion is compromised during the exercise. If you lose control by the end of your exercise routine, the ball is too heavy. While most medicine balls are round, they are also available in other shapes and with built-in handles for improving your grip.
Stretch tubes and bands can be substituted for free weights or machines to help you build muscle strength and bone density. Both are color-coded based on the level of resistance. However, there is not an industry standard on colors, and all companies label and color code their bands differently.
Stretch tubes consist of elastic tubes with handles. Stretch bands are elastic bands without handles. Both come in various thicknesses to increase the tension. You can also increase the intensity by using the "choke hold" described later. Many contain latex, so be sure to check the packaging for latex-free if you have an allergy.
Before you can begin to exercise with stretch tubes and bands, you first need to know how to hold them.
Stretch Band Hold
To hold a stretch band:
Lay the band flat in your hand with the end toward your pinky finger.
Wrap the long end of the band around the back of your hand.
Grasp firmly.

Stretch Tube Standard Hold
Grasp the handle with a firm grip. Four fingers wrap around one side, and the thumb comes across from the other. Resist the temptation to excessively squeeze the handle.

Stretch Tube Choke Hold
In some instance, the resistance tube may be too long to properly perform the exercise. When this occurs, simply loop the tube around and lay it beside the handle. Grasp both the handle and the tube together.

Stretch Tube Foot Hold
The way you stand on the resistance tube or band will affect the tension. Typically, an exercise will call for you to step in the middle with feet hip width apart. Only standing with one foot offers the least resistance, while standing with feet further than hip width apart offers more resistance.

Adjustable ankle weights are recommended for EGF participants. As participants increase strength, they can increase the amount of weight lifted without the added expense of purchasing new ankle weights.
Ankle weights are available in several styles, weight increments, and material types. For most participants, we recommend purchasing ankle weights adjustable up to 10 pounds with weighted inserts made of solid iron. Ten-pound ankle weights are usually available individually, meaning two ankle weights will need to be purchased to make a pair. Be aware that retailers often package a pair of five-pound adjustable weights together labeled as a "10-pound pair." Be sure you are purchasing ankle weights that can be adjusted individually to ten pounds. Ankle weights can be costly. Some participants and groups opt to use one ankle weight and switch the weight from leg to let to perform exercises. This is an acceptable option but makes exercise sessions longer due to the added transition time.
Most ankle weights attach to the legs using a Velcro strap. The type of weighted material will affect the bulkiness of the ankle weight. Commonly, ankle weights are made of adjustable by packets of sand or other granulated material, or metal beads, which are sealed and inserted into pockets on the ankle weight. Ankle weights using these types of materials may be bulkier and less comfortable to wear than those using solid iron inserts. The packets containing the weighted material may be made of plastic or a fiber, such as nylon. Depending upon the material used, these weighted units may be prone to puncture and release the weighted material.
A chair may be needed to perform some exercises. Modifications may also require a chair. The ideal chair:
Will be sturdy.
Will not have arms.
Will have a firm seat reaching the backs of the knees. The seat should be high enough that participants can sit all the way back with their feet barely touching the floor.
Will have a firm seat back. The back of the chair should be high enough that participants can hold onto it when standing without stooping over.
If the chair seat is too low and participants' feel hit or graze the floor on exercises like the knee extension, a rolled up towel or pillow may be placed under the thigh to raise the leg.