What is Walk Across Arkansas?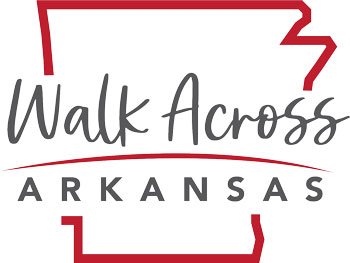 It's an eight-week team-based exercise program. Teams of three to eight set physical activity goals and try to meet them with a little friendly competition.
Walking can be a great way to spend time with your friends and family while practicing social distancing!
---
When and how do I sign up?
The Walk Across Arkansas campaign happens twice a year in the spring and fall.
Registration for Fall 2022 opens Monday, August 29, 2022.
Walking begins September 12th - November 6th!
---
What's involved?
Get a team of three to eight members, and record the number of minutes you spend being physically active each day. Any moderate to vigorous physical activity (the type that increases your heart rate) counts.
Who can participate?
Anyone! Some suggestions of team categories:
Families
Worksites
Teachers
Youth (under age 18)
Seniors (65+)
Faith-based members
General (a combination of above)
Each team needs a captain. Team captains can report for the team or individual team members can report.


How do I record my minutes?
You can log your minutes online at walk.uada.eduby logging in with your username and password that you create when you register, or you can contact your county Extension agent for more information and forms.


Are other activities allowed?
Of course! You can do any type of physical activity as long as you increase your heart rate or break a sweat.


Do I have to exercise with my team?
No. However, we encourage families and members of the same household to do activities together to count their minutes. During this time of social distancing, we can still call a friend and visit while we walk.


What if I don't have a team?
Contact your local county Extension office to be placed with other group members.


How will this program benefit me?
Most of our participants enjoy the camaraderie and extra motivation from their team members. We have also learned that many of our participants:
Increased their energy
Slept better
Reduced their stress
Strengthened relationships
Improved blood pressure
Improved blood panels
Lost weight or inches
---
Walk Across Arkansas With Us!


---
Spring 2022 Walk Across Arkansas Winners
Pope County Powerwalkers, Pope County (Score 10,306)

Good Springs, Cleburne County (Score 7,700)

Mark Lenneville, Out of State (Score 7,147)

Queen City Cuties!!!, Ouachita County (Score 6,174)

Pinal Pals, Fulton County (Score 5,835)

Clark County Disciples, Clark County (Score 4,883)

Clark County Diehards, Clark County (Score 4,382)

Pisgah EHC Ladies, Pike County (Score 4,345)

Farmington Get Fit, Washington County (Score 4,225)

Loyal Leggers, Garland County (Score 3,514)
White River Team, Arkansas County (Score 2,636)
UAM Taylor Library, Drew County (Score 2,610)
Get Healthy PC, Perry County (Score 2,276)
Stepping on the Prairie, Prairie County (Score 1,693)
Walk It, Drew County (Score 1,668)
Queen City Cuties!!!, Ouachita County (Score 6,174)

Clark County Disciples, Clark County (Score 4,883)

Clark County Diehards, Clark County (Score 4,382)

Pisgah EHC Ladies, Pike County (Score 4,345)
Loyal Leggers, Garland County (Score 3,514)
Pope County Powerwalkers, Pope County (Score 10,306)
Good Springs, Cleburne County (Score 7,700)
Pinal Pals, Fulton County (Score 5,835)
Farmington Get Fit, Washington County (Score 4,225)
Ladies and the Tramp, Benton County (Score, 3,470)
Forced to Be Here! :(, Pike County (Score 610)
Stepping on the Prairie, Prairie County (Score 1,693)
New Horizons Walkers, Jefferson County (Score 919)
Camden Road Walkers, Jefferson County (Score 271)
Clark County Diehards, Clark County (Score 4,382)
Pisgah EHC Ladies, Pike County (Score 4,345)
Loyal Leggers, Garland County (Score 3,514)
Miller Get Fitters, Miller County (Score 3,203)
Grant County Fitness Trackers, Grant County (Score 2,841)
Pope County Powerwalkers, Pope County (Score 10,306)
Good Springs, Cleburne County (Score 7,700)
Ladies and the Tramp, Benton County (Score 3,470)
Washington Co EHC, Washington County (Score 2,923)
Granny Crew, Conway County (Score 2,843)
Miller Movers, Miller County (Score 4,434)
Eat Pie, Just Walk It Off, Washington County (Score 3,545)
Jackson Co Walkers, Jackson County (Score 2,774)
LRSO Walking Dead, LRSO (Score 2,774)
Family and Consumer Science LRSO, LRSO (Score 2,359)
Sassy One, Pike County (Score 2,251)
Heck Yeah!, LRSO (Score 2,215)
Zoomies, LRSO (Score 1,569)
CES Walkers, Arkansas County (Score 255)
Wayfinding Wonderers, Dallas County (Score 172)