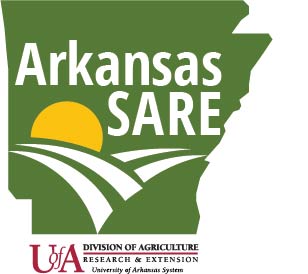 AR SARE Program Hosts Organic Tree Fruit Workshop in Northwest Arkansas
In late January of this year, the Arkansas SARE program teamed up with NCAT horticulture specialist Guy Ames to hold a sustainable tree fruit workshop on his farm, Ames Orchard & Nursery in Fayetteville, Arkansas. Ames is well experienced in the organic control of diseases and pests of fruit crops, and has a background in entomology and plant pathology. With his family, Guy manages a Certified Naturally Grown orchard and nursery that focuses on providing planting stock of fruit varieties suited for organic production.
The 25 participants were given a tour of Ames Orchard that consists of a variety of organically managed tree fruit such as apples, pears, peaches, and paw paws. The workshop also provided participants an opportunity to see firsthand Guy's experiences and challenges with organic tree fruit production in the Southeast. Attendees were also able to learn some of the basics of organic fruit production such as cultivar and site selection, pest management, grafting and more.
When asked, participants found the workshop very useful, with 100% of them stating they developed an increased knowledge of sustainable tree fruit production due to the workshop. Overall, participants stated that they plan to recommend or utilize the practices they learned during the workshop.
Our goal with the Arkansas SARE program in hosting workshops like this is to provide extension agents and other ag professionals with the information and resources they need in order to increase the adoption of sustainable practices across Arkansas.
For additional resources on sustainable tree fruit production, visit: https://attra.ncat.org/topics/#Publications
Special thank you to the Southern SARE grant program for providing the funding for this workshop.